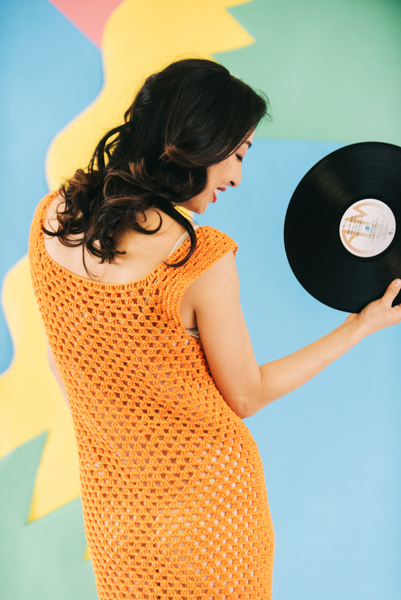 From: The April 2017 issue of I Like Crochet
Skill level: Intermediate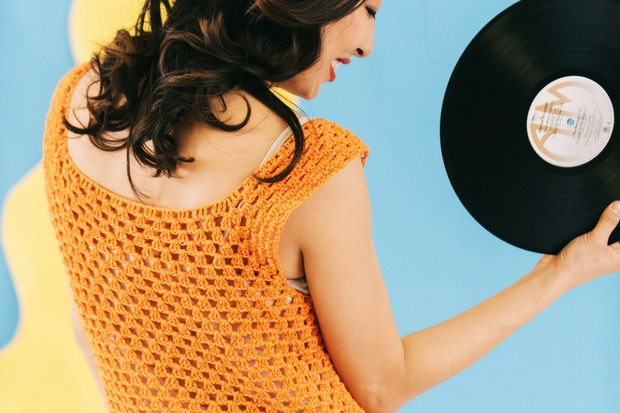 Feeling groovy? You will when you don this vintage-inspired crochet dress. The Era of Vinyl pattern will take you back to the swinging '60s and '70s, when the Beatles, Twiggy, and Petula Clark set the styles.
And yet, this Era of Vinyl dress pattern is thoroughly modern! Classic silhouettes like this never go out of fashion, and this pattern is as fresh as a flower. The simple design will look great on you—and it shows off your crochet skills, too.
As soon as warm weather arrives, you'll want to wear this light, sleeveless shift. Putting it on is effortless, and the sunny color is the perfect antidote to winter. Best of all, you can wear it all the way through the end of summer by pairing it with a jeans jacket for cooler evenings.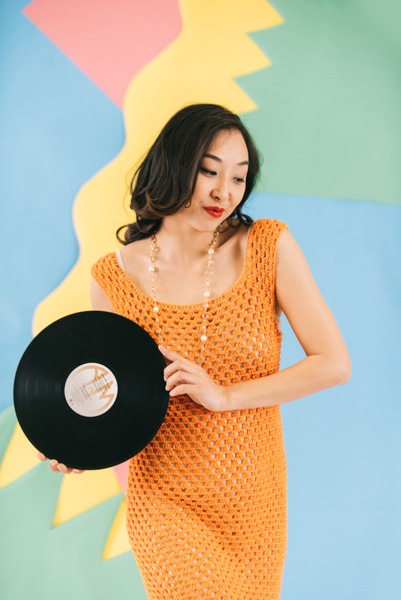 Maz Kwok designed the Era of Vinyl crochet dress pattern especially for I Like Crochet. Her popular crochet garment patterns all have a fun, flirty attitude. The pattern is easy for an intermediate-level crocheter to hook. You work it in the round from the top down: first the square yoke and then the bodice. After round 12, you just repeat the previous two rounds until you're done. The result is a pretty triangular pattern that skims the body beautifully.
You can wear this dress just about anywhere. Pair it with flats or sandals for lunch with the girls or choose heels for a night out for dinner and—yes—dancing. Keep it in the very vintage orange yarn we show here or another fab color of your choice.
The Era of Vinyl pattern includes:
Complete stitch instructions for sizes S/M (L, XL) to fit bust 30-34 (36-38, 40-42)
List of materials, notions, and hook size
Pattern notes and abbreviation guide
Finishing instructions
Make this crochet dress for yourself or someone special. Whether you still have your go-go boots and vinyl albums from days gone by, or you just love retro styles (and tunes), the Era of Vinyl dress will have you spinning with delight!
This pattern is included in the April 2017 issue of I Like Crochet. And wouldn't you just love to access it anywhere you go? You can! If you become a Gold Club Member, you'll be able to view this crochet dress pattern on your laptop or tablet – whichever device you prefer!
Of course, when you're a Gold Club Member, you'll also get stitch tips and tutorials, , and—don't forget—600+ patterns for everything from fun dresses to romantic shawls. And remember, you can take all of it with you wherever you want to crochet – on the sofa, at the park, on a plane or train … well, you get the picture.
If you're a subscriber, be sure to check it out in the April 2017 issue of I Like Crochet And if not – why not subscribe now to get all of the goodies mentioned above?
Happy crocheting!