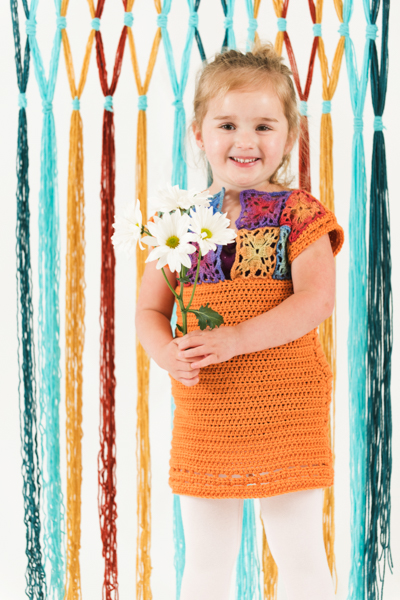 From: The August 2017 issue of I Like Crochet
Skill level: Intermediate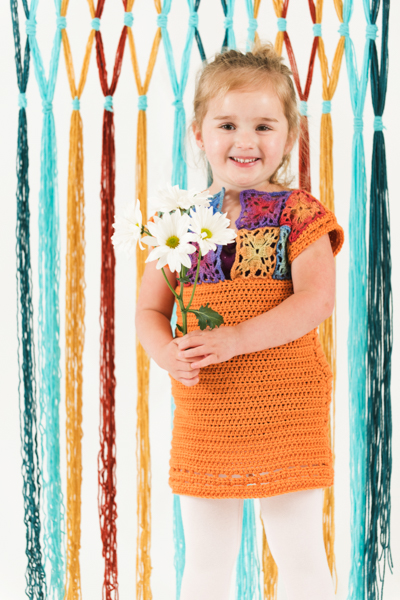 Boho chic is so popular, and this Wild Child Tunic is right on trend. Your favorite little one will look adorable in this granny square tunic that makes the perfect transition from summer to fall. It will be her favorite top to wear over leggings and a tee, tank, or leotard.
Kids—and parents—will love the easy-on, easy-off design of the Wild Child Tunic. Plus, the multicolored granny square bodice goes with just about everything in your child's wardrobe. They'll dance and prance when they put it on, because it's so fun and comfortable to wear. No arguments!
The Clementine color shown in the pattern works well to bridge the seasons, but you can also choose the child's favorite hues. Rainbow shades, primaries, whatever makes your child happy.
The Wild Child Tunic pattern is worked in flat pieces from the bottom up. Begin with the back, then work the front up to the bodice. For the bodice, work eight granny square motifs. Block and join the front, back, and motifs (leaving a gap in the center to mimic a Henley style top), then work the sleeves.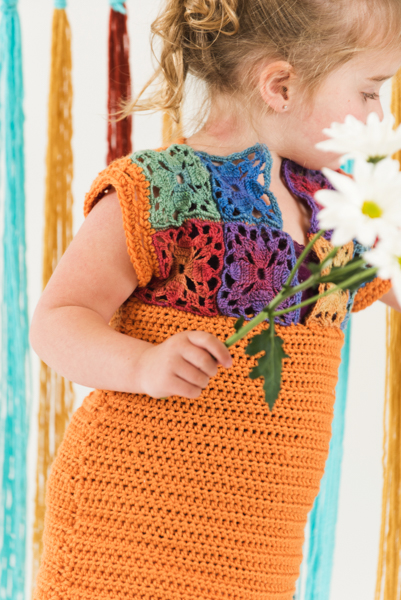 Crochet and knitwear designer Tian Connaughton created this pattern for I Like Crochet. Tian says her designs are intended to provide learning opportunities featuring interesting and unique details—and we can't disagree. If you've never made a child's top or granny squares before, Tian's pattern provides the perfect opportunity to learn.
The Wild Child Tunic pattern includes:
Complete stitch instructions for 4 sizes (2-8)
List of necessary materials
Pattern notes
Finishing instructions
Just imagine how proud you'll be to see your young one wearing this handmade garment. Not to mention the happiness you'll bring to the wearer. The Wild Child Tunic is right for any child who likes to dance, play, and frolic—while looking absolutely adorable.
You'll find this pattern in the I Like Crochet Gold Club. And, did you know you can have access to it anywhere you go? Just become a Gold Club Member, and you'll be able to view this charming pattern on your desktop, laptop or tablet – whichever device you prefer!
Of course, when you become a Gold Club member, you'll also get instant access to stitch tips and tutorials, and—oh yes—hundreds of patterns for everything from amigurumi and afghans to scarves and shawls! And don't forget the best part—you can take all of it with you wherever you want to crochet – on the sofa, at the park, on a plane or train … it's up to you!
But this is just a fraction of what you'll get with an I Like Crochet Gold Club Charter Membership—your membership includes subscriptions to the I Like Crochet Magazine Club and to the I Like Crochet Collections Club; full and immediate access to the digital library of 5+ years of magazine issues with 700+ crochet patterns and articles; step-by-step instructions for patterns; and video tutorials and full-color photographs for details about projects and stitches. All included with your Charter Membership!
Your I Like Crochet Gold Club Charter Membership gives you access to our crochet patterns and content, 24-hours-a-day on whatever device you prefer—desktop, or laptop! And the content is fully searchable, so you can find exactly what you want—when you want it—at your fingertips in an instant.
Here are just a few of the tantalizing patterns sitting in our library right now — you'll get instant access when you join the I Like Crochet Gold Club as a Charter Member:
Cuddly Crochet Baby Blankets
Super-Cute Amigurumi
Blue Sage Hooded Shawl
Easygoing Crochet Tank
Circular Chenille Afghan
Marigold Blanket
Baby Owl Bib
Moonlit Shells Shawl
Monster Baby Booties
Adult Pocket Scarf
Cropped Victoria Top
Vine and Twigs Scarf
Verde Velvet Pillow
Kaja C2C Rug
Flying Geese Jacket
Two Sisters Lake Sweater
And the library of photos and video tutorials is gorgeous, inspiring, and practical—showing you exactly how your finished patterns should look and exactly how to execute, even the difficult ones!
When you join our #1 community for crochet-lovers, you'll receive all of the handy benefits that crocheters everywhere have been buzzing about:
You'll learn new stitch techniques with a variety of patterns that range from beginner to advanced.
You'll find expert tips and tricks that will help you achieve professional results.
You'll start getting requests for your stunning crocheted items from your family and friends.
You'll have access to renowned designer patterns and tutorials from all over the world.
You'll never worry about mistakes in patterns or ripping out your progress because our tech-edited patterns are curated from trusted designers in the crochet community.
You'll be connected to an online community of crocheters who are just as passionate as you!
Don't miss out on this exclusive charter membership offer to get all of the above and more!
When you activate your I Like Crochet Gold Club Charter Membership today, you'll get access to everything we have about crocheting—all access and all the time:
A full year of upcoming issues of I Like Crochet magazine—Including nearly 100 exclusive designer crochet patterns and articles with step-by-step instructions, video tutorials and full-color photography for details of projects and stitches
Instant access to EVERY issue we've ever published—a vast library of more than 5 years of issues with 700+ patterns and articles
A full-year's subscription to the I Like Crochet Collections Club that includes gorgeous designer patterns
Regular e-newsletters, full of the latest crochet tips & tricks
Free patterns, expert tips, and Crochet Along community events
FREE Bonus! FREE access to two on-demand streaming crochet videos Crochet Secrets Revealed: 12 Tutorials by Michael Sellick and Back to Basics: 11 Essential Techniques and Stitches for Every Crocheter. FREE, instant, full, and unlimited access for you right now!
And here is what you don't get when you become a Charter Member of the I Like Crochet Gold Club—advertisements! That's right, we're advertising-free, so that we can devote more time, space, and effort to helping you be an awesome crocheter!
All of this is available to you—right now—when you claim your Charter Membership to I Like Crochet Gold Club. This special introductory offer includes FREE unlimited access to two on-demand streaming crochet videos Crochet Secrets Revealed: 12 Tutorials by Michael Sellick and Back to Basics: 11 Essential Techniques and Stitches for Every Crocheter…our gift to you for signing up now!
No other online magazine has this much information about crochet all in one place for your easy access!
Crocheters everywhere have been enjoying I Like Crochet magazine for years, and now it's better than ever with more benefits, patterns, and content than you could ever dream of—with an I Like Crochet Gold Club Charter Membership.
When we first put this new club together for crocheters like you, your needs and desires were top-of mind. We're the ultimate resource and network for crocheters everywhere, offering original designer patterns and content from authoritative and respected voices in the crochet world.
I think you'll agree that this really is an unusual offer, plus FREE access to our premium on-demand streaming crochet videos when you become an I Like Crochet Gold Club Charter Member today! It's an incredible deal that you don't want to ignore!
Why not be among the select group of crocheters to join us today and benefit from all the valuable information about crocheting that you can't get anywhere else?
Become an I Like Crochet Gold Club Charter Member today—while this special offer lasts!
Happy crocheting!

Caitlin Eaton
Editor, I Like Crochet Magazine