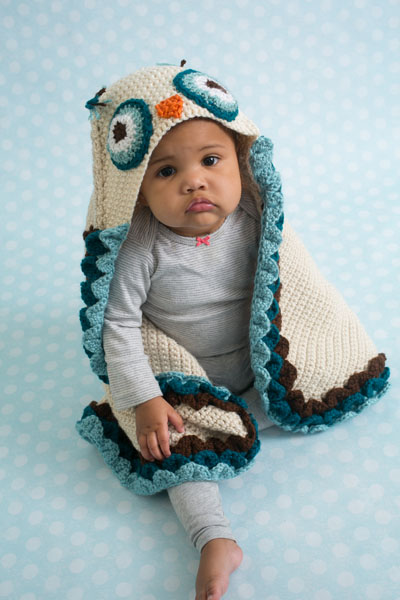 Dear Crocheter,
A new little one is on the way or has already arrived, and you're wondering "what can I make to show my love for this new bundle of joy?" Owl you'll need is your trusty crochet hook and some baby yarn to make something truly special!
This "hoot-i-ful" hooded blanket features a hood with big owl eyes and rows of crocodile stitch feathers to complete the owl look. The perfect gift for an animal-themed baby shower, this blanket will be well-loved well into the baby's toddler years.
Easily customize this blanket by choosing different feather colors. Instead of Teal and Sea Foam, try Pink and Berry for a girl or Minty and Lemon for a gender-neutral baby gift. The possibilities are endless for this owl design!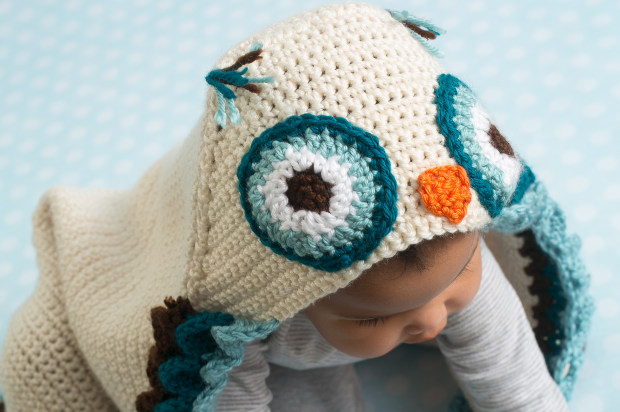 I Like Crochet is committed to working with the best designers to create on-trend and adorable baby designs. The goal is to create designs that are well-loved by both mom and baby. This hooded design is fun for playtime, cuddling up in mom's arms and even staying cozy after a bath.
Included in this Owl Crochet Hooded Blanket pattern are instructions for the blanket base, eyes, ears, nose and the crocodile stitch feathers that complete the look. Created for I Like Crochet by accomplished designer Kristi Simpson, this design is an adorable addition to your pattern collection
This Owl Crochet Hooded Blanket pattern includes:
Materials (yarn brand, colors and amounts)
Gauge measurements
Pattern notes that are essential to varying the size
Row-by-row instructions
Assembly instructions
Detailed photos of the finished blanket
There you have it! A stunning blanket that will truly show off your crocheting talents while creating a baby-friendly design that will be a hoot at any baby shower.