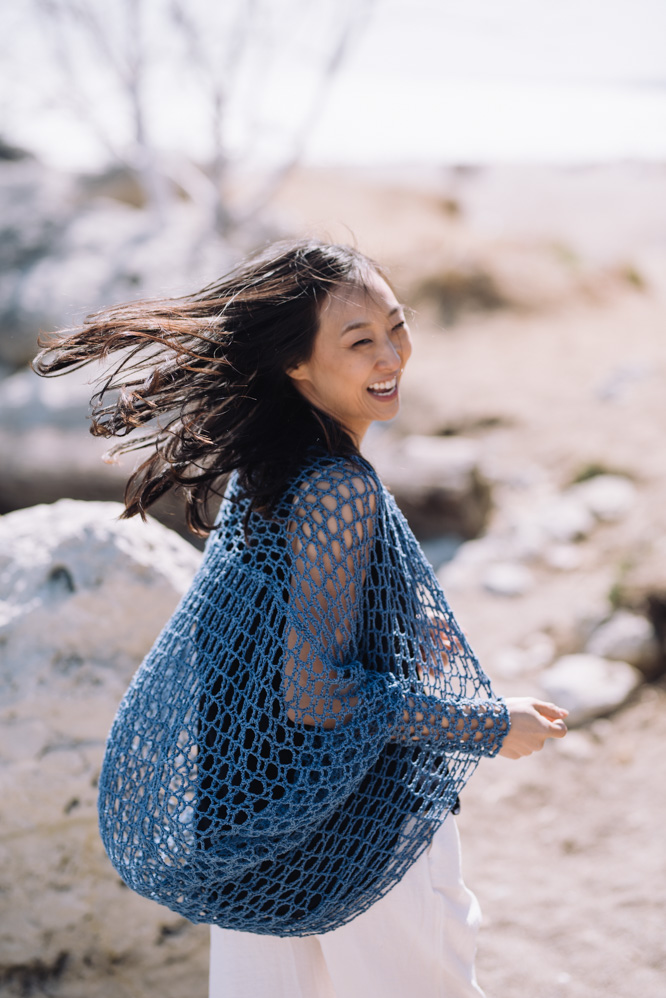 Shawls, blankets, pillows, and more—pick a project and finish it in a weekend. Our Dynamic Collection of Weekend Patterns is ready for you to hook as part of your I Like Crochet Gold membership.
Ahh, the weekend. Some people run errands, some people go out on the town, but we crochet mavens reach for our hooks and yarn. The steady rhythm of the hook is so relaxing. And watching a shawl, hat, or pillow take form in a couple of days is as satisfying as checking off your entire to-do list. Seriously, what a sense of accomplishment! And by Sunday night you have something to show when your friend or coworker asks, "What did you do this weekend?"
There are a few tricks to creating an in-a-weekend crochet pattern. First is size of the project: you can crochet most hats in a couple of days. Next is size of the hook and yarn. Bulky yarn and a large hook make quick work of shawls and blankets—and make them super-cozy, too. Finally, simple patterns that you can memorize easily make the project go faster, because you don't have to constantly stop and refer to the instructions. These simplifications make the work go quickly, but that doesn't mean the crochet projects are boring!
In our Dynamic Collection of Weekend Crochet Patterns, you'll find 10 two- to three-day projects that you'll be proud to wear or display in your home. We've included beginner-to-intermediate patterns for pillows, blankets, shawls, wraps, and accessories. Just think of adding a new pillow or blanket to your décor in a weekend! Or handcrafting a beautiful wrap for a friend to give as a surprise gift. Every last pattern in this dynamic collection is fun to make and looks great.
And we can't leave out the 700 + patterns you get in the I Like Crochet library, where you'll find everything from home decor to stunning scarves to beautiful tops for every season and so much more.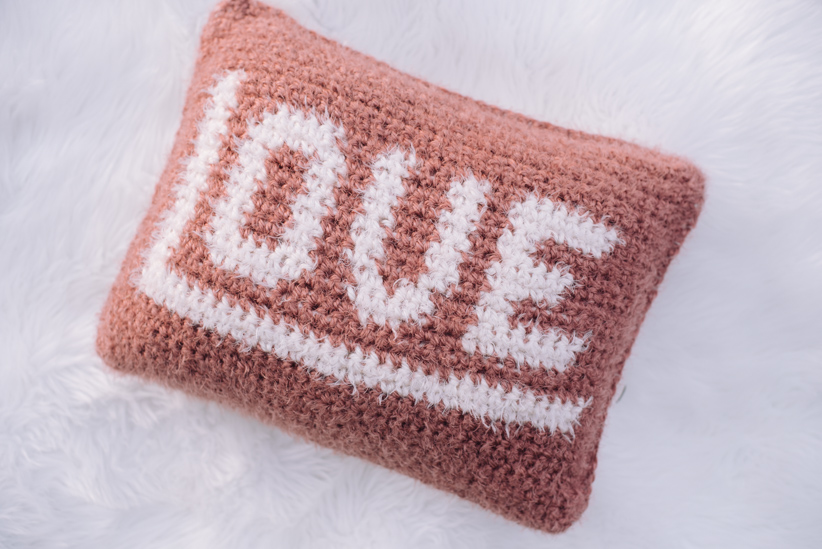 Pillow Talk
Say it with crochet! The L is for Love Pillow pattern spells out your feelings in super-soft yarn and the tapestry crochet technique. The 12" x 16" pillow makes a lovely "statement" piece in your home—not to mention it's a wonderful gift for a friend or loved one. This intermediate-level pattern is worked back and forth in rows. Two panels are made and then crocheted together around a pillow form. We include a downloadable chart to help you keep "Love" front and center.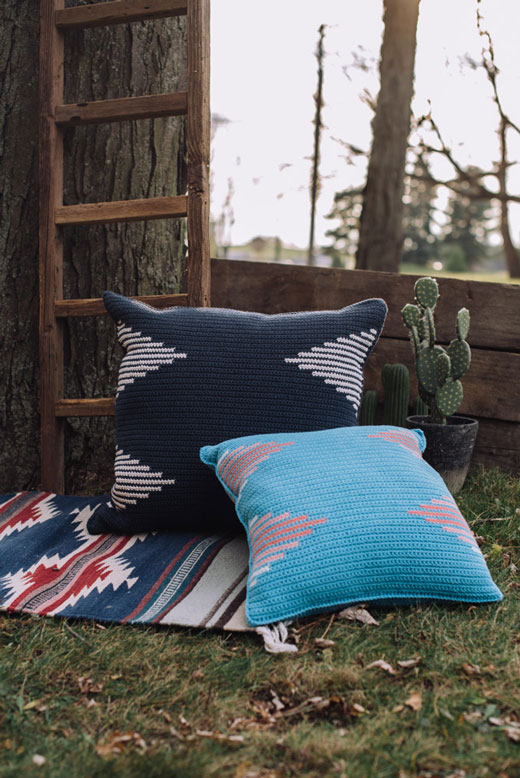 Western Wonders
Think single crochet is boring? Not when the result is this graphically stunning Durango Pillow Set. Named for the mountain town in western Colorado, this weekend pattern is striking in its simplicity. And speaking of simplicity, you'll love this: no need to weave in the ends! The yarn is cut after each row and yarn tails can be knotted and hidden inside the pillow. Colorful single crochet stitches through the front loop create a woven-like textile perfect for minimalist décor. And so easy, you can make both pillows in one weekend.
Baby, I'm Yours
Now here's a sturdy, yet cozy, blanket that whips up in a weekend but will stand the test of time. The Chevron Mountain Peaks Blanket pattern gets its cushy softness—and durability—from super-bulky yarn and a size Q hook. The lucky baby who owns this blanket will enjoy playing on it as much as being wrapped up in it. Once you have a few rows finished this pattern is really easy to memorize, so the work goes quickly.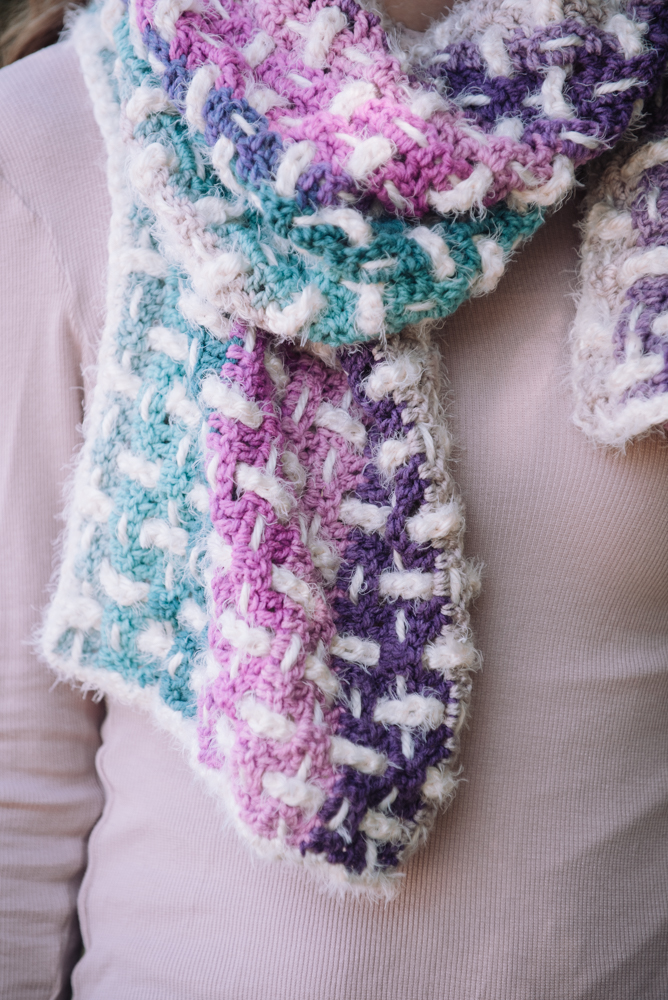 Wonderful Weekend Scarf
For you crocheters who also like to weave—and anyone who would like to learn a new technique—the Woven Wonder Scarf is the perfect weekend project. This easy scarf is made in four steps, with the design helped along by self-striping yarn. 1. Crochet a scarf base. 2. Weave in a length of contrasting color. 3. Weave in strips of chain stitches. 4. Secure the ends with a border. That's it! You'll want to make this fun and unusual scarf pattern in a different color every weekend.
Blueberry Thrill
Is it a generous scarf or a petite wrap? Doesn't matter. The Blueberry Basketweave Scarf pattern is a beauty that will embrace you in its basketweave stitch like a hug. Named a Top Pattern on I Like Crochet in 2020, and it's clear to see why. The easy pattern works up in a weekend with a simple to remember, repeating pattern. Just finish the ends in fun, flirty fringe, and this scarf/wrap is ready to wear or give as a gift.
Don't forget, as well, that this and every pattern in I Like Crochet comes complete with:
A list of necessary yarn and tools you'll need
Row-by-row instructions
Special stitch instructions
Pattern notes
Detailed, full-color photography
Whether you are just starting out with crochet or you're an advanced crocheter, you'll find a weekend pattern that's right for you, and we'll be right beside you, with plenty of tutorials and instructions.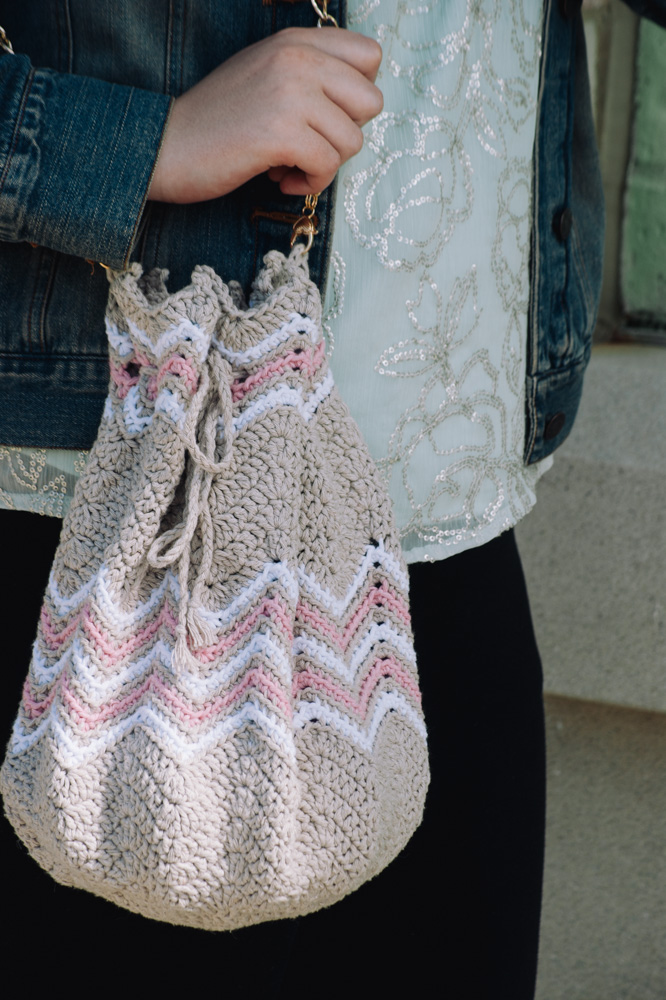 Buckets of Fun
Check the forecast—are temperatures on the rise? Then take out the Summer Blush Chevron Bucket Bag pattern this weekend and make this stylish drawstring bag. The neutral colors and classic chevron design will instantly make it your favorite summer accessory—it goes with everything! Believe it or not, this is an easy pattern. In fact, this bucket bag was named a Top Pattern on I Like Crochet in 2020. The bag sports a braided drawstring and a delicate gold chain strap that amps up the style factor.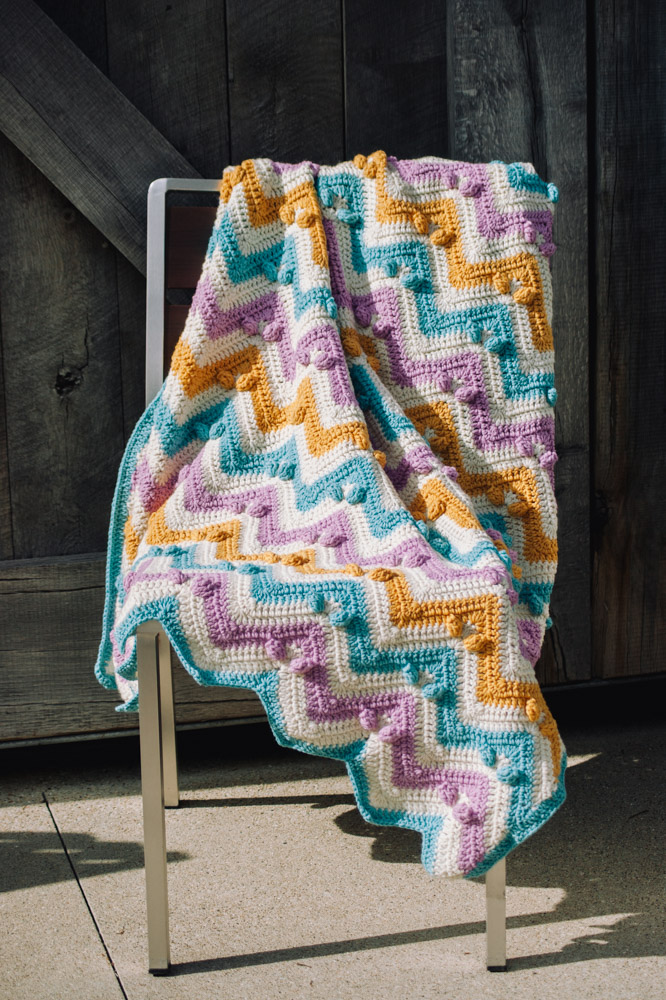 A Blanket That Pops
We love this pattern that's a little bit vintage, a little bit modern, and all interesting texture. The title of this Weekend Crochet Pattern, Popcorn Peaks Chevron Blanket, comes from the drop-down treble popcorn stitches that take the chevrons to new heights. An easy-level pattern, its repeat is quickly memorized but detailed enough to keep you interested. Each color stripe is worked in rows. We adore the gold, cream, aqua, and lilac scheme shown, but feel free to choose colors that make you happy.
Double Time
The Seeing Double Crochet Blanket is a beginner-level crochet pattern that works up quickly thanks to two double crochet stitches, bulky yarn, and a large hook. Start it Friday evening and you could be taking this blanket to a picnic by Sunday afternoon. The border is worked only on the two vertical sides of the blanket. This pattern is popular not just with beginners, but with crochet teachers looking for a beginner pattern that's fun, quick, and satisfying.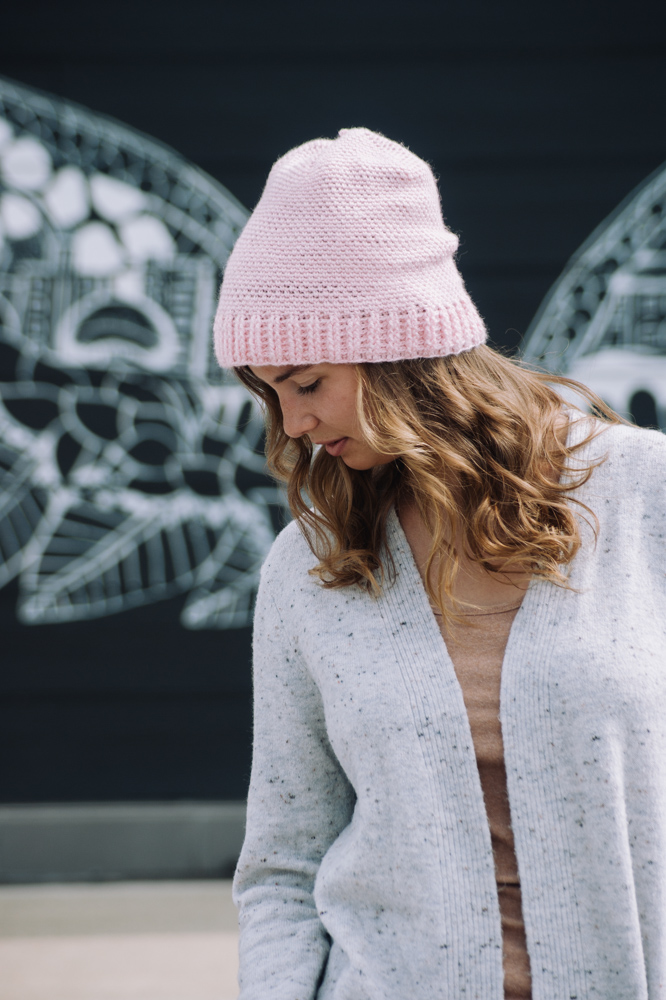 Top it Off
Beanies are all the rage, so you'll be happy to know we included the Guava Beginner Beanie in this weekend collection. It's so cute and a perfect project for the beginning—or impatient—crocheter. The bottom edge is a double ribbing double crochet and the body is worked in single crochet and chains. When you start working on the body part of the hat, mark the beginning of the round and work in a spiral. We show this hat in a pretty pale pink, but crochet it in gray, navy, or red, and this beanie takes on a whole new personality. We know this beanie pattern is a winner, because it was chosen as a Top Pattern on I Like Crochet in 2020.
Fall Flair
Fans of Tunisian crochet, we haven't forgotten you. The Sun-Dipped Tunisian Shawl pattern is one an intermediate crocheter can complete over a long weekend. The project has a sophisticated design with a short side and a longer one that you wrap around to the front. The gold edging adds an extra touch of class. The shawl is worked in two halves, with the second half worked by picking up stitches on the first half. We include a downloadable diagram to help you create this unique piece. Wear it over a lightweight sweater or jeans jacket.
These weekend crochet patterns are yours, along with a library of more than 700 patterns, expert tips and tutorials, and many more special collections, including The Granny Square Collection, The Dog Collection, and The Beach Collection. It's all yours with your membership in the I Like Crochet Gold Club. Join us today and enjoy all this and more!
But this is just a fraction of what you'll get with an I Like Crochet Gold Club Charter Membership—your membership includes subscriptions to the I Like Crochet Magazine Club and to the I Like Crochet Collections Club; full and immediate access to the digital library of 5+ years of magazine issues with 700+ crochet patterns and articles; step-by-step instructions for patterns; and video tutorials and full-color photographs for details about projects and stitches. All included with your Charter Membership!
Your I Like Crochet Gold Club Charter Membership gives you access to our crochet patterns and content, 24-hours-a-day on whatever device you prefer—desktop, or laptop! And the content is fully searchable, so you can find exactly what you want—when you want it—at your fingertips in an instant.
Here are just a few of the tantalizing patterns sitting in our library right now — you'll get instant access when you join the I Like Crochet Gold Club as a Charter Member:
Cuddly Crochet Baby Blankets
Super-Cute Amigurumi
Blue Sage Hooded Shawl
Easygoing Crochet Tank
Circular Chenille Afghan
Marigold Blanket
Baby Owl Bib
Moonlit Shells Shawl
Monster Baby Booties
Adult Pocket Scarf
Cropped Victoria Top
Vine and Twigs Scarf
Verde Velvet Pillow
Kaja C2C Rug
Flying Geese Jacket
Two Sisters Lake Sweater
And the library of photos and video tutorials is gorgeous, inspiring, and practical—showing you exactly how your finished patterns should look and exactly how to execute, even the difficult ones!
When you join our #1 community for crochet-lovers, you'll receive all of the handy benefits that crocheters everywhere have been buzzing about:
You'll learn new stitch techniques with a variety of patterns that range from beginner to advanced.
You'll find expert tips and tricks that will help you achieve professional results.
You'll start getting requests for your stunning crocheted items from your family and friends.
You'll have access to renowned designer patterns and tutorials from all over the world.
You'll never worry about mistakes in patterns or ripping out your progress because our tech-edited patterns are curated from trusted designers in the crochet community.
You'll be connected to an online community of crocheters who are just as passionate as you!
Don't miss out on this exclusive charter membership offer to get all of the above and more!
When you activate your I Like Crochet Gold Club Charter Membership today, you'll get access to everything we have about crocheting—all access and all the time:
A full year of upcoming issues of I Like Crochet magazine—Including nearly 100 exclusive designer crochet patterns and articles with step-by-step instructions, video tutorials and full-color photography for details of projects and stitches
Instant access to EVERY issue we've ever published—a vast library of more than 5 years of issues with 700+ patterns and articles
A full-year's subscription to the I Like Crochet Collections Club that includes gorgeous designer patterns
Regular e-newsletters, full of the latest crochet tips & tricks
Free patterns, expert tips, and Crochet Along community events
FREE Bonus! FREE access to two on-demand streaming crochet videos Crochet Secrets Revealed: 12 Tutorials by Michael Sellick and Back to Basics: 11 Essential Techniques and Stitches for Every Crocheter. FREE, instant, full, and unlimited access for you right now!
And here is what you don't get when you become a Charter Member of the I Like Crochet Gold Club—advertisements! That's right, we're advertising-free, so that we can devote more time, space, and effort to helping you be an awesome crocheter!
All of this is available to you—right now—when you claim your Charter Membership to I Like Crochet Gold Club. This special introductory offer includes FREE unlimited access to two on-demand streaming crochet videos Crochet Secrets Revealed: 12 Tutorials by Michael Sellick and Back to Basics: 11 Essential Techniques and Stitches for Every Crocheter…our gift to you for signing up now!
No other online magazine has this much information about crochet all in one place for your easy access!
Crocheters everywhere have been enjoying I Like Crochet magazine for years, and now it's better than ever with more benefits, patterns, and content than you could ever dream of—with an I Like Crochet Gold Club Charter Membership.
When we first put this new club together for crocheters like you, your needs and desires were top-of mind. We're the ultimate resource and network for crocheters everywhere, offering original designer patterns and content from authoritative and respected voices in the crochet world.
I think you'll agree that this really is an unusual offer, plus FREE access to our premium on-demand streaming crochet videos when you become an I Like Crochet Gold Club Charter Member today! It's an incredible deal that you don't want to ignore!
Why not be among the select group of crocheters to join us today and benefit from all the valuable information about crocheting that you can't get anywhere else?
Become an I Like Crochet Gold Club Charter Member today—while this special offer lasts!
Happy crocheting!

Caitlin Eaton
Editor, I Like Crochet Magazine