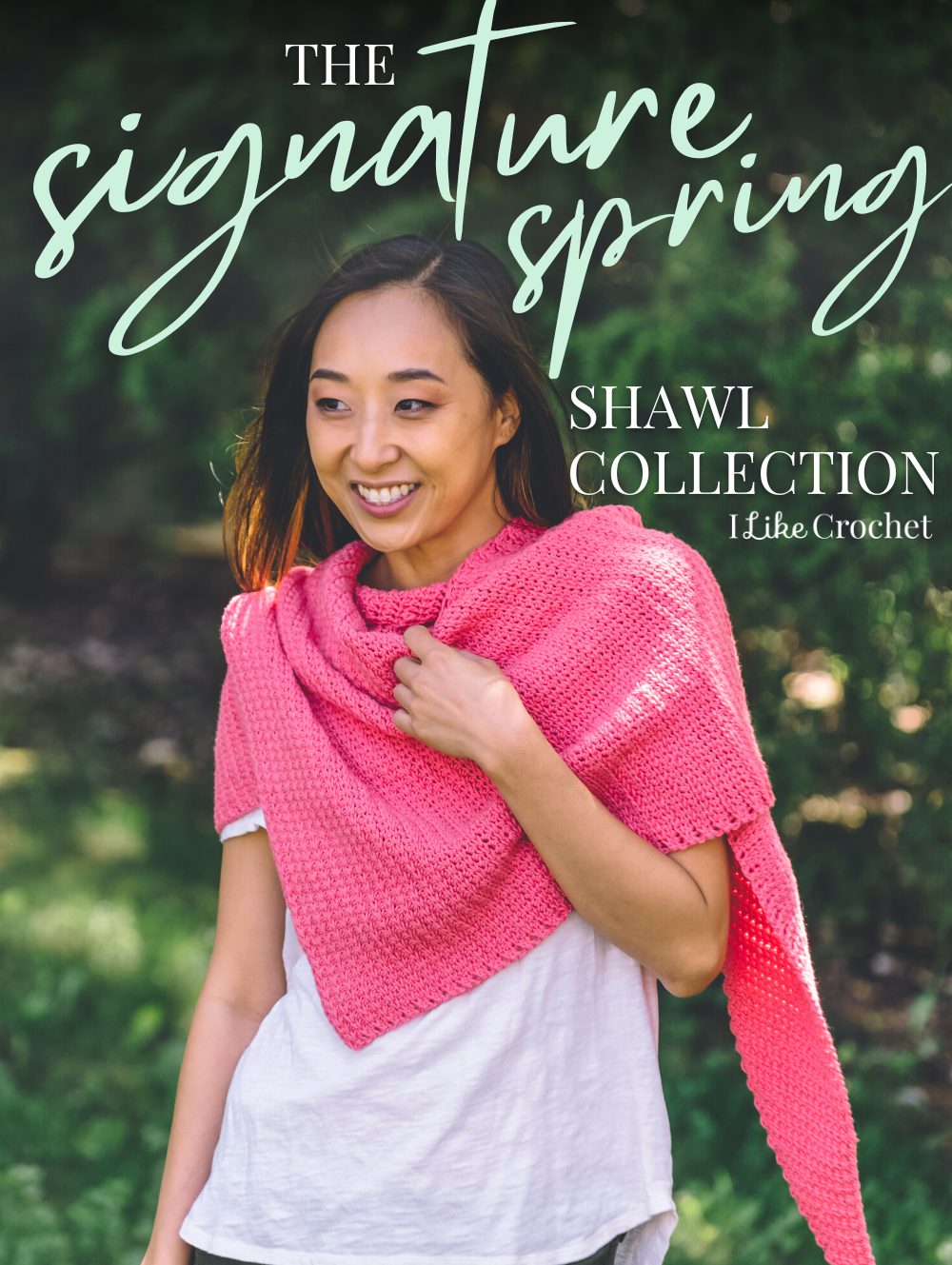 32 Super shawl patterns!
Dear Crochet Friend,
A shawl is the perfect accessory, whether you want to add a splash of color or keep the chill off in style. Our Signature Spring Shawl Collection has more than 30 patterns — shawls that range from fun and flirty to light and lacy to cozy and comfortable. Make yourself a new signature statement piece for a special occasion or help a friend celebrate with a custom- made gift. Here's a peek what you'll find in our color-themed Signature Spring Shawl Collection!
Think Pink
There's nothing like the feel of a lacy shawl to take off the evening chill. Our Sunset Breeze Crescent Lace Shawl features a delicate lace pattern for intermediate crocheters. Work this shawl from tip to top to create the delicate crescent shape, and add the lacy border at the end. This is bound to become your new favorite lacy layer.
It never hurts to keep a simple shawl on hand. But why go simple when you can go gorgeous? Our openwork Carnation Pink Shawl flows with a beautiful variety of stitches to produce a light, airy addition to your shawl collection.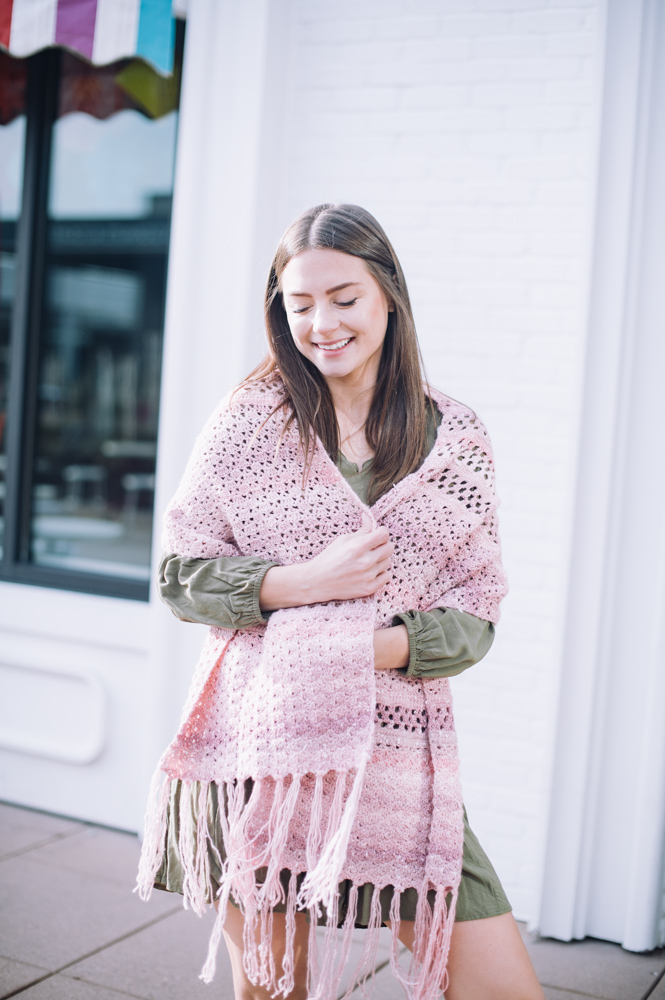 Other pink-themed shawls in our Signature Spring Shawl Collection include:
Reese Wrap
Blythe Filet Shawl
Cherry Blossoms Stole
Spring Blossom Wrap
Shells and Lattice Shawl
Floral Triangles Shawl
Sunshine in a Shawl
Our Lemon Buttercup Shawl is the ideal companion for cold days in early spring. It is worked in a soft and warm alpaca yarn and has a rather dense – but not stiff – fabric. Two stripes in a warm yellow blend in the mesh of the main color.
The Spring Shawl is a simple shawl pattern that you can easily modify for different seasons. The long, isosceles triangle shape makes it easy to wrap around your shoulders, no matter the weather.
Our Delicate Side to Side Shawl is worked — you guessed it! — side to side to create a trapezoid shape. Delicate edging is added at the end to perfect a gorgeous look that's just right for cool summer nights.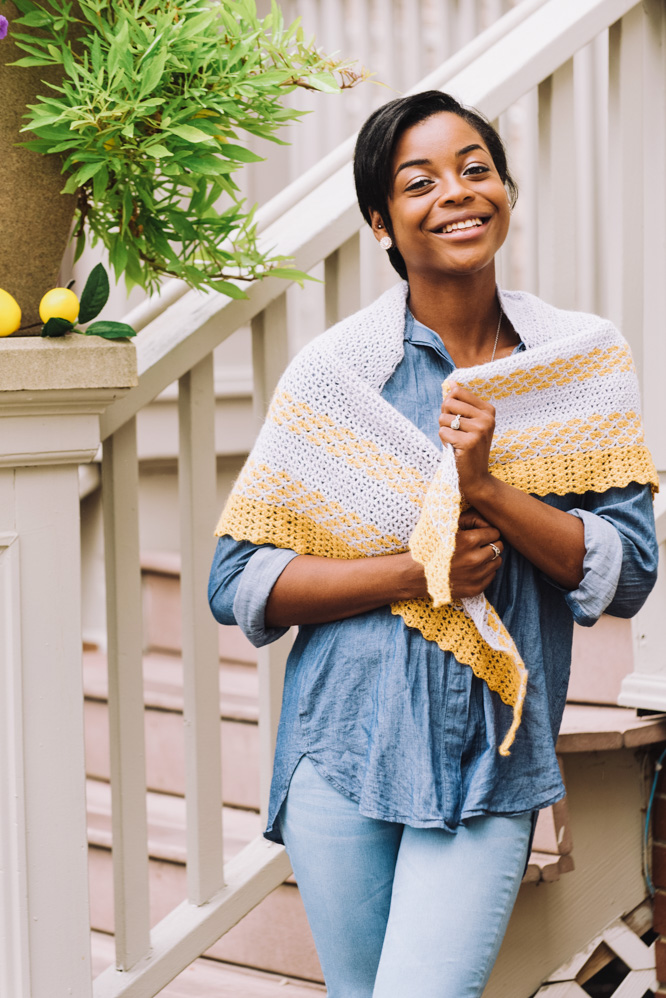 Greener Pastures
Earth tones from the garden feature prominently in this section of our Signature Spring Shawl Collection. Tap into your inner artist and challenge yourself to crochet our Water Lily Shawl. Inspired by Claude Monet's famous Water Lilies, this shawl is a perfect addition to your summer wardrobe. Our Vines & Flowers Wrap combines lattice-work, traveling vines, and a graceful flowered edging for the perfect summer night wrap.
Our Sonic Swirl Shawl echoes the way air can swirl and carry sound with the twisting, undulating waves that radiate out from the center. Our version is made in a subtly variegated grey yarn, making this airy shawl is reminiscent of a dusty wind storm. You pick the colorway that inspires you.
Other nature-inspired shawls include:
Earthen Blocks Shawl
Dragonfly Wing Shawl
Half Circle Crochet Shawl
Blue Skies Ahead
Our Bliss in Bloom Shawl is worked in lacy granny triangles. Each triangle begins with a floral shape, but when they are joined, another pattern emerges at the joining points which looks like a star. Dress up an outfit with this stunning design.
Wrap yourself in elegance with our light and lacy Easy Sideways Crochet Triangle Shawl. Perfect for beginners, this fast and simple project looks great in a variety of bold spring hues. Light and airy, this crochet triangle shawl is perfect for a light coverup!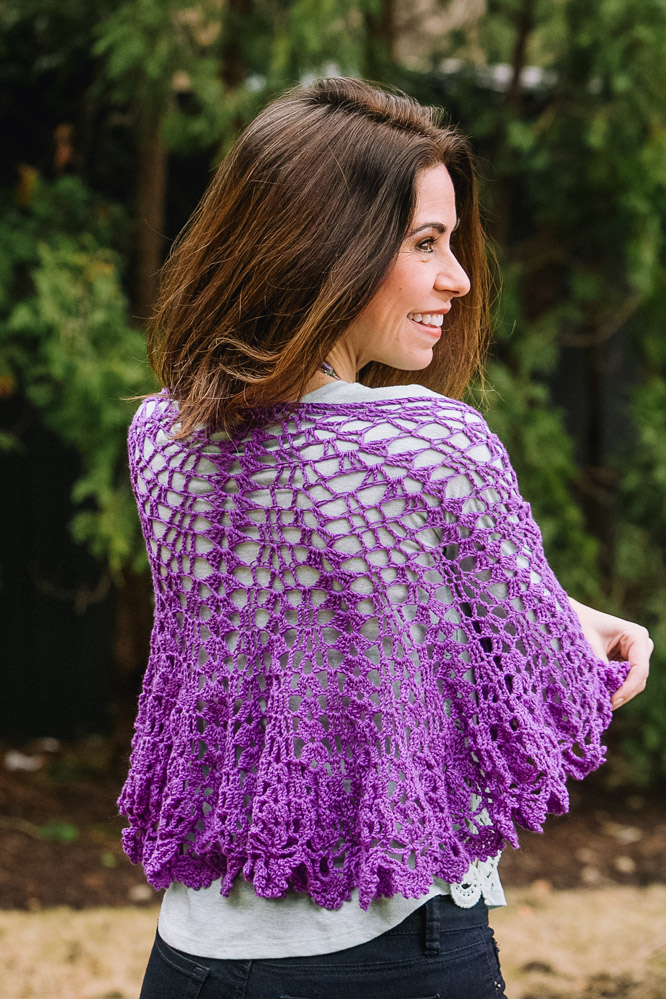 Don't miss our other patterns in this section, whether for you or for gifting:
Secret Waterfall Shawl
Dew Drops Shawl
Morning Glory Shawl
Aloe Bloom Shawl
Spring in Bloom Shawl
Springtime Decadence Shawl
Raindrop Lace Shawl
Cloudy Day Shawl
Purple Reigns
There's something about the color purple that brings out the joy and whimsy in people. We have several shawl patterns that look perfect in purple.
Our Triple Shell Shawl looks more intricate than it really is; would you believe this pattern is rated easy? This vibrant hyacinth shawl boasts a flirty ruffled edge. Shells, picots and more make this shawl an elegant signature piece.
A spring wardrobe is not complete without an airy shawl to add a light layer of warmth to a sundress or to dress up a laid-back tee. You'll work our UnbeLEAFable Lilac Shawl flat to create an alluring leaf-like design with beautiful open spaces. This is definitely where practical meets pretty!
Don't miss our other patterns in this section, whether for you or for a friend or family member:
Moonlit Shells Shawl
Color Me Calm Shawl
Second Season Wrap
The projects waiting for you in our Signature Spring Shawl Collection include a colorful variety of patterns for crocheters of all skill levels. The hardest part will be picking your first pattern. Which one is your favorite?