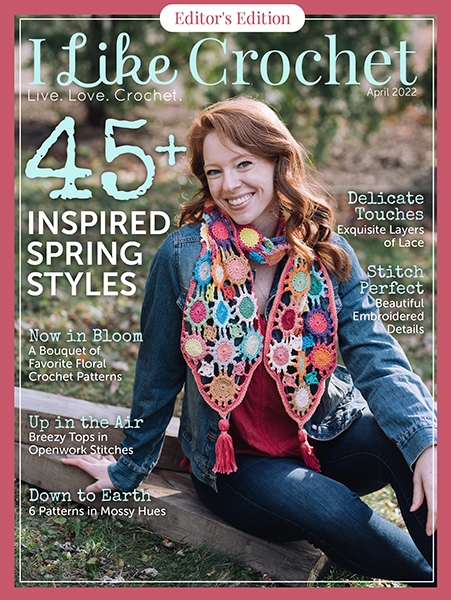 Flowers and lace, sand and sea — inspiration is all around in this issue!
Dear Crochet Friend,
Spring is finally in the air, and it's time to get out our hooks head out to our favorite outdoor spot, and create something new, light and lovely! in our April issue of I Like Crochet, get ready to explore more than 45 engaging, enchanting projects! Something for you, something for your friends and family, something for the little ones on your gift list, and, of course, something to add splash of spring to your home! Get out your hooks and let's go!
Need a fresh burst of color inside to celebrate spring? Spice up your favorite chair with our dazzling Retro Flower Cushion. This wildly colorful pattern uses just two motifs in a blaze of color combinations. As a bonus, the pattern uses the five basic crochet stitches — a perfect project for anyone from beginner to expert!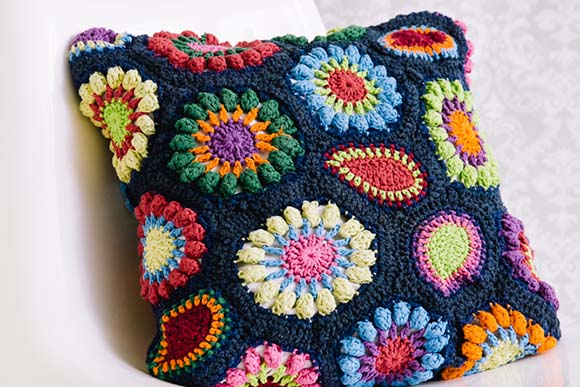 Other selections from our Now in Bloom section include a profusion of scarves — Tuscan Flowers, Patchwork Posies (on our cover), Adoring Florals, and Flourishing Fleurs. Other patterns include a quick and easy way to dress  up a favorite top and an afghan that's always in bloom.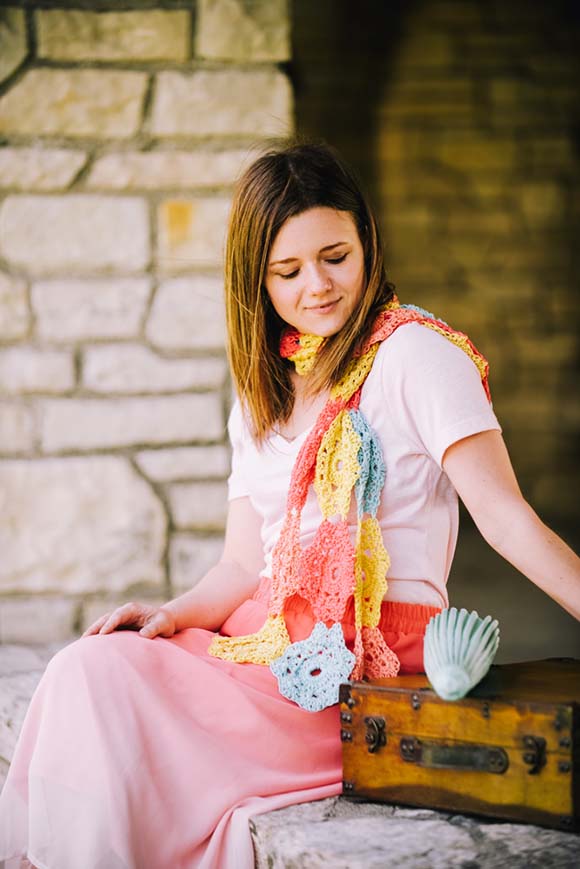 Get ready for ruffles all around! For the ultimate in frilly and flirty, make the Triple Shell Shawl, with shells, picots, and a lovely ruffled edge. It's a spectacular addition to an evening outfit! Or take your basic crocheted tee to the next level with our Vivi Ruffle Sleeve Top featuring lace at the sleeves and at the hem, too. It feels as good as it looks! The Alix One-Shoulder Tee is just plain fun — easy to make with just two pieces!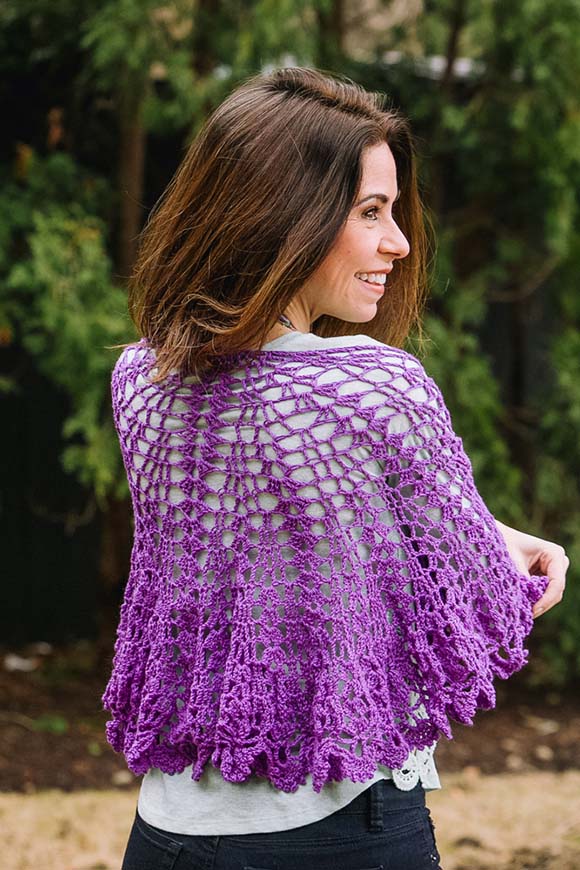 Little ones like a little bit of ruffle now and then, and we have several projects for them, too. The Textured Ruffles Baby Blanket is a fun and frilly departure from your basic baby blanket. The Ruffled Playtime Romper has adorable written all over it, and the Marshmallow Sandals are almost too cute not to make!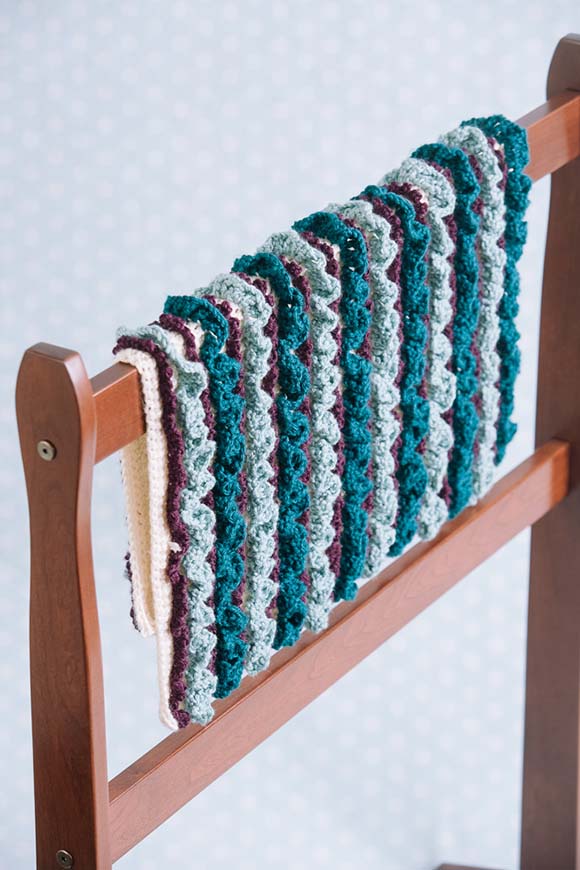 Who can resist the adorable pull of a unicorn? Not us! Keep baby's feet warm and adorable in this whimsical Sleepy Unicorn Baby Booties, complete with rainbow tails. When you're ready to head to the beach, remember to take you Beach Happy Raffia Hat with you, with its floppy brim to shade you from the sun and its vented crown to keep you cool. Planning a longer trip? How about the True North Passport Holder? It's just the right size to hold everything you need to keep at hand — plus, it has a hidden compartment! Maybe you'd like to make a clutch or two for day trips. Try our Kelsey Crochet Clutch with bold splashes of color, or our Sashiko Clutch, with elements of traditional Japanese embroidery.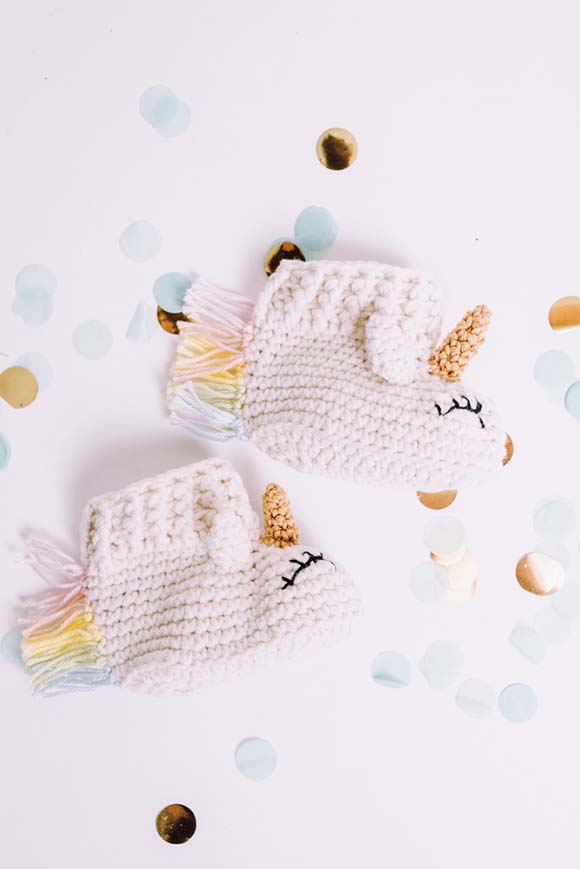 Bring that Japanese embroidery theme indoors with our Sashiko Pillow. You'll love the embroidered stylized pinwheels on one side and a totally different pattern on the other side. It's like getting two pillows in one! Or head straight into whimsical mode with our Prickly Pear Pillow with its simple, bright embroidery, or our Over the Moon Pillow that's as comfortable in the nursery as it is as a neck pillow in the car. What a great way to catch some ZZ's!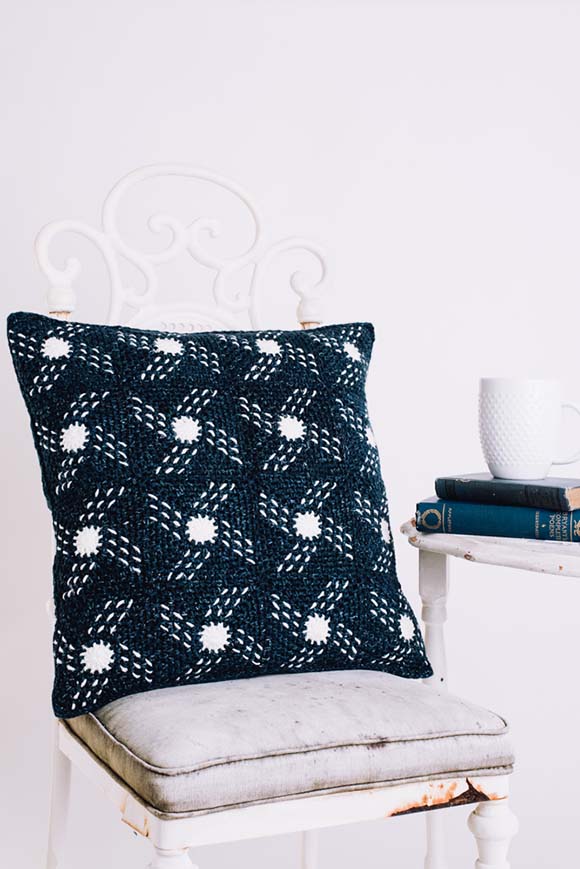 Who says you can't wear granny squares? This easy, almost effortless Purple Passion Sweatshirt will prove the naysayers wrong! You'll love the soft colors and bold textures that come together to make a light and breezy sweater that can take the heat.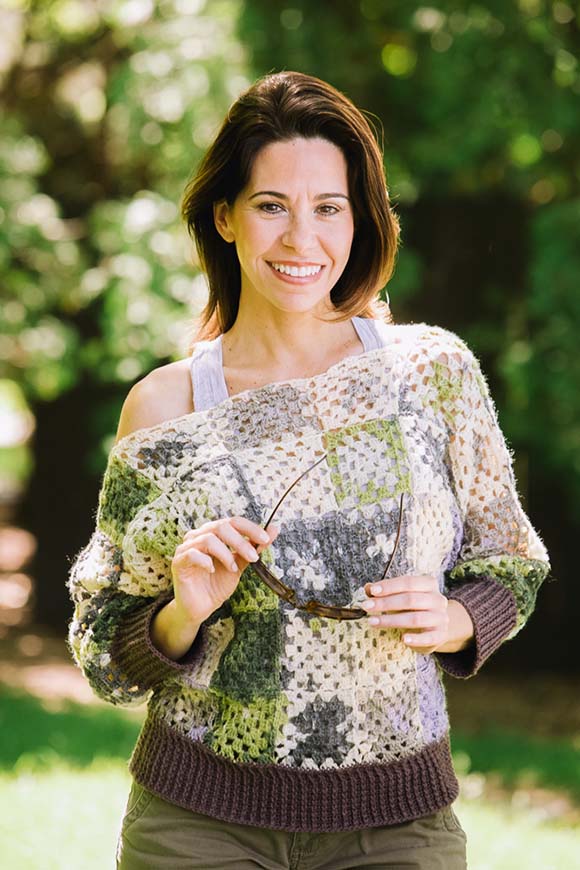 Or maybe you'd like to make the Deep Cut Moss Vest, with its deep V-neck, relaxed fit, and lovely textured pattern. Layer it over a tank or long sleeves — this piece will take you through several seasons! When it's time for a new cardigan, consider the Arlene Cardi with its chunky collar and cozy pockets, or our Chilled Mocha Cardigan with a lacy feel all around. If you need something between fancy and whimsical, whip up the Earthen Blocks Shawl for stunning topper to your favorite outfit.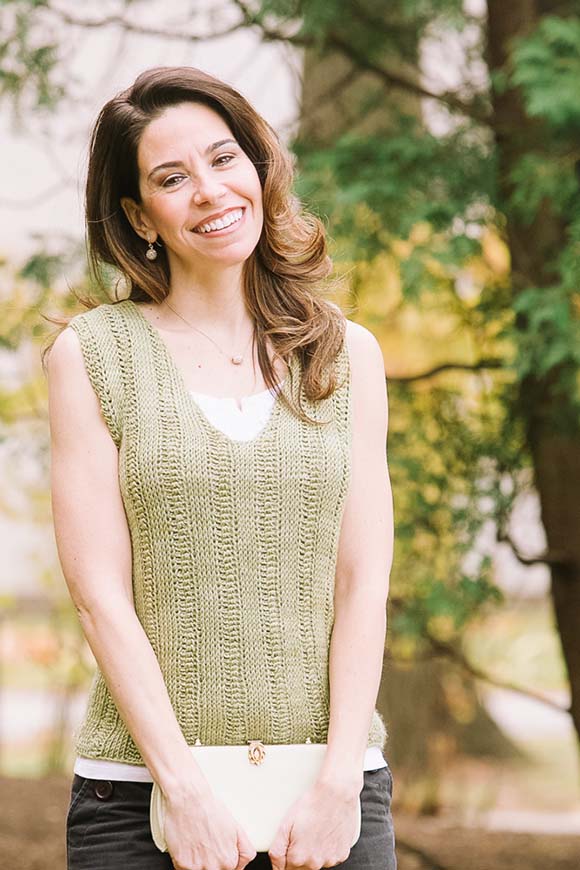 Warm days and breezy evenings are the perfect reason to make our Seafoam Waves Chevron Top. This lovely pieces evokes the feel of the ocean waves and it works up quickly. This is a delightful top you can use to dress up a skirt or keep it casual with shorts.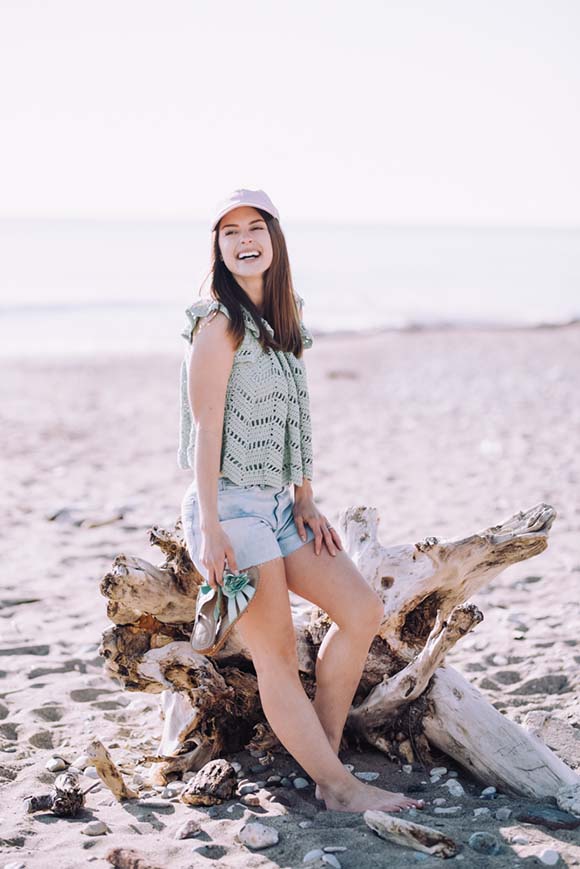 We have other airy tops for you to consider, including our Captiva and Airy Openwork tunics, our Lighter than Air Top, and our Edwardian Lace Tee with hints of Irish crochet in the motif and a delicate picot pattern along the edges. And when you need just a little something to cover up, our Pacific Breeze Poncho is the perfect choice!
When it comes to delicate cover-ups, we have patterns in a wide range of styles. The Dew Drops Shawl combines eyelet rows and a lacy pattern of puff stitches that come together in a beautifully detailed garment. It's so light and airy, you might forget you're wearing it — but people will notice. It's so beautiful!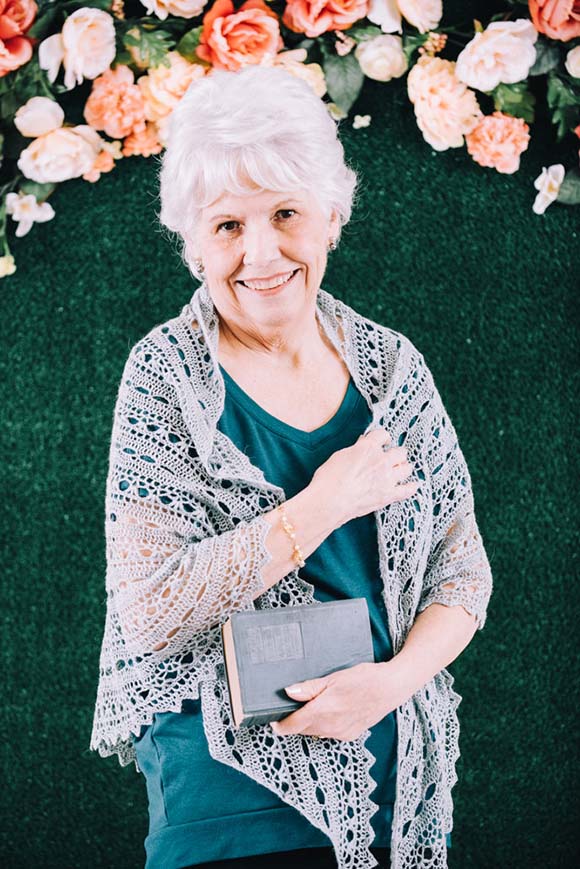 Of course, we think all our shawls are beautiful, including the Delicate Side to Side Shawl with its open mesh body and delicate edging; our Blythe Filet Shawl with a lacy flower motif and flowing fringes; our Ophelia Lace Shawl with its alluring lace edging; and our Raspberry Lace Shawl that's all about the yarn.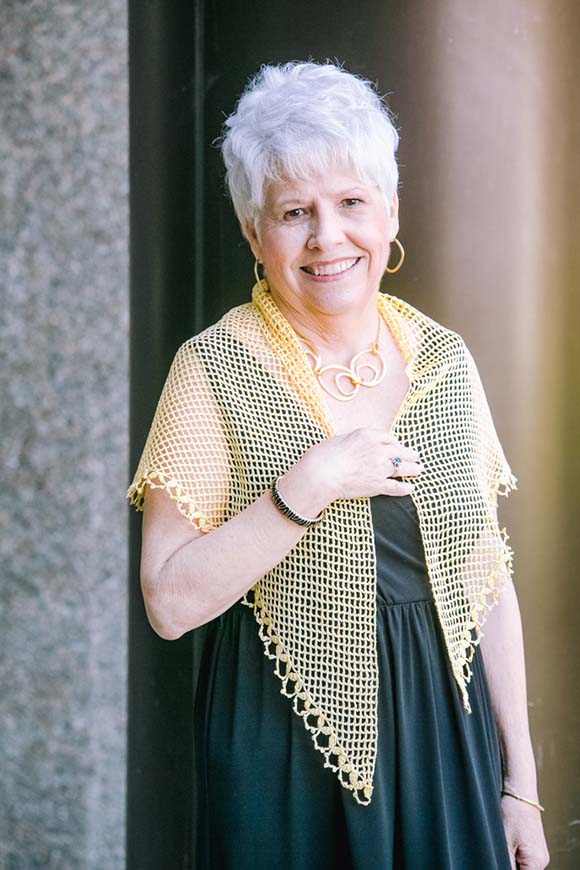 For some light on the lighter side, consider our Pineapple Lace Wrap with shell stitches that converge to create an intricate pineapple pattern — perfect for a fancy night out! Or our Touch of Lace Wrap, with just enough lace to make an elegant statement. Or our Vines and Flowers Wrap, complete with lattice work, traveling vines, and a graceful flowered edging — the perfect evening wrap.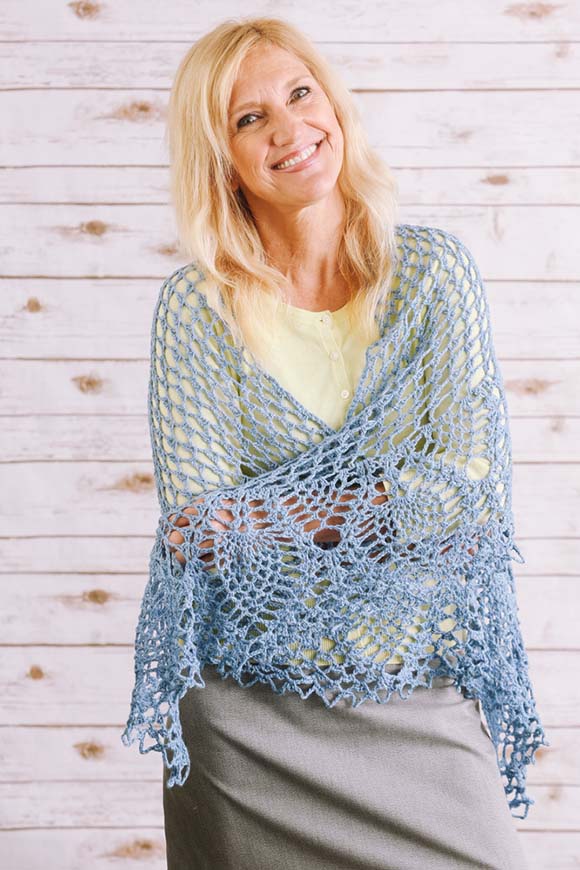 When all you need is a cowl or a scarf, don't settle the same-old, same-old. Go for light, airy, and dreamy — like our Floral Lace Cowl, Spring Lace Infinity Scarf, Ayla Tassel Scarf, or Firefly Lace Scarf. A little bit of lacy goes a long way!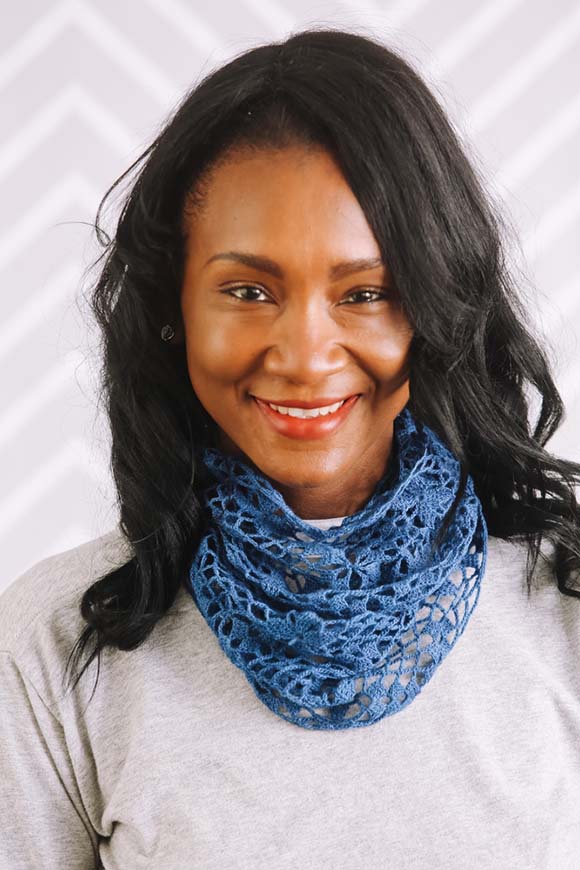 v
From a touch of home to flights of fancy to ruffles, lace, and ocean breezes — which of these vibrant springtime patterns are calling your hooks? Get ready to get busy — and beautiful!
But this is just a fraction of what you'll get with an I Like Crochet Gold Club Charter Membership—your membership includes subscriptions to the I Like Crochet Magazine Club and to the I Like Crochet Collections Club; full and immediate access to the digital library of 5+ years of magazine issues with 700+ crochet patterns and articles; step-by-step instructions for patterns; and video tutorials and full-color photographs for details about projects and stitches. All included with your Charter Membership!
Your I Like Crochet Gold Club Charter Membership gives you access to our crochet patterns and content, 24-hours-a-day on whatever device you prefer—desktop, or laptop! And the content is fully searchable, so you can find exactly what you want—when you want it—at your fingertips in an instant.
Here are just a few of the tantalizing patterns sitting in our library right now — you'll get instant access when you join the I Like Crochet Gold Club as a Charter Member:
Cuddly Crochet Baby Blankets
Super-Cute Amigurumi
Blue Sage Hooded Shawl
Easygoing Crochet Tank
Circular Chenille Afghan
Marigold Blanket
Baby Owl Bib
Moonlit Shells Shawl
Monster Baby Booties
Adult Pocket Scarf
Cropped Victoria Top
Vine and Twigs Scarf
Verde Velvet Pillow
Kaja C2C Rug
Flying Geese Jacket
Two Sisters Lake Sweater
And the library of photos and video tutorials is gorgeous, inspiring, and practical—showing you exactly how your finished patterns should look and exactly how to execute, even the difficult ones!
When you join our #1 community for crochet-lovers, you'll receive all of the handy benefits that crocheters everywhere have been buzzing about:
You'll learn new stitch techniques with a variety of patterns that range from beginner to advanced.
You'll find expert tips and tricks that will help you achieve professional results.
You'll start getting requests for your stunning crocheted items from your family and friends.
You'll have access to renowned designer patterns and tutorials from all over the world.
You'll never worry about mistakes in patterns or ripping out your progress because our tech-edited patterns are curated from trusted designers in the crochet community.
You'll be connected to an online community of crocheters who are just as passionate as you!
Don't miss out on this exclusive charter membership offer to get all of the above and more!
When you activate your I Like Crochet Gold Club Charter Membership today, you'll get access to everything we have about crocheting—all access and all the time:
A full year of upcoming issues of I Like Crochet magazine—Including nearly 100 exclusive designer crochet patterns and articles with step-by-step instructions, video tutorials and full-color photography for details of projects and stitches
Instant access to EVERY issue we've ever published—a vast library of more than 5 years of issues with 700+ patterns and articles
A full-year's subscription to the I Like Crochet Collections Club that includes gorgeous designer patterns
Regular e-newsletters, full of the latest crochet tips & tricks
Free patterns, expert tips, and Crochet Along community events
FREE Bonus! FREE access to two on-demand streaming crochet videos Crochet Secrets Revealed: 12 Tutorials by Michael Sellick and Back to Basics: 11 Essential Techniques and Stitches for Every Crocheter. FREE, instant, full, and unlimited access for you right now!
And here is what you don't get when you become a Charter Member of the I Like Crochet Gold Club—advertisements! That's right, we're advertising-free, so that we can devote more time, space, and effort to helping you be an awesome crocheter!
All of this is available to you—right now—when you claim your Charter Membership to I Like Crochet Gold Club. This special introductory offer includes FREE unlimited access to two on-demand streaming crochet videos Crochet Secrets Revealed: 12 Tutorials by Michael Sellick and Back to Basics: 11 Essential Techniques and Stitches for Every Crocheter…our gift to you for signing up now!
No other online magazine has this much information about crochet all in one place for your easy access!
Crocheters everywhere have been enjoying I Like Crochet magazine for years, and now it's better than ever with more benefits, patterns, and content than you could ever dream of—with an I Like Crochet Gold Club Charter Membership.
When we first put this new club together for crocheters like you, your needs and desires were top-of mind. We're the ultimate resource and network for crocheters everywhere, offering original designer patterns and content from authoritative and respected voices in the crochet world.
I think you'll agree that this really is an unusual offer, plus FREE access to our premium on-demand streaming crochet videos when you become an I Like Crochet Gold Club Charter Member today! It's an incredible deal that you don't want to ignore!
Why not be among the select group of crocheters to join us today and benefit from all the valuable information about crocheting that you can't get anywhere else?
Become an I Like Crochet Gold Club Charter Member today—while this special offer lasts!
Happy crocheting!

Caitlin Eaton
Editor, I Like Crochet Magazine