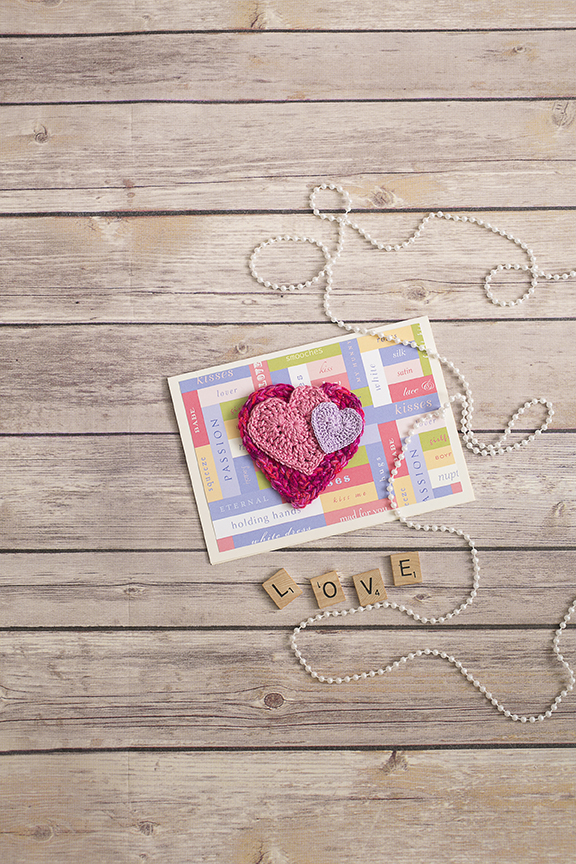 These heart card embellishments are the simplest way to add another loving touch to your Valentine's Day cards or presents. Easy to make, these hearts can be glued onto a pin back to be attached to fabric of your choosing or worn as a brooch.
Skill Level:  Easy
Size: Worsted weight heart = 3 ¼" x 3 ¼"; #3 Crochet Thread = 2 ¼" x 2 ¼"; #10 Crochet Thread = 1 3/8" x 1 3/8"
Gauge: Gauge not critical
Materials
Yarn: Red Heart Shimmer (97% acrylic, 3% metallic; 280 yards (256 meters)/100 grams): Red (less than 1 skein); Red Heart Aunt Lydia's #3 Cotton Crochet Thread (100% viscose from bamboo; 150 yards (137 meters): Red (less than 1 skein)
Hook: US size H/8 (5.0 mm) hook, US size E/4 (3.5 mm) hook and US size #2 (1.5 mm) steel hook
Notions: Yarn/tapestry needle, pin back if making a brooch
Pattern Notes
These hearts take very little yarn to make and are perfect to decorate cards or other gifts for Valentine's Day. If desired leave the ending tail long enough to use for sewing the heart to the card or another heart, or add a pin back for a brooch.
Start each heart with an adjustable slip knot that uses the beginning tail to tighten the loop on the hook for a snug center to Round 1.
Pattern
Rnd 1: Ch 4 (counts as 1st dc and center), (4 dc, 3 tr, 5 dc) in 4th ch from hook, sl st to top of beginning ch-4. Snug center of round tightly closed by pulling on beginning tail. (10 dc, 3 tr)
Rnd 2: Skip 2 sts, 7 tr next st, dc next st, 2 dc next 2 sts, (dc, tr, ch 2, tr, dc) next st, 2 dc next 2 sts, dc next st, 7 tr next st, sk 2 sts, sl st between last dc and beginning ch of Rnd 1. (12 dc, 16 tr)
Rnd 3: Ch 1, sl st in next tr, ch 1, (2 sc next st, sc next st)4 times, sc next 5 sts, (sc, ch 2, sc) next ch-1 sp, sc next 5 sts, (sc next st, 2 sc next st)4 times, ch 1, sl st next st, ch 1, cut yarn leaving 6 inch or longer tail, weave tail into dip of heart to finish. (36 sc, 1 ch-2 sp)
Finishing
Weave in remaining tails.