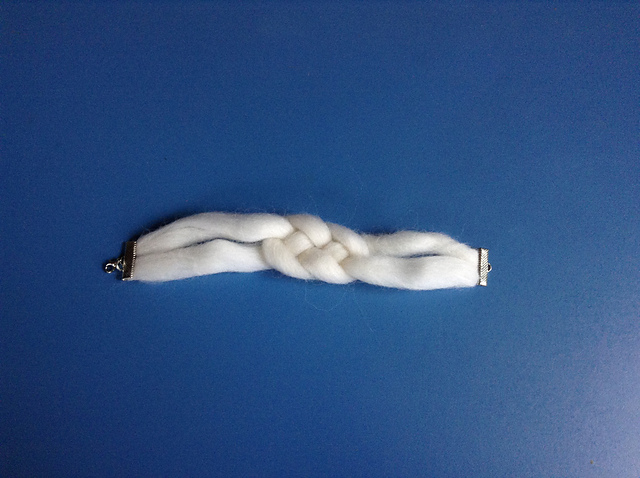 Leftover yarn can see new life with this nautical knot bracelet! Just follow along with this photo tutorial to make an accessory that's perfect for summer.
Materials Needed:
About 3 yards jumbo weight yarn (used Knit Picks Super Tuff Puff, 100% Wool, color 27199 White)
Plyers
Ribbon ends (20 mm) with jump ring and lobster clasp
Scotch tape (optional)
Instructions:
Cut 2 pieces of yarn 22" long.
Fold one piece of yarn in half and create a knot with folded end on top.

Fold second piece of yarn in half and lay on top of first knot piece.

Wrap second piece of yarn around the first, using photo as a guide.

Pull 4 ends taut to tighten.
Measure your wrist and trim to that length with knot at the center.
To keep the pieces together while you add the ribbon ends, place a piece of tape on both ends.

With pliers, crimp ribbon ends over the taped ends. Add jump ring and lobster clasp to one end.

Wear!