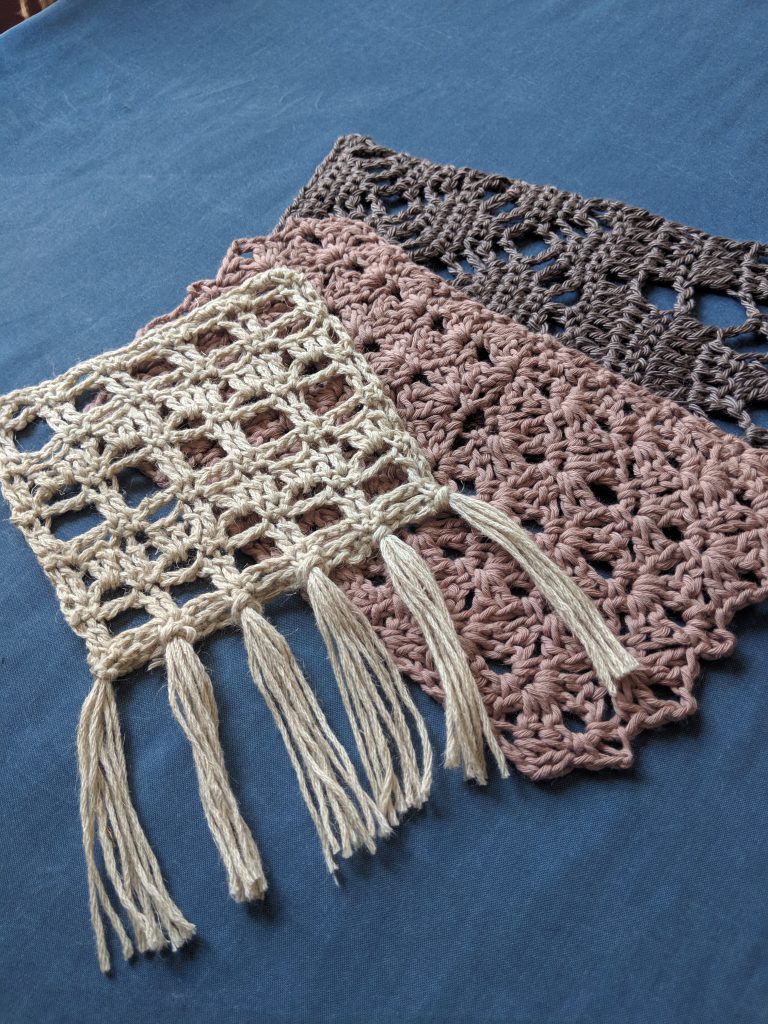 Looking for a fun lace pattern to try out this summer? We've pulled together a few of our favorite stitches for you to work up. Not only can lace crocheting be fun and addicting, but crochet has so many more possibilities to create lace compared to knitting.Lace can be as simple as working double crochet, chain 1 to create an open mesh. It can be short stitches paired with tall stitches along with chain spaces to create cool looking scallops. And more!
Have you ever seen a lace pattern that you like the look of but aren't crazy about the finished item? No problem! It can be easy as cake to use a lace pattern in a simple item like a scarf or rectangular shawl. Just take a look at number of stitches required in each lace repeat, cast on a multiple of stitches that works, add a few stitches to each side for edging, and you're good to go!
Below are a few examples of lace repeats taken from projects, and put into a simple rectangular form. The yarns used in these swatches are different than the yarn originally used in order to show just how much the look of the pattern can change. We promise; once you start, you won't be able to stop crocheting lace!
Yarn: Radiant Cotton (originally in Cotton True Sport)
Notes: The all-over single crochet-based diamond pattern paired with the scalloped edging at each end would make a cute summer scarf
Yarn: Kelbourne Mojave (originally Flax)
Notes: In the original project, the body of the tank top was mostly double crochet, while the hem used the Windows lace pattern. In the swatch shown here, I've striped the Windows pattern with a single row of double crochet. Wouldn't this look cute as an all-over pattern on a scarf or stole?
Yarn: Cottonwood (original yarn Flax)
Notes: The Seaglass Tank used the Shells stitch pattern on the lower part of the body, and increased to create a swingy shape. In this swatch, I've worked the Shells pattern outward from the center to illustrate how a scarf could be made. I love the scalloped edge formed by the shells!