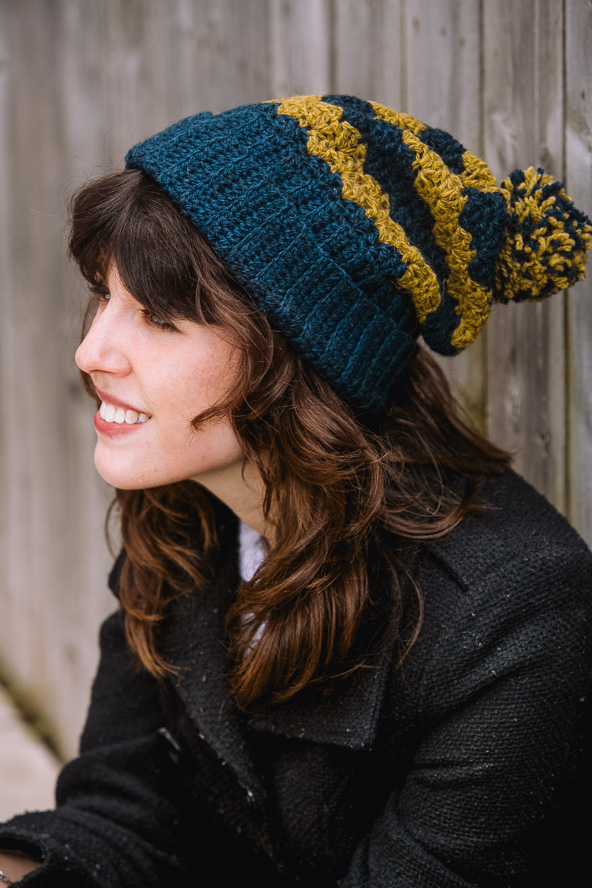 From: The December 2015 issue of I Like Crochet
Skill level: Easy
Dear Crocheter,
Everyone needs a simple, striped, crochet hat, and this one is full of details that step it up a notch or two. You'll crochet stripes in two colors, with a wide, ribbed brim that folds up, topped with a pom pom—just the thing to add a touch of whimsy to classic stripes.
Kristen TenDyke's designs are known and loved for their substance, style, creativity, and just plain fun. Her fans at I Like Crochet are always so excited when a new pattern comes out!
The Whimsical Striped Hat is crocheted from the brim up, beginning with snug ribbing that is so attractive and really keeps the hat in place. The brim is worked back and forth, and clever Kristen added a slip-stitch row halfway up the brim piece, so it folds up and stays folded. No rolling down to cover your eyes! She really thought this through for you.
After you've completed the brim, it's sewn together and you work the body of the hat off of one edge; from then on, you're working the hat in one piece in rounds. The stripe sequence is a simple three-round cluster done in alternating colors.
Take a look through your worsted-weight stash for yarn for this hat or take a trip to the local yarn shop and choose your favorite shades. This would be a great pattern for school colors—go, team!
The Whimsical Striped Hat is designed for two colors, but who says that's a rule? Make it even more fanciful and crochet it in a rainbow, using a different color for each stripe. Then use a few strands of each color in the pom pom. A little Roy G. Biv is always on trend.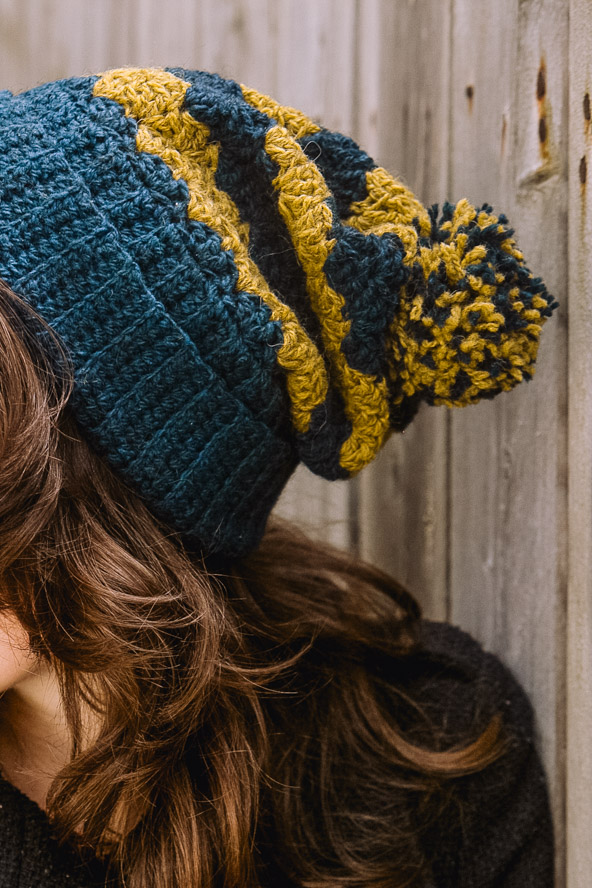 The Whimsical Striped Hat pattern includes:
Complete stitch instructions
List of necessary materials
Special stitch pattern instructions
Pattern notes
Detailed photography
Finishing instructions
Stripes are such a simple yet effective pattern, and the Whimsical Striped Hat is flawlessly fresh and slouchy; it's perfect for any fashion-forward guy or gal.
If you have a weekend of crochet time, you can complete one (or maybe even two!) of these hats, one for you and one for a friend.
You'll find the Whimsical Striped Hat pattern in the I Like Crochet pattern library. And, did you know you can have access to it anywhere you go? Just become a Gold Club Member, and you'll be able to view this fun and easy hat pattern on your desktop, laptop or tablet—whichever device you prefer!