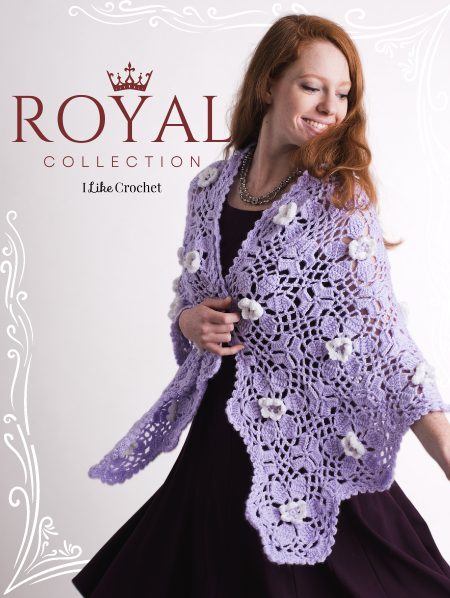 Feel pretty as a princess in a new wrap, capelet, shawl or sweater — these projects and more are just waiting for you to start on your royal journey of creativity!
Dear Crochet Friend,
A flowing shawl. A lacy scarf. An elegant capelet. We have patterns for all these and more in our Royal Crochet Collection. Make something special for yourself or that special someone, and bask in the royal glow of a project fit for a queen!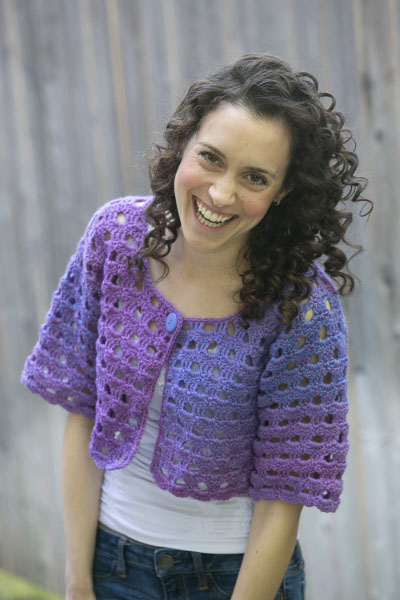 Reigning Purple
Ah, purple — the color of royalty. This luscious color comes in a wide range of shades once reserved only for kings and queens. Well, now you can put on the mantle of royalty with our light, airy, and elegant Alexandra Floral Shawl. This flowing shawl is a parade of lacy hexagon motifs with delicate flower petals crocheted into the center of each motif. You will be the queen of all you survey when you stroll through your garden in this lovely shawl.
When it's time to return to the relaxation of your living room throne, lean into the sparkle and splendor of our Royal Rhinestone Pillow. This textured pillow is embellished with rhinestones to give you a real royal feel.
Other projects in the province of Reigning Purple include the Isabella Capelet that you can customize for the flow and drape you prefer; the Coronado Cardigan, a bolero-length symphony of lacy scallops; our Queen for a Day Top with lacy motifs front and back; and the Filet Lacy Shrug — short, sweet, and a perfect beginning project for filet lace crochet.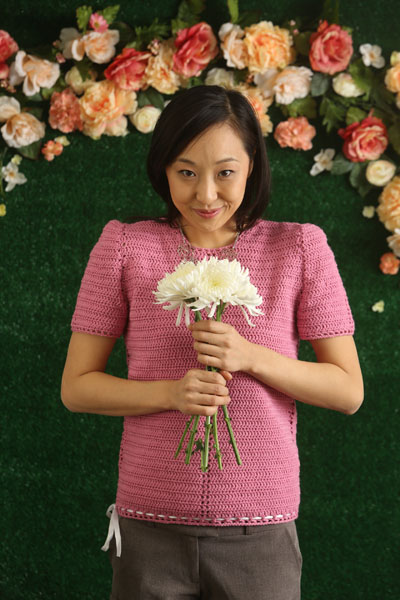 Princess Perfection
Sometimes you just need to feel as pampered as a princess. That's the time to get out your hooks and make the Pink Princess Ribbon Tee for the ultimate in lightweight comfort. This pattern is rated easy, so crocheters of all levels can make this simple yet elegant pullover. For the younger set, there's the Charlotte Cardigan, complete with rhinestone buttons. Need a little something to keep your princess warm and cozy? Our Pretty Little Princess Afghan will keep that special someone wrapped in light, lacy warmth. Rated easy, you can probably finish this charming coverlet in a weekend.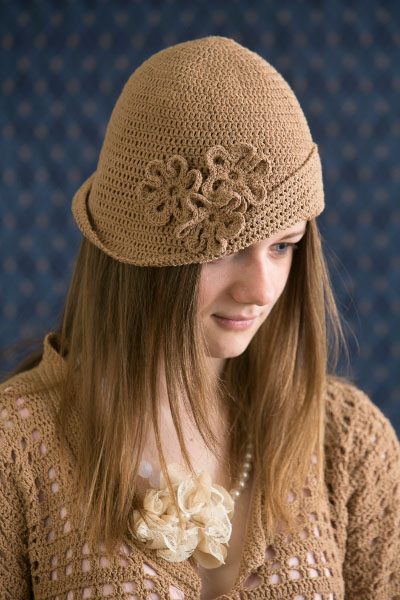 Fit For Royalty
The influence of Downton Abbey flows through our Fit for Royalty pattern section.  From the Downton Cardigan and matching Cloche to the spacious and gracious Downton Jacket with its shells and wheels,  you'll be stepping out in royal style wearing these pieces. Add a little argyle with the Downton Vest for colorful fun. And you don't have to be a Downton Abbey heroine to show off a lacy top. Our Edwardian Lace Tee has hints of Irish crochet in the motif and features a delicate picot pattern along the edges. You can't help but smile when you put on something so lacey and lovely!
Also in this section: the Tied and True Cardigan — a perfectly precious project for new and experienced crocheters alike, complete with shiny satin ties at the cuffs and front closure. The Ladylike Buttoned Cardi features a cropped length, a deep V-neck, and dainty buttons down the front of a dazzling filet crochet motif. It's the perfect choice to dress up a simple summer dress. The Sky Blue Shawlette and the Shimmering Sapphire Capelet are the perfect topping touch to an evening outfit.
Need a different touch of dazzle for a special event? Add our Ritzy Sequined Scarf to a basic black dress, and mission accomplished. And for an elegant, lacy wrap, make our Sweet Charlotte Shawl to accent any formal outfit any time of year.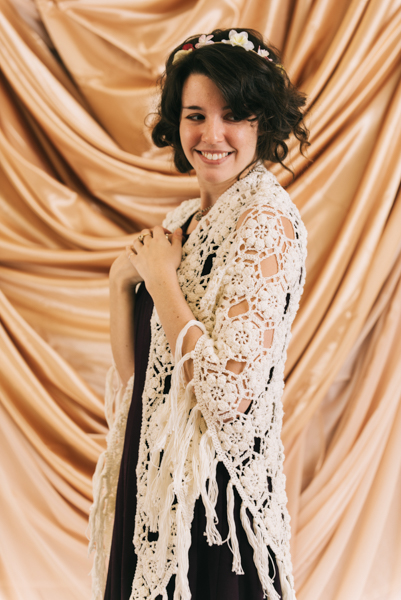 Fairytale Dreams
Our Fairytale Dreams section features wraps and shawls in dreamy textures and mesmerizing patterns. Give yourself the royal treatment and make one or two of these for yourself, or wow your friends with these wraps fit for a queen.
Start with the Spell-binding Scarlet Stole — a delicate wrap flowing with flowers. This wrap is the perfect balance of light, lacy, and dramatic. Make it in a bold color to add to your favorite formal outfit. Or make Once Upon a Wrap, with its beautiful, intricate trim of v-stitched fans. This wrap, worked all in one piece end to end, has just enough detail to make a statement without detracting from that lovely dress you're wearing. Also in this section: the Mystical Meadow Shawl, where square combine to make a lacy triangle; the Belle of the Ball Wrap with multiple lace patterns in one flowing garment, and our In a Faraway Land Shawl, with its light and air stitches and an easy six-row repeat pattern.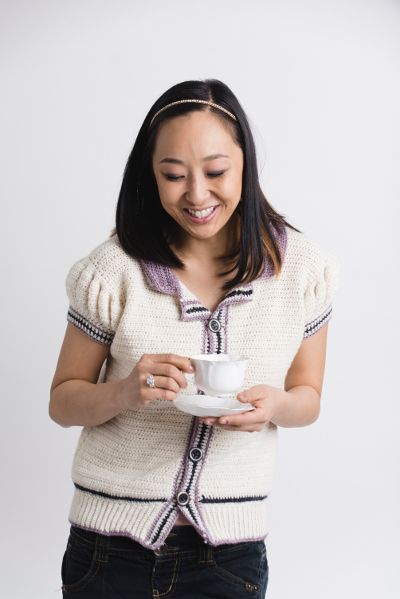 Tea Party
What's a royal gathering without a spot of tea? Be ready for your own tea party with these beautiful patterns. The Elizabeth Tea Cardi has rich detail with striped bands for the buttons and sleeves, a Peter Pan collar, and ruched sleeves. You'll look every bit the princess in this lovely sweater! Serve up your tea in royal fashion with the Queenly Doily to adorn the table. The elegant, open design features fan stitches that create the perfect ambience for entertaining company. And the Purple Passion Mat features three intriguing strips around a delicate center circle. This mat will make your home feel like a palace!
Royal Reds
Red is, of course, another bold color associate with royalty. Give yourself the royal treatment with one of these projects!
The Royal Blooms Shawl combines shell a V-stitches to create a flowing, elegant shawl you'll want to wear all the time, just because! When the weather is cool, one simply must keep one's wrists warm. Our Regal Wrist Warmers are elegant textured, fingerless gloves with smooth and snug ribbing for the wrists and a beautiful — and easy! — alternating pattern to go around your hand. This pattern is rated easy, so get out your hook and give your hands the royal treatment! And when you need just a little something elegant to dress up an outfit, make our Crimson Beaded Neck Wrap, complete with glass beads along the edges. The lovely tulip stitch creates the lovely illusion that the wrap has no rows at all — a neck wrap fit for a queen!
With so many royal choices in this collection, which one will you start with first?
But this is just a fraction of what you'll get with an I Like Crochet Gold Club Charter Membership—your membership includes subscriptions to the I Like Crochet Magazine Club and to the I Like Crochet Collections Club; full and immediate access to the digital library of 5+ years of magazine issues with 700+ crochet patterns and articles; step-by-step instructions for patterns; and video tutorials and full-color photographs for details about projects and stitches. All included with your Charter Membership!
Your I Like Crochet Gold Club Charter Membership gives you access to our crochet patterns and content, 24-hours-a-day on whatever device you prefer—desktop, or laptop! And the content is fully searchable, so you can find exactly what you want—when you want it—at your fingertips in an instant.
Here are just a few of the tantalizing patterns sitting in our library right now — you'll get instant access when you join the I Like Crochet Gold Club as a Charter Member:
Cuddly Crochet Baby Blankets
Super-Cute Amigurumi
Blue Sage Hooded Shawl
Easygoing Crochet Tank
Circular Chenille Afghan
Marigold Blanket
Baby Owl Bib
Moonlit Shells Shawl
Monster Baby Booties
Adult Pocket Scarf
Cropped Victoria Top
Vine and Twigs Scarf
Verde Velvet Pillow
Kaja C2C Rug
Flying Geese Jacket
Two Sisters Lake Sweater
And the library of photos and video tutorials is gorgeous, inspiring, and practical—showing you exactly how your finished patterns should look and exactly how to execute, even the difficult ones!
When you join our #1 community for crochet-lovers, you'll receive all of the handy benefits that crocheters everywhere have been buzzing about:
You'll learn new stitch techniques with a variety of patterns that range from beginner to advanced.
You'll find expert tips and tricks that will help you achieve professional results.
You'll start getting requests for your stunning crocheted items from your family and friends.
You'll have access to renowned designer patterns and tutorials from all over the world.
You'll never worry about mistakes in patterns or ripping out your progress because our tech-edited patterns are curated from trusted designers in the crochet community.
You'll be connected to an online community of crocheters who are just as passionate as you!
Don't miss out on this exclusive charter membership offer to get all of the above and more!
When you activate your I Like Crochet Gold Club Charter Membership today, you'll get access to everything we have about crocheting—all access and all the time:
A full year of upcoming issues of I Like Crochet magazine—Including nearly 100 exclusive designer crochet patterns and articles with step-by-step instructions, video tutorials and full-color photography for details of projects and stitches
Instant access to EVERY issue we've ever published—a vast library of more than 5 years of issues with 700+ patterns and articles
A full-year's subscription to the I Like Crochet Collections Club that includes gorgeous designer patterns
Regular e-newsletters, full of the latest crochet tips & tricks
Free patterns, expert tips, and Crochet Along community events
FREE Bonus! FREE access to two on-demand streaming crochet videos Crochet Secrets Revealed: 12 Tutorials by Michael Sellick and Back to Basics: 11 Essential Techniques and Stitches for Every Crocheter. FREE, instant, full, and unlimited access for you right now!
And here is what you don't get when you become a Charter Member of the I Like Crochet Gold Club—advertisements! That's right, we're advertising-free, so that we can devote more time, space, and effort to helping you be an awesome crocheter!
All of this is available to you—right now—when you claim your Charter Membership to I Like Crochet Gold Club. This special introductory offer includes FREE unlimited access to two on-demand streaming crochet videos Crochet Secrets Revealed: 12 Tutorials by Michael Sellick and Back to Basics: 11 Essential Techniques and Stitches for Every Crocheter…our gift to you for signing up now!
No other online magazine has this much information about crochet all in one place for your easy access!
Crocheters everywhere have been enjoying I Like Crochet magazine for years, and now it's better than ever with more benefits, patterns, and content than you could ever dream of—with an I Like Crochet Gold Club Charter Membership.
When we first put this new club together for crocheters like you, your needs and desires were top-of mind. We're the ultimate resource and network for crocheters everywhere, offering original designer patterns and content from authoritative and respected voices in the crochet world.
I think you'll agree that this really is an unusual offer, plus FREE access to our premium on-demand streaming crochet videos when you become an I Like Crochet Gold Club Charter Member today! It's an incredible deal that you don't want to ignore!
Why not be among the select group of crocheters to join us today and benefit from all the valuable information about crocheting that you can't get anywhere else?
Become an I Like Crochet Gold Club Charter Member today—while this special offer lasts!
Happy crocheting!

Caitlin Eaton
Editor, I Like Crochet Magazine