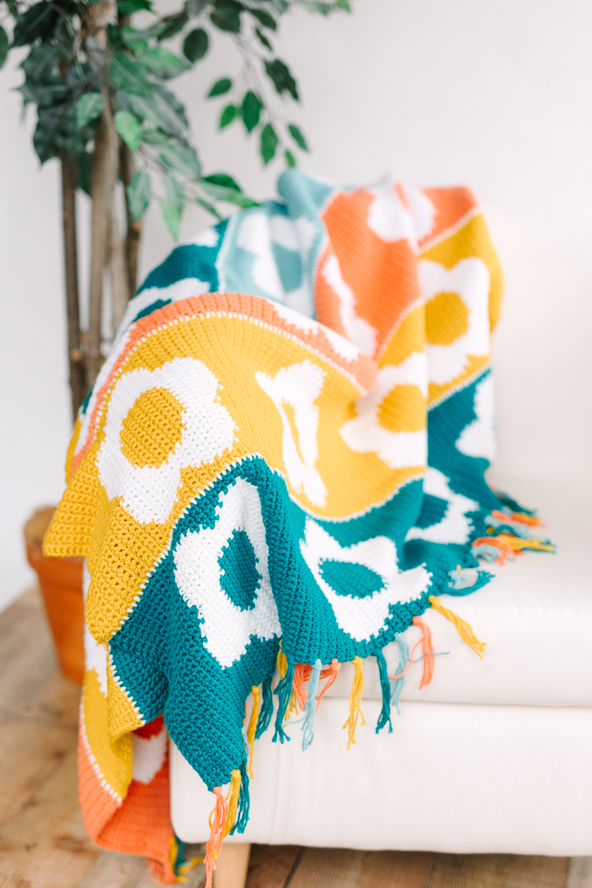 Let's go retro with a bright and bold baby blanket!
Dear Crochet Friend,
Remember the days of basic baby blankets? The old tried-and-true pinks and blues. Maybe a soft yet daring yellow. Or a neutral white. Or, save us — beige.
Put those pastels in the rear-view and let's go retro and bright! The new rules for baby blankets? There are no rules!
You know that everything old is new again, right? Flower power is back in style with our Lottie Retro Flower Baby Blanket. These bold flower panels are worked individually (can you say travel project?) and then crocheted together. Finish the whole thing off with a multi-colored fringe and you've got a bold baby blanket with no sign of pastels. Groovy!
Pick a medium weight yarn in your favorite bold colors get started! Now, while this pattern looks bold and daring, it's not all that complicated — it's the perfect project for intermediate crocheters. The whole blanket is made with single crochet. The fun part is changing colors to make the big, bold, groovy flowers. No worries! Our pattern includes a chart to show the color changes to bring your flowers to life. When you're done with all your panels, single crochet is all you need to bring them all together in perfect harmony. With that whimsical multi-color fringe, you'll have the coolest baby blanket in town, baby!