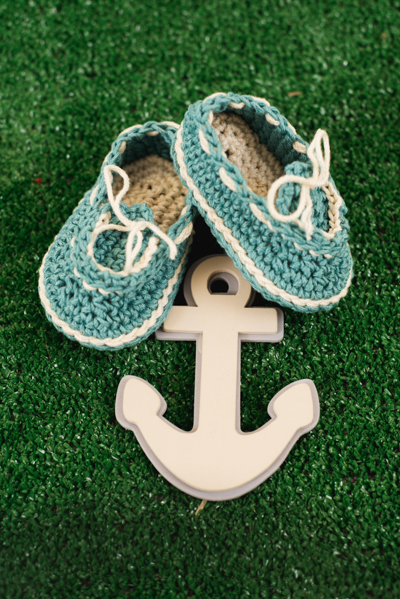 Dear Crocheter,
Precious babies everywhere will look adorable in little boat shoes. Ideal for a sailor Halloween costume, your next family vacation, or as a summertime staple, these baby booties are versatile and are sure to make waves with friends and family! You won't be able to stop crocheting pairs of these booties, so you can spread the cuteness far and wide. Amanda Saladin has done us all a huge favor with this design; moms will want to put these on baby every day!
Captain Cutie Boat Shoes really are based on boat shoes. The pattern includes directions for a tongue, which is attached to the shoe with a crochet chain. The chain adds a ridge around the tongue, just like in a real boat shoe. Delightful, right?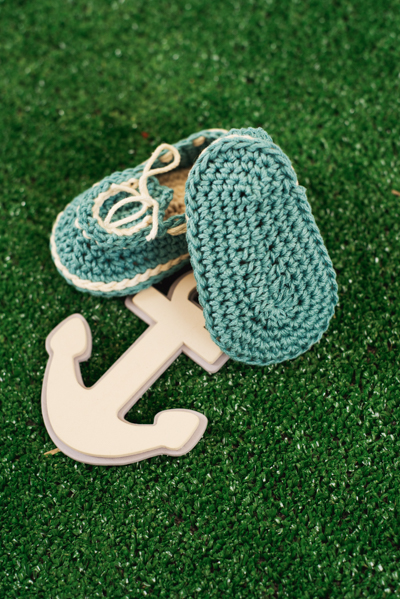 Amanda's sole design is so clever. Two soles are crocheted for each shoe, one in the main color and one in the contrasting color. The two are joined together with a slip stitch, with the contrasting color on the inside of the shoe and the main color on the bottom. This makes the shoe cohesive because the outside is all the same color, but the pop of contrasting color on the inside really adds a lot to the style, and it makes a neat highlight between the sole and the rest of the shoe.
The Captain Cutie Boat Shoes pattern includes:
Complete stitch instructions
List of necessary materials
Pattern notes
Detailed photography
Finishing instructions
The laces are just like a traditional boat shoe, too! They lace all the way around the shoe and are tied in a cute bow at the front. Baby will want a new pair of these crochet booties every year. Aye, aye, Captain!