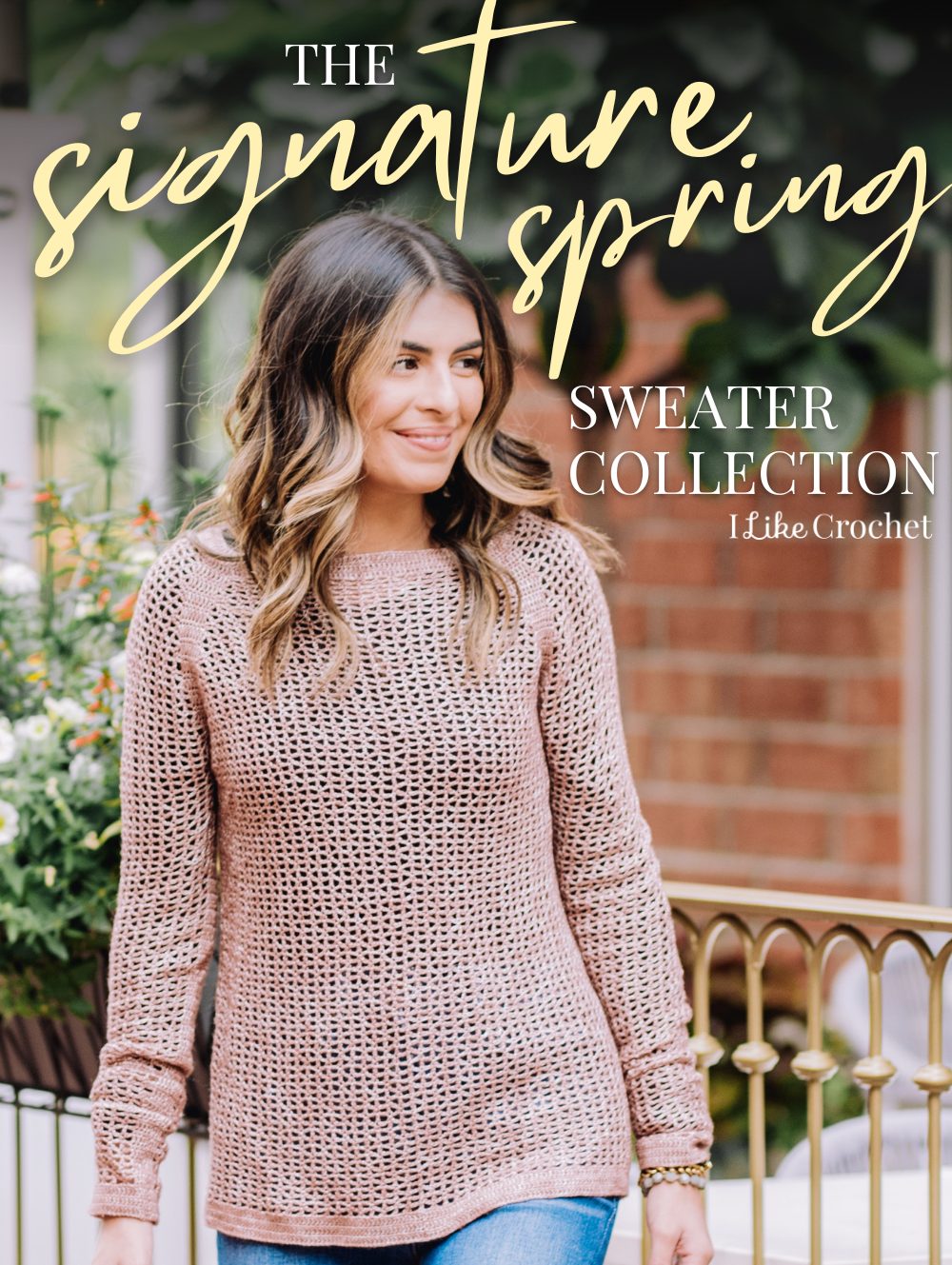 Enjoy stunning silhouettes, openwork stitches and an array of playful colors.
Dear Crocheter,
Spring is a wonderful season, full of hope, sunshine, singing birds, budding flowers, and… the occasional blanket of cool air. Of course, you expect that when the seasons are changing. There's a little back and forth, and the thermometer looks like a yo-yo some weeks, with warm sunny days followed by brisk evenings.
In other words, this is a great time for crochet! What's better than a light sweater to transition through the season? And what's more fun than making your own sweater? You can use your favorite yarn, choose your own colors, and get the satisfaction of wearing something 100% unique!
That brings me to this exciting I Like Crochet collection that we put together just for spring. The Signature Spring Sweater Collection includes pieces personally selected by our editors. From easy beginner patterns to the advanced level Sierra Swoncho (which you can peek below!), there's something here for every crochet skill level.
I should also mention the yarns! Oh. My. Gosh! Cotton, cashmere, Merino extra fine wool, alpaca, silk, camel, and more! We all love a top that fits well and looks nice, but add some wonderful fabric and it doesn't get better!
I'm really excited about this collection! Here are some of the designs in The Signature Spring Sweater Collection from I Like Crochet: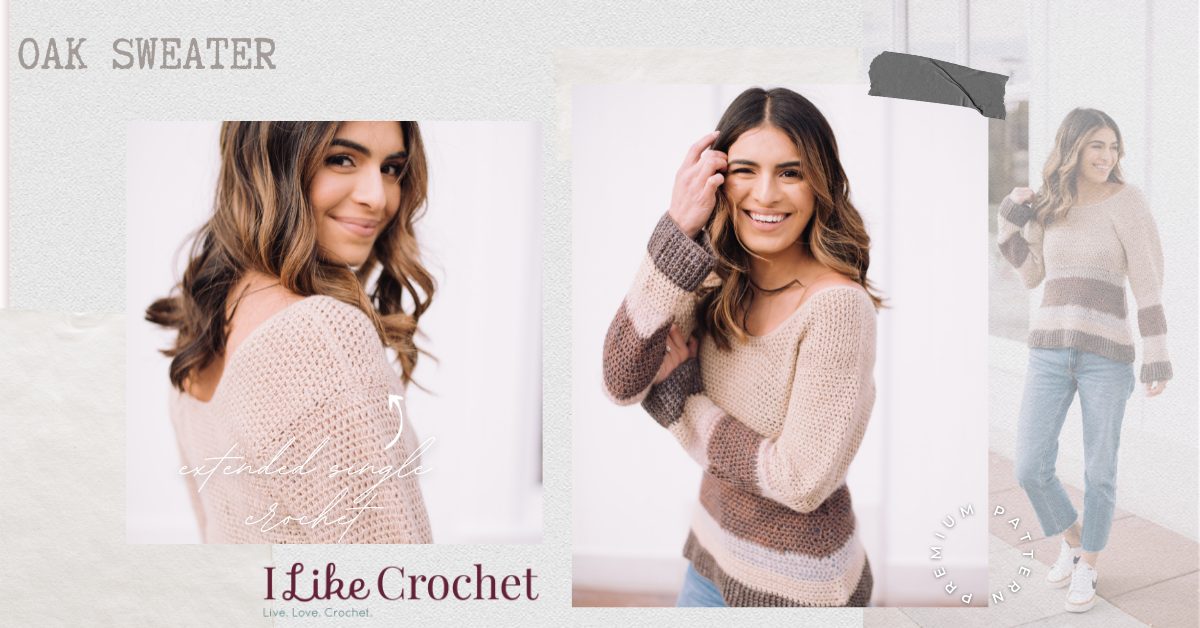 The Oak Sweater, from Cristina D. is absolute luxury. This sweater looks great, feels great, and fits perfectly. The earthy tones make this piece ideal for almost any setting, from the office to the grocery store to dinner with friends. The light mohair gives this a unique texture, too. It truly is an eye-catching design.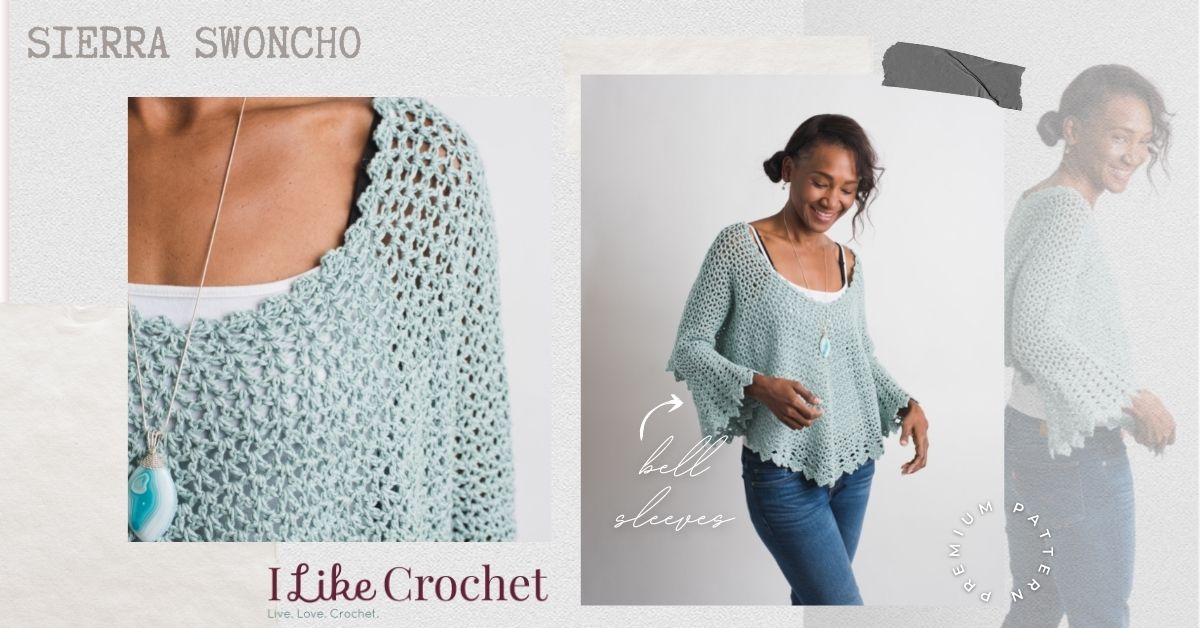 Swoncho? No, that's not a typo. The Sierra Swoncho is part sweater, part poncho, and 100% awesome. And when the time comes to emerge after a long winter,  you'll be glad this is in your wardrobe.  It's the perfect spring project, especially when many of us are limiting our activities. This classic pattern combines simple mesh with dramatic lace borders, and features belled cuffs. The loose, poncho-style fit is one you'll love wearing as the season changes.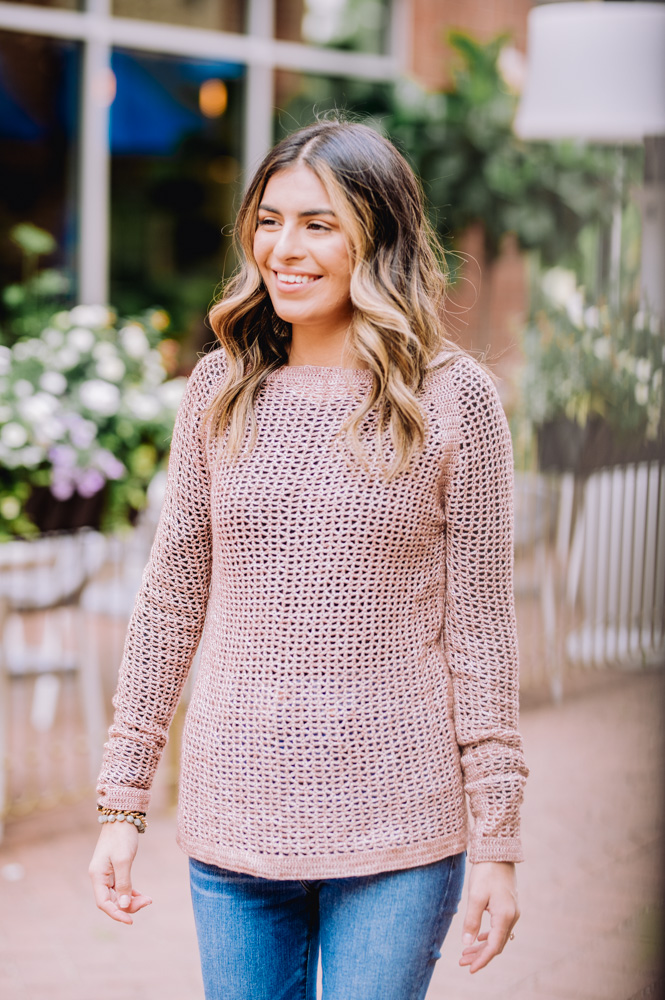 I love, love, LOVE the Makayla Mesh Sweater from designer Adinda Hening. The pattern is inspired by a traditional Korean door design, and the yarn shimmers in the light. And can I just say, the lace-weight yarn (viscose and Merino extra fine) feels absolutely luxurious. You'll want to wear this all the time! To make it even better, this is an easy weekend project, but you'd never know that from how wonderful it looks. Plus, it goes great with your favorite pair of jeans or dressed up a little for a night out.
That's just the beginning of The Signature Spring Sweater Collection from I Like Crochet. In all, there are 8 patterns here, offering a nice variety of spring sweaters that will keep you cozy on those cool spring days and nights, but still breathe when the sun is shining bright. These designs, as well as every design in I Like Crochet, come with:
Complete stitch instructions
List of materials, notions, and hook size
Pattern and special stitch notes
Finishing instruction
Full color, detailed photographs of each pattern
So you'll have no trouble creating the pieces you want to enjoy for yourself or share as gifts.
Plus, this is just one of more than 55 Crochet Collections and only a small selection of over 700 patterns that come with your I Like Crochet Gold Club Charter Membership.
Take a peek at the hundreds of patterns right now with your I Like Crochet Gold Club Charter Membership. You'll get designs and articles, step-by-step instructions, video tutorials and full-color photographs of each project, all in our library.