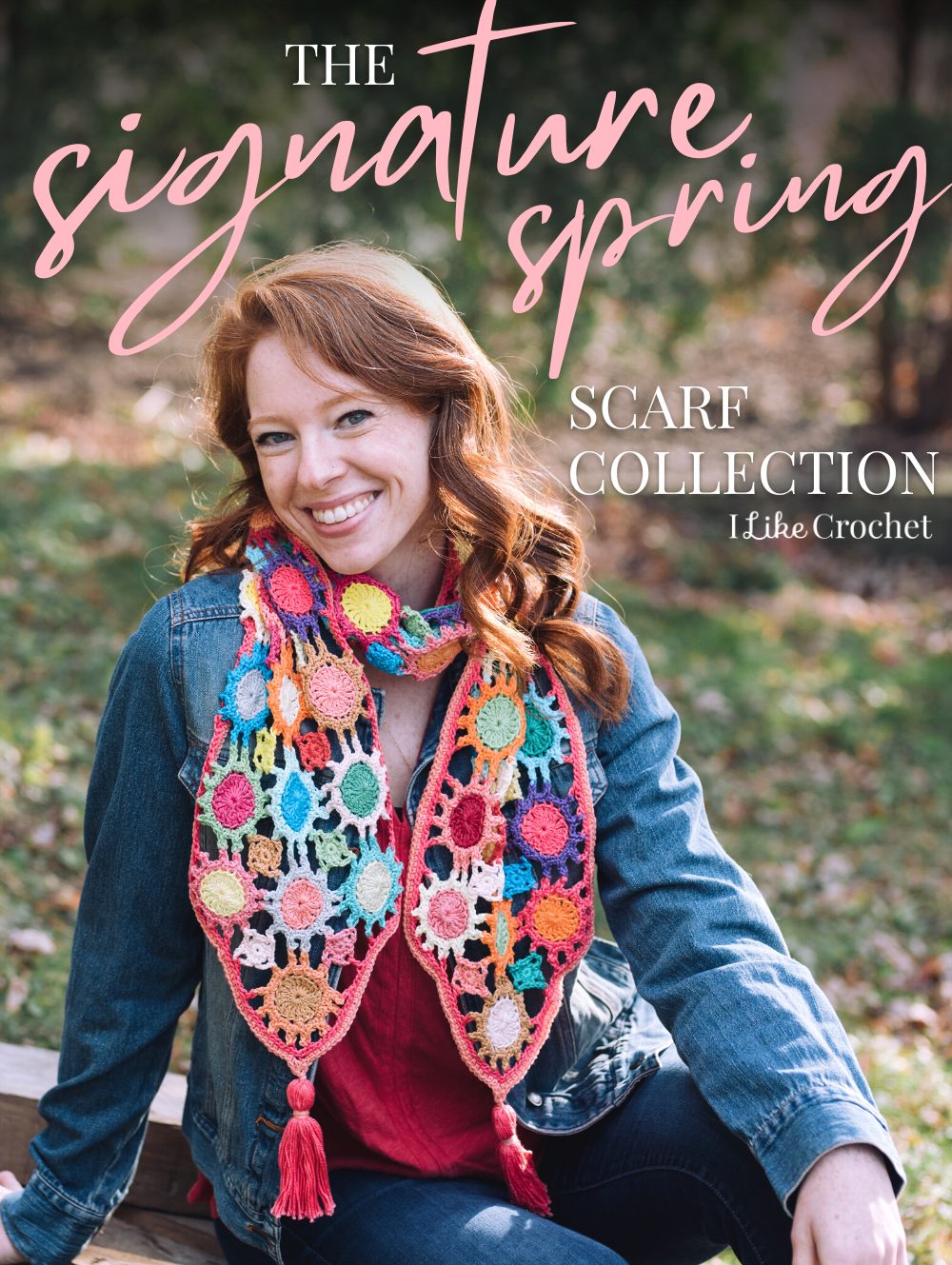 Wrap yourself in bold and beautiful patterns!
Dear Crochet Friend,
Winter scarves are delightful, cozy, and warm. But warmer weather calls for a different kind of scarf. Our Signature Spring Scarf Collection has 13 lovely scarf patterns ranging from light and lacy to wild and whimsical. Our patterns are perfect for crocheters who are just beginning and those who enjoy a little challenge. You'll love the look and feel of these lightweight scarves! Make a scarf or two for you, and then make a scarf or two to treat a friend. Here's a peek at what you'll find in our Signature Spring Scarf Collection!
We may be putting winter in the rearview mirror, but that doesn't mean the end of scarf season. Celebrate spring with our light and airy Abigail Striped Bias Scarf. You'll love its lighter-that-air feel with its row of bias-worked eyelets. The hardest part will be choosing your ideal color combination!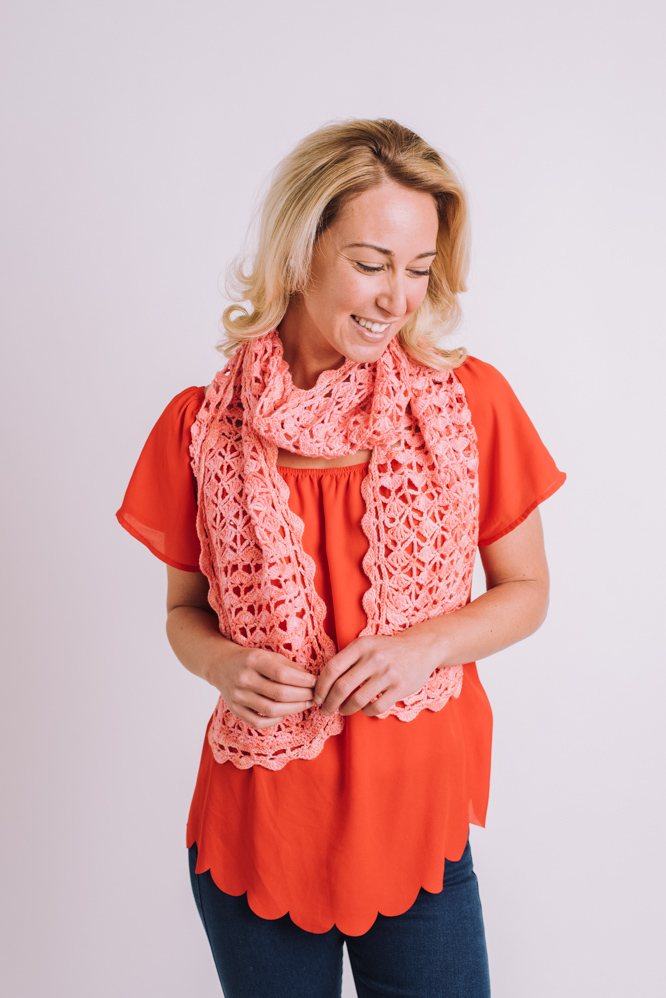 Inspired by pink moon scallop shells collected from sandy beaches, our Moon Scallops Scarf brings together small and large shell shapes. The result is a breezy scarf that's easy to make and easy to wear on morning walks while you look for seashells.
Looking for a great scrap-buster pattern? Dig into your yarn stash and work up our Patchwork Posies Scarf. Little flower and star motifs join together in a profusion of color and lacy whimsy. This is a beautiful bouquet of dozens of flowers that will never wilt! Our Flower in Bloom scarf has a similar theme but a bolder look, with vibrant flower-shaped granny squares — a great accent piece!
For another cheerful riot of color, make our Margot Queen Anne's Scarf in gradient yarn. It follows the beautiful Queen Anne's pattern which is very elegant and airy. Have fun playing with multiple colorways to create a lovely look that's uniquely you.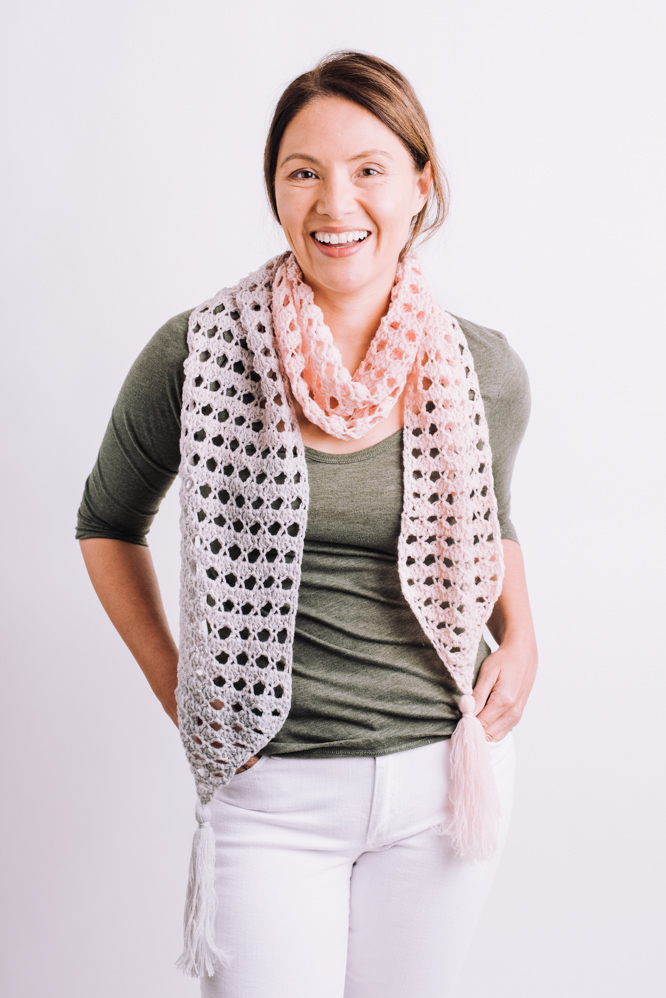 We have several variations on the theme of light and airy rectangular scarves that you may want to put on your to-make list:
Ayla Tassel Scarf: A one-cake wonder, alternate rows of crochet lace pair with narrow tassels for a delicate aesthetic.
Eden Eyelets Scarf: Eyelets float between rows of double crochet.
Pyramids of Style Scarf: Shell and v-stitches combine to create an eye-catching design.
Skinny Latte Scarf: Made with a beautiful trellis-like stitch, this project is easy and quick to work up — ideal as a portable project.
Fresh Air Scarf: The delicate edging of a shawl — without the shawl.
Mint Julep Scarf: Intricate and airy — perfect for spring and summer!
Making Waves Scarf: Make crocheted waves with long, colorful repeats.
Colorblock Plum Scarf:  The beauty of this scarf lies in the color and texture of the fiber.
Warmer weather is calling, and these scarf projects are waiting for you in our Signature Spring Scarf Collection.
If you love scarves, at least one of these patterns has your name on it. Crochet yourself something new!