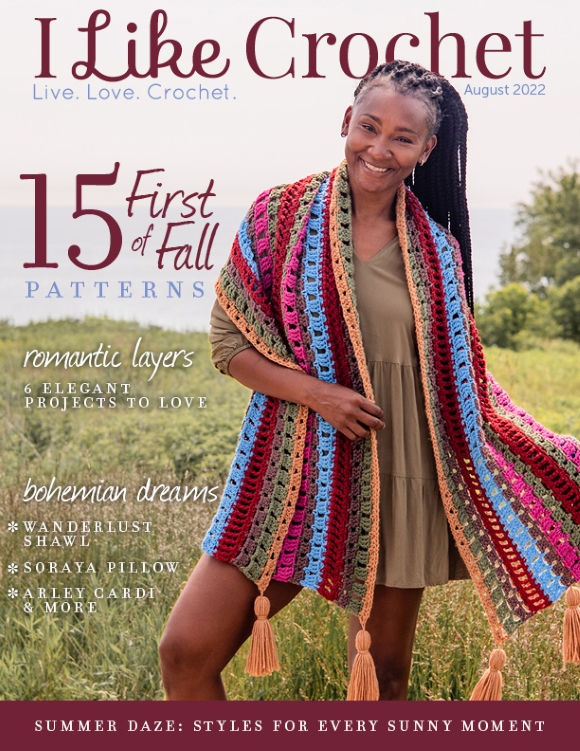 Find delicate details and funky fashion in this issue!
Dear Crochet Friend,
It's the details that make a project pop. Eye-catching stitches, interesting textures, mesmerizing patterns. We are all about the details in this August issue of I Like Crochet. Delicate lace. Bold stripes. A little embroidery, and a lot of tassels. Why not? It's still summer, and it's time to have some fun. Let's go crochet something new!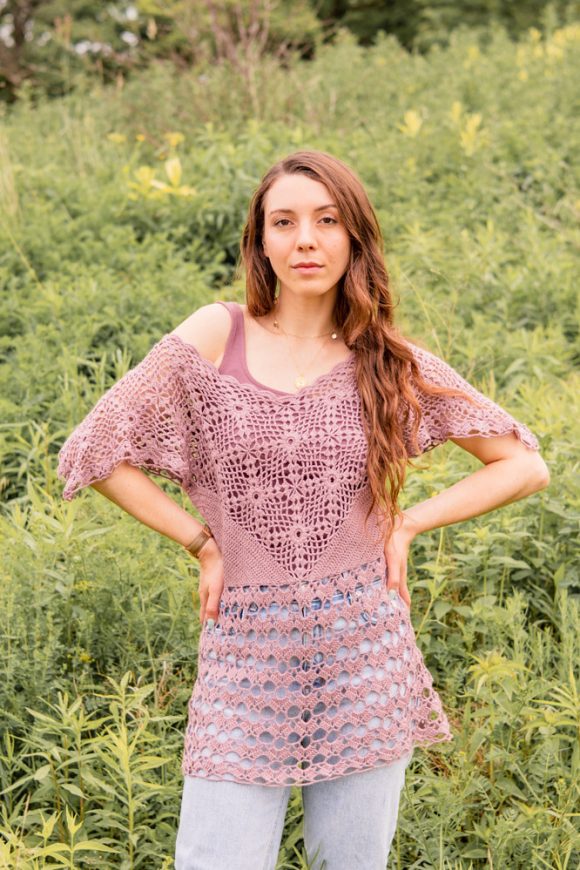 Summer Daze
August can be a hot month, but it's also a reminder that cooler weather will be on the way soon. For those of us still clinging to the dreams of summer, we have plenty of inspiration. Our Ainsley Top was inspired by the beauty of a summer meadow. Each element of this graceful top lets the avid crocheter enjoy a broad variety of crochet techniques. You'll love the drape of this top with plenty of lace accented with — you got it — more lace.
For the adventurous beginners among us, we offer the Alpenglow Cardigan. This shawl-collar, open-front cardigan features a sunset motif and decorative embroidery details. Let your spirit soar as you create your own cardigan.
Wrap yourself in lace and tassels with our Sandstone Shawl. This project, rated easy/intermediate, uses yarn of different weights to create a lovely textured, lacy look. The tassels break with tradition and run down the center of the shawl for flowing, carefree look.
The decorative detail, wooden beads, and casual tassels give our Boho Medallion Bag a laid-back look. This eclectic cross-body bag can be finished in a weekend, ready for your next adventure.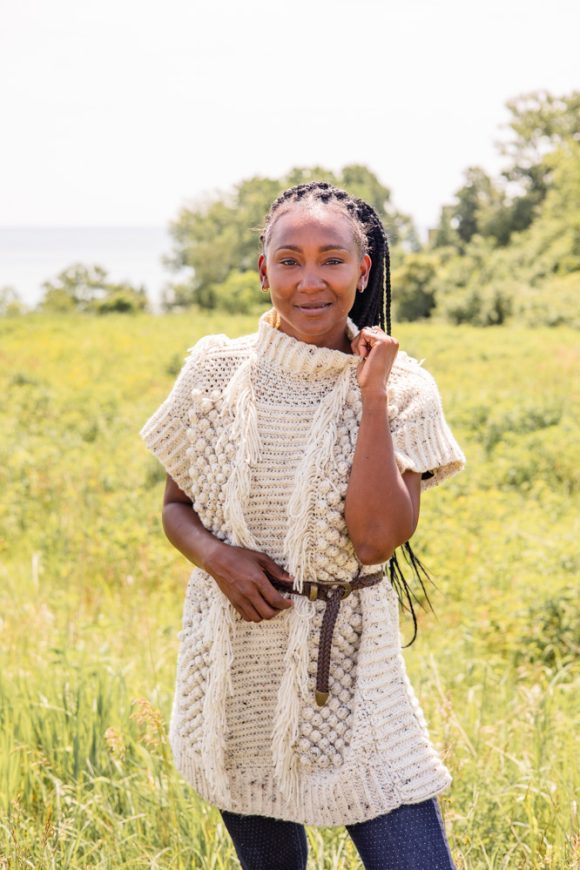 Romantic Layers for Fall
We know that summer will soon come to an end — but that doesn't mean the end of fun projects to celebrate the changing seasons! Our Skylark Fringe Poncho welcomes the coming of fall with exuberant bobbles, fun-loving fringe, and rich texture. Your hooks will get a workout making this poncho, but the end result will be so worth the effort!
Bobbles and buds adorn our oversized Marilie Bobble Cardigan. You'll work this project in flat panels and then seam it. You are granted full creative license to sprinkle embroidered flower motifs wherever you see fit. Make this cardigan uniquely yours!
Let your mind wander to a late summer meadow, heading for the crisp days of fall. Our Nightingale Vest sings a song of a time when things were simpler. Modern lines combine with wistful nostalgia to create a layered garment that's comfortable and versatile. You won't want to head out on an adventure without this vest! And wherever your adventures take you, relax in comfort with our Briar Blanket. Textured stitches give this blanket a lovely look and feel. It's as at home on the sofa as it is at a picnic in a clearing in the woods.
When you need to keep the chill of your shoulders, you need a wrap. Make yourself something bold and new. Our Hayden Fringe Wrap is a lightweight project that mixes textures to create a strong statement. Get ready for people to ask you where you got that stunning shawl!
Who's ready for some Tunisian crochet? Tune up your Tunisian skills with the Leighton Patchwork Scarf. Mix and match the sections of this this fun sampler project to create a one-of-a-kind scarf in the color palette that calls to you.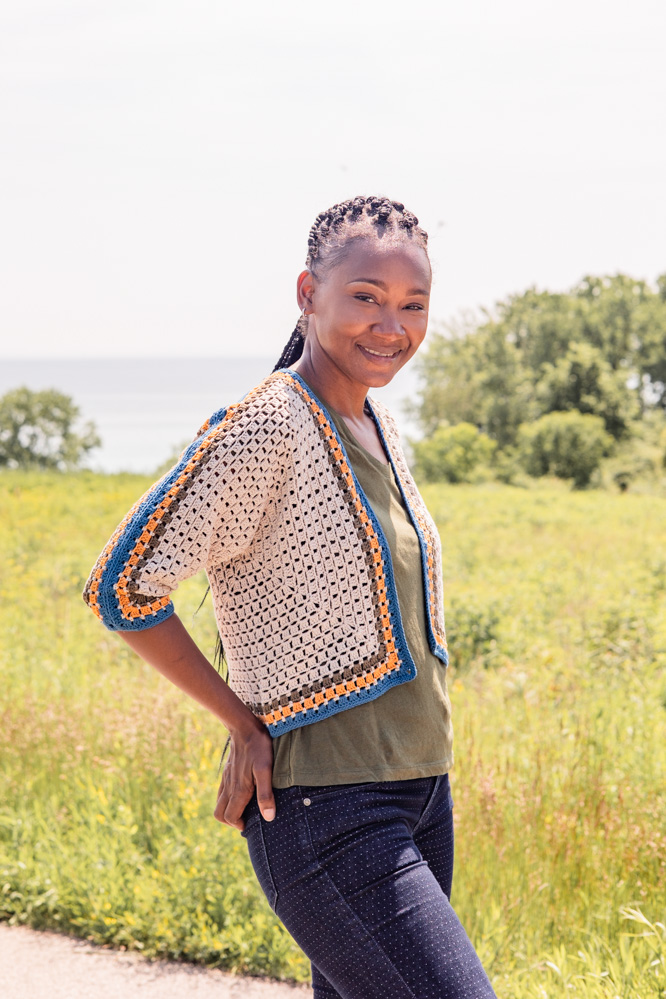 Bohemian Dreams
Got granny stitch? Once you're solid on the granny stitch front, branch out from granny squares and make the Arley Cardi. This is the perfect beginner cardigan for anyone who loves granny stitch. Two hexagons come together to form one snazzy sweater.
Don't let the bold plaid pattern of our Amber Plaid Throw "throw" you. There's no weaving required here, just an array of squares you'll make in herringbone half double crochet for a rich texture. Make your squares on the go and then put them all together using mattress stitch. Fringe on the short sides gives this blanket a cozy feel.
You can't have too many throw pillows (really!). Your guests will hardly believe this Soraya Striped Woven Pillow is actually a crochet project — it looks like the fabric came off a weaver's loom. The secret is in the combination of yarns crocheted together to get this fabulous texture. Rated easy, you can probably finish this project in a week. Here's another throw pillow project — the Peyton Pillow. This Bohemian dream throw pillow is worked with V-puff stitch for a braided look. The big, bold tassels give this pillow extra personality!
Go anywhere is Bohemian style with our Wanderlust Shawl. This is a project for crocheters of all skills levels, and features an eclectic palette of earth tones, bold, airy stripes, and exuberant tassels. Layer this shawl on for your next day of wandering.
Our August issue of I Like Crochet is fairly bursting with rich, romantic projects that are heavy on detail and delight. There's something here for crocheters of all skill levels. Where will you start your next crochet adventure?
But this is just a fraction of what you'll get with an I Like Crochet Gold Club Charter Membership—your membership includes subscriptions to the I Like Crochet Magazine Club and to the I Like Crochet Collections Club; full and immediate access to the digital library of 5+ years of magazine issues with 700+ crochet patterns and articles; step-by-step instructions for patterns; and video tutorials and full-color photographs for details about projects and stitches. All included with your Charter Membership!
Your I Like Crochet Gold Club Charter Membership gives you access to our crochet patterns and content, 24-hours-a-day on whatever device you prefer—desktop, or laptop! And the content is fully searchable, so you can find exactly what you want—when you want it—at your fingertips in an instant.
Here are just a few of the tantalizing patterns sitting in our library right now — you'll get instant access when you join the I Like Crochet Gold Club as a Charter Member:
Cuddly Crochet Baby Blankets
Super-Cute Amigurumi
Blue Sage Hooded Shawl
Easygoing Crochet Tank
Circular Chenille Afghan
Marigold Blanket
Baby Owl Bib
Moonlit Shells Shawl
Monster Baby Booties
Adult Pocket Scarf
Cropped Victoria Top
Vine and Twigs Scarf
Verde Velvet Pillow
Kaja C2C Rug
Flying Geese Jacket
Two Sisters Lake Sweater
And the library of photos and video tutorials is gorgeous, inspiring, and practical—showing you exactly how your finished patterns should look and exactly how to execute, even the difficult ones!
When you join our #1 community for crochet-lovers, you'll receive all of the handy benefits that crocheters everywhere have been buzzing about:
You'll learn new stitch techniques with a variety of patterns that range from beginner to advanced.
You'll find expert tips and tricks that will help you achieve professional results.
You'll start getting requests for your stunning crocheted items from your family and friends.
You'll have access to renowned designer patterns and tutorials from all over the world.
You'll never worry about mistakes in patterns or ripping out your progress because our tech-edited patterns are curated from trusted designers in the crochet community.
You'll be connected to an online community of crocheters who are just as passionate as you!
Don't miss out on this exclusive charter membership offer to get all of the above and more!
When you activate your I Like Crochet Gold Club Charter Membership today, you'll get access to everything we have about crocheting—all access and all the time:
A full year of upcoming issues of I Like Crochet magazine—Including nearly 100 exclusive designer crochet patterns and articles with step-by-step instructions, video tutorials and full-color photography for details of projects and stitches
Instant access to EVERY issue we've ever published—a vast library of more than 5 years of issues with 700+ patterns and articles
A full-year's subscription to the I Like Crochet Collections Club that includes gorgeous designer patterns
Regular e-newsletters, full of the latest crochet tips & tricks
Free patterns, expert tips, and Crochet Along community events
FREE Bonus! FREE access to two on-demand streaming crochet videos Crochet Secrets Revealed: 12 Tutorials by Michael Sellick and Back to Basics: 11 Essential Techniques and Stitches for Every Crocheter. FREE, instant, full, and unlimited access for you right now!
And here is what you don't get when you become a Charter Member of the I Like Crochet Gold Club—advertisements! That's right, we're advertising-free, so that we can devote more time, space, and effort to helping you be an awesome crocheter!
All of this is available to you—right now—when you claim your Charter Membership to I Like Crochet Gold Club. This special introductory offer includes FREE unlimited access to two on-demand streaming crochet videos Crochet Secrets Revealed: 12 Tutorials by Michael Sellick and Back to Basics: 11 Essential Techniques and Stitches for Every Crocheter…our gift to you for signing up now!
No other online magazine has this much information about crochet all in one place for your easy access!
Crocheters everywhere have been enjoying I Like Crochet magazine for years, and now it's better than ever with more benefits, patterns, and content than you could ever dream of—with an I Like Crochet Gold Club Charter Membership.
When we first put this new club together for crocheters like you, your needs and desires were top-of mind. We're the ultimate resource and network for crocheters everywhere, offering original designer patterns and content from authoritative and respected voices in the crochet world.
I think you'll agree that this really is an unusual offer, plus FREE access to our premium on-demand streaming crochet videos when you become an I Like Crochet Gold Club Charter Member today! It's an incredible deal that you don't want to ignore!
Why not be among the select group of crocheters to join us today and benefit from all the valuable information about crocheting that you can't get anywhere else?
Become an I Like Crochet Gold Club Charter Member today—while this special offer lasts!
Happy crocheting!

Caitlin Eaton
Editor, I Like Crochet Magazine