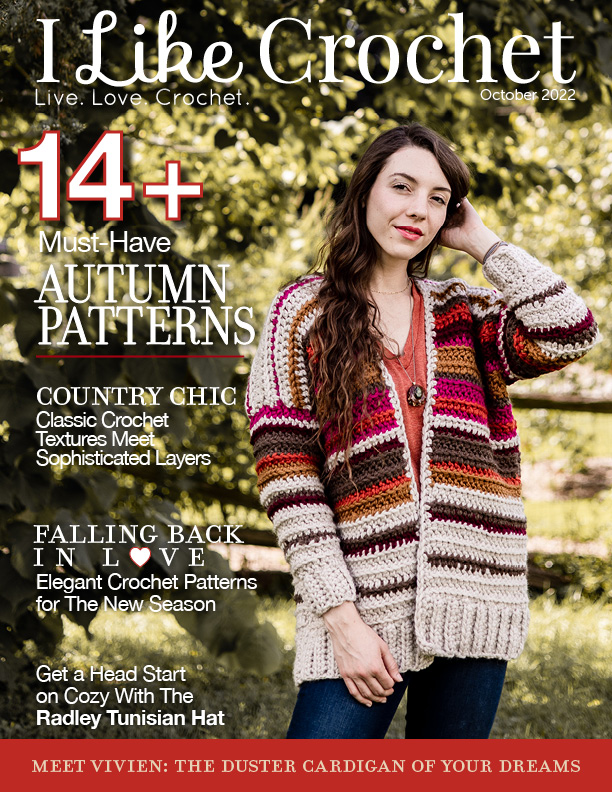 Crochet for purpose, passion, or presents!
Dear Crochet Friend,
We love the promise of brisk mornings and the bold pop of color that comes with fall. And it shows in our October issue of I Like Crochet. Need something bolder than a basic cardigan? We've got you covered from head to (almost) toe! Let's check out the new fall offerings!
Introducing: Shawls for Sharing
Our first project is packed with inspiration. Designer Kristin Omdahl heads up the Shawls for Sharing Initiative — a project to raise awareness of domestic abuse and to support survivors. Each season, Kristin will release a knit or crochet pattern. The first is the Easy Breezy Shawl Pattern, which is included in our October issue of I Like Crochet. The idea is to make a shawl and donate it to a good cause. You can also buy the pattern from Kristin's site; 100% of proceeds will go to the National Network to End Domestic Violence. Read more in this issue about how you can support this cause. This shawl is pretty versatile; you can make it as a kerchief shawl, a shawlette, or a full-size shawl. Make it for yourself or donate it to someone who would appreciate the beauty of a handmade shawl.
Kristin Omdahl has also written a book, Crochet Power, which covers all the essentials a crocheter needs to know, from reading patterns and charts to finishing and blocking a project. We include an excerpt of Crochet Power in our October issue so you can get a sneak peek at some of Kristin's practical and inspirational content!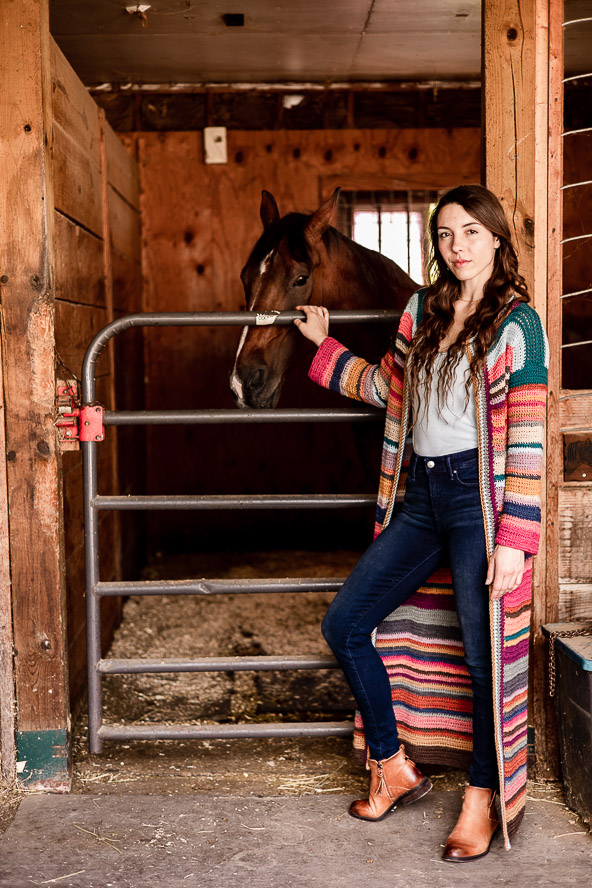 Shades of Autumn
Welcome the onset of fall with a bold and cozy lapghan. Make our Luna Bobble Stitch Lapghan in a weekend, and prepare to snuggle under its playfully nubblyness! The chevron pattern, bobble stitch, and spiral edging give this lapghan great visual appeal on top of its clear coziness! Or use your crochet skills to make a bag that makes a real statement. Our Copper Mandala Bag is bold in its roundness, with an eye-catching bean stitch, a focal point circle for a tortoise shell mandala, and a cleverly stitched handle opening. This is not your everyday bag — unless you want it to be!
Fall just wouldn't be fall without cardigans, and we have a terrific trio for you. Our Margareta Cardi is all flowing lines and bold stripes. If you move between the worlds of crochet and knitting (or you'd like to), this is a great opportunity to crochet a sweater that echoes the texture of a knit garment. For the adventurous beginner, our Maylin Cropped Cardigan is a simple, cropped V-neck cardigan with bishop-style sleeves and a lovely ribbed texture. Make it with two similar shades of yarn or go bold with a bright contrast! If the fresh fall air brings out the romantic in you, start making your shopping list for the yarn to make of Vivien Duster Cardigan. This full-length sweater is a real stunner, with colors inspired by the sunset. Easy enough for beginner crocheters to make, this duster is made from the bottom up with minimum seaming. Front-loop stitches add texture and even more visual interest to this bold statement piece!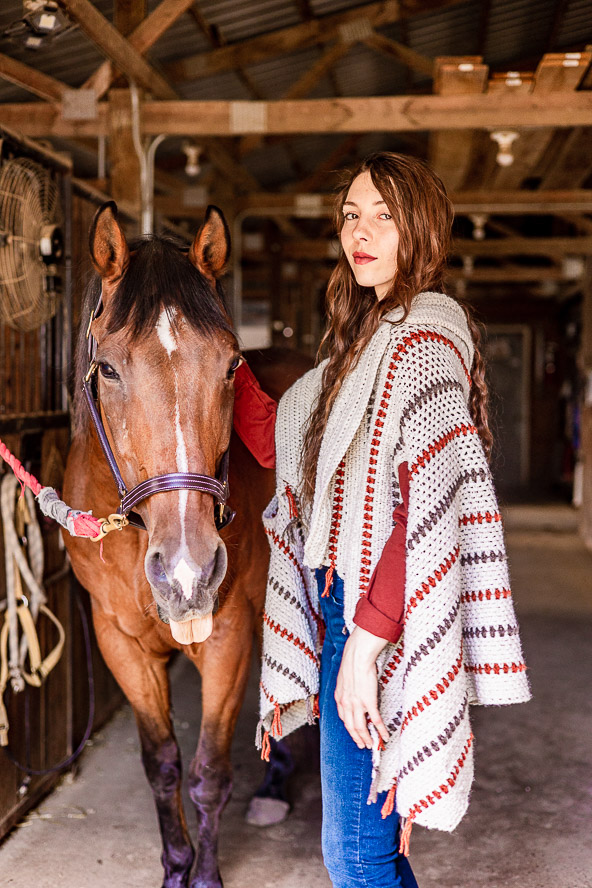 Country Chic
Fall is that time of year when you hear country roads calling for adventure: hayrides, apple picking, fall fairs. Be sure to take Tilly the Pony along with you when you hit the road. This sweet little pony amigurumi will capture your heart — you may have to make one for you and another for that special youngster. With a soft flowing mane and big kissable nose, Tilly is one sweet little pony!
Don't head out to the hayride without the Pippa Half-Zip Sweater. This piece is destined to become a fall favorite. Use a textured yarn to create a sherpa-like fabric. Using some clever construction techniques, your finished sweater can have the look of your favorite on-trend fleeces! If you're looking for effortless style, look no further than our Fillippa Crochet Sweater Blazer. This pattern is packed with style, yet still rated Easy; you could have it done in a weekend! This blazer features a simple stitch pattern, minimal shaping, practical pockets, and an optional belt tie. You'll find yourself reaching for this blazer on a regular basis!
For those days when you need a little bit of an extra layer for warm, but more for style, try our Steeplechase Cabled Vest. This beautiful pattern has a classic V-neckline, bold buttons, and a striking cable pattern. Layer on that style! Can't decide between a poncho and a cardigan? Reach for our Cavalli Poncho Vest. This is the perfect project for the laid-back crocheter. This vest is worked all in one piece with bold stripes and a cozy oversized collar.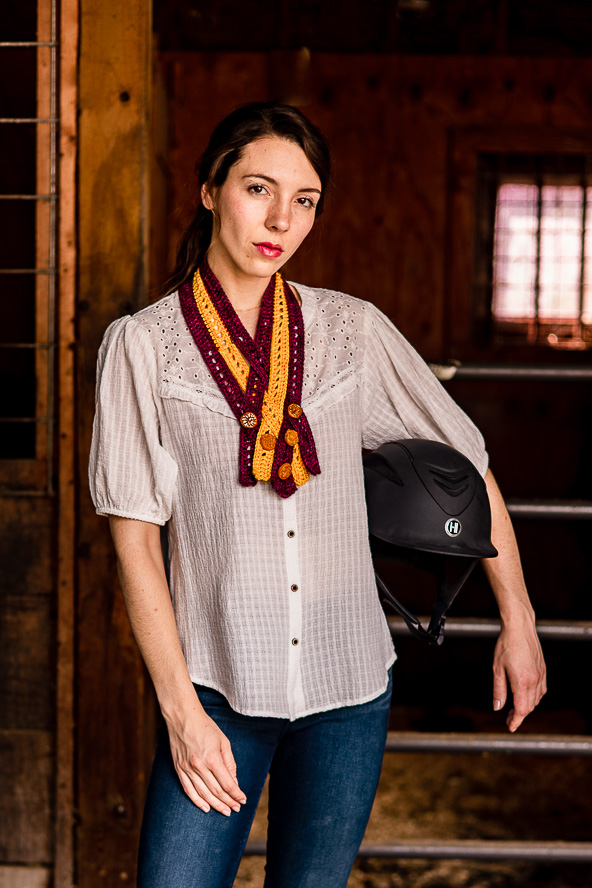 Falling Back in Love
Take your love of crochet in new directions with our Radley Tunisian Hat. This chunky two-tone Tunisian crochet hat gets its inspiration from winding country roads and colorful fall meadows. There's nothing ordinary about this hat; you'll wind up wearing it whenever the weather turns cold. Keep our Arista Cardigan on hand for early morning walks. This extra-cozy cardigan is a fall harvest of texture and color. A simple light layer doesn't have to be blah; and our Caradonna Cowl Neck Poncho is anything but! Simple crochet mesh creates this flowing poncho with side slits for extra versatility. And if you need a little warm embellishment for your favorite top, make the Rosalyn Woven Cowl. This easy project is doable in a day. Work it up in luxury yarn and decorate it with dazzling buttons for a terrific focal piece for you or a fabulous gift for a friend.
Our October issue of I Like Crochet is packed with color, comfort, and creativity. There's something here for crocheters of all skill levels. Which projects are calling your hooks?