Features
Patterns
Departments
Get All-Access Membership Now!
Learn More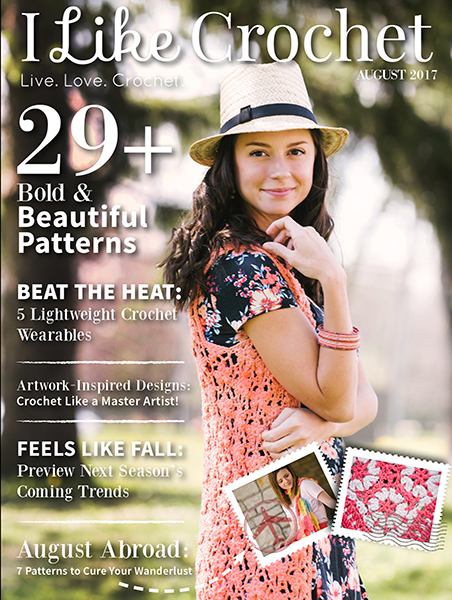 A Note from the Editor
Every summer when I was little, my family would pack up our '95 Chevy van and drive six hours north to Mercer, a small town in Wisconsin known by locals as the Loon capital of the world. Here, surrounded by my cousins, aunts and uncles, magic was made. I don't remember every day of those weeks in detail, but I remember the feeling those trips gave me: happiness in its purest form. My cousins and I would spend hours down by the lake, catching frogs, playing Frisbee and laying in the sunshine until our swimming suits stuck to our bodies, dry and hot. I had everything I needed in that tiny Midwestern town: family, sunshine and the opportunity to make memories that would warm my soul even through adulthood. It's these snippets that first come to mind whenever I think about summer. It's the memories, the beauty of nature, the friendships formed during paddle boat races — in other words, it's the classic moments.
Keeping these things in mind when we prepared this edition of I Like Crochet, we tried to capture the beauty of summer through fresh and colorful designs that are bold, lightweight and perfect for the season. Start your summer crocheting journey with our artwork-inspired collection, featuring pieces for the kitchen and your wardrobe. Conquer your wanderlust with a selection of travel-ready bags, blankets and accessories.
Plus, gear up for the fall (it will be here before you know it). We've included some of the coziest patterns from the Copper Blues Cowl to the Wild Child Tunic to an adorable pencil case for the little ones.
So before you head out this summer, ready to make lasting memories, browse and crochet these patterns that capture the true essence of the season. After all, if you're creating memories that will last a lifetime, you're going to need pretty and practical clothes to wear while you're making them!
Happy crocheting,

Design submissions and article ideas should be sent via email to submissions@ilikecrochet.com