Features
Patterns
Departments
Get All-Access Membership Now!
Learn More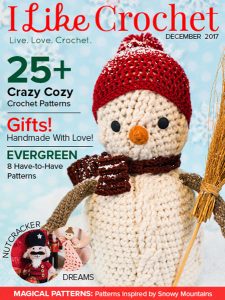 A Note from the Editor
I've always held a soft spot for winter. As a child, the season's first snowfall seemed like a holiday. I'd run around the house telling my parents, "It's snowing! It's snowing!" I could barely wait until the next morning, when my brother and I would bundle up in our warmest winter gear and build our first snowman of the season. This gear often included several homemade hats and scarves, passed down from generations. Each one striped with darkening rows of blue and yellow, felted over the years as my mom and dad carefully washed, dried and restored them each season. Since those years, I've developed a fondness for the crocheted items that accompany the cold weather, and each year I try my best to crochet up new items for the holidays, whether it's a decoration for my home or a new scarf for a friend.
With this new issue, I hope you find projects that inspire you to start counting down to the holiday season! You can start by crocheting the super-cute snowman featured on this month's cover. Little Olwen will be the perfect addition to your mantel this season. Pair him with the equally festive Nutcracker Prince for a charming and classic Christmas set that will warm your house for years to come.
Décor isn't the only thing this issue has to offer. Whether you're looking for crochet gift ideas, like the cute and simple Give it All You Dot Makeup Bag, or larger, more cozy items like the Cedar Wrap and Balsam Fir Waterfall Cardigan, this issue is packed full of winter friendly patterns that are just what you need for cooler weather.
Plus, don't miss my personal favorite – the Foliage in the Woods Wrap. Inspired by the small gleams of light peeking through bare winter branches, this gorgeous project features lovely shades of gray and purple that work together to create a stunning, final piece.
Happy holidays,

Design submissions and article ideas should be sent via email to submissions@ilikecrochet.com