Features
Patterns
Departments
Get All-Access Membership Now!
Learn More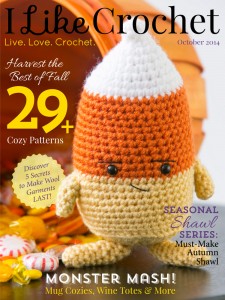 A Note from the Editor
Caramel apples, pumpkin pie, cool breezes and orchards ripe with apples — with everything autumn has to offer, it's hard not to fall under its spell. As I get older, I find myself not only looking forward to autumn, but craving it. Apple cider donuts, hot apple pie, and pumpkin-flavored everything — fall is simply delicious. But aside from all the tasty treats, there's something magical about the colder weather. I love layering up with loose, but tailored cardigans. I love the way the wind combs its cold fingers through my hair. I love the feeling of crocheted sweaters resting on my skin and soft cowls wrapped around my neck.
Needless to say, creating this special fall issue was an absolute delight. Inside, you'll discover more than 29 cozy patterns to crochet this season, all ready for fall-appropriate weather. Once you've finished updating your wardrobe with some autumn staples (the Griselda Wrap and Plum Harvest Fingerless Gloves are my personal favorites) dress up your home with our selection of cool weather essentials. From delicate wine cozies to a gorgeous Falling Leaves Afghan, you'll love how simple it is to transform your space into an autumn paradise.
So here's to enjoying all the comforts of fall the way they're meant to be enjoyed: warm from the inside out.
Happy crocheting,

Design submissions and article ideas should be sent via email to submissions@ilikecrochet.com