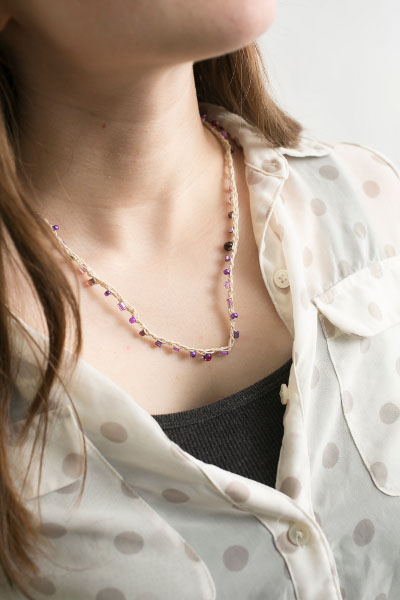 This rustic necklace works with beads to create a chic look that's perfect for summer and pairs perfectly with the Beaded Bangle.
Skill Level: Beginner
Size: Makes one 22" beaded strand that can be wrapped around the neck once
Gauge: No gauge necessary
Materials
Yarn: Fine hemp twine cord: Natural (approx 5 yds)
Hook: US size D/3 (3.25 mm) hook
Notions: Approximately 50 Czech glass seed beads: Montage Mix "Wild Grapes," 1 larger bead for closure
Pattern Notes
Begin by threading all of the seed beads onto the cord.
Thread on the larger closure bead and attach to yarn with a square knot.
Pattern
Start crocheting by forming a slip knot tight against the closure bead. Slide seed beads down so you have plenty of cord to work with for your beginning chain.
Ch 115. Sl st in 5th ch from hook (or wherever in the chain necessary to make the loop to fit around your bead closure).
Sl st in next 3 ch. Slide first seed bead to the top of the yarn next to the work. Sl st in the next ch making sure that the bead is on the right side of the hook so it gets "caught" in the sl st. Sl st in next ch. Continuing down the bracelet, alternate 1 sl st with a bead and 1 plain sl st until you have 6 chains left.
Finishing
Sl st in last 6 chains, leave long tail and tie to beginning tail in a square knot. Weave in ends.