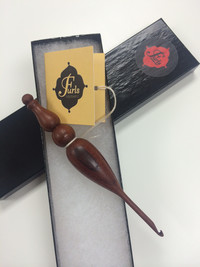 Furls Fiberarts Crochet Hook
Cost: $74.99 per hook.
Break free from the ordinary with this ergonomically designed and hand-crafted wooded crochet hook. These luxury crochet hooks are designed and guaranteed to make all aspects of the art of crochet easier by relaxing your hands and evening your stitches. Choose from seven different wood options and 12 different hook sizes and find your perfect hook.
From the February 2015 issue