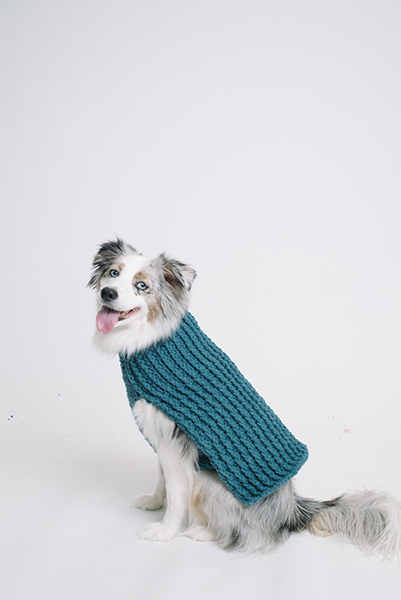 Everyone needs a warm stylish jacket to feel their best on a cold day.  It's time to rethink the shape of dog jackets to provide better coverage and comfort for dogs and make it easier to get our dogs into their jackets, particularly broad chested breeds and those who do not like to slip their feet into a sleeve. Bleu checks all the boxes and looks adorable to boot.
Skill Level: Intermediate
Size: to fit a 30 pound dog with a 14″ circumference neck at narrowest point, 20″ circumference at widest point of neck/shoulder, 17″ length back, 25″ circumference ribcage
Gauge: 10 sts and 6 rows = 4" [10 cm] in dc.
Materials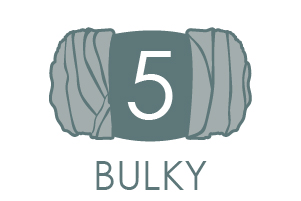 Yarn: Universal Deluxe Bulky Superwash (100% Superwash Wool; 106 yards [97 meters]/100 grams): 914 Petrol Blue (3 balls)
Hook: US size J/10 (6.0 mm)
Notions: Locking stitch markers (3), tapestry needle, 1″ thin plastic button with two or four holes in it (not one with a shank), sewing needle, coordinated thread.
Pattern Notes
There are a lot of patterns available for toy and small breeds of dogs but not larger breeds. This jacket was designed to be easy to put onto a larger dog and to be worn by the dog when walking. Many currently on the market are difficult to get a larger dog's paws through or for the dog to wear while walking due to the way they are simply bigger versions of the items made for toy breeds who are far more inclined to accept human help when getting dressed and take shorter strides when walking.
This jacket was designed to fit a medium sized dog, approximately 30 pounds with a broad chest, average size neck and narrow stomach. The modular design allows for alternations to be done as each section is worked. For each 10 pounds of dog, it is suggested an additional ball of yarn is purchased.
The foundation chain of 50 sts was chosen based on the average neck circumference of a 30-pound dog, 15″. For wider necked breeds, the number of sts may be increased to suit. It is recommended that an even number of sts is used to maintain the two st ribbing along the back and to facilitate shaping for the Chest/Shoulders.
The neck opening has approximately 3″ of positive ease in the ribbing to keep it comfortable around the dog's neck with a collar or harness underneath it.
When increasing for the dog's shoulders, the marker placement can be modified to suit to dog's shape. The pattern was written with the markers around the specified fpdc to maintain the pattern when the Back is crocheted.
Each round is joined using a slip stitch.
At the beginning of each round there is a ch 2, this does count as a stitch.
When working the chest and stomach sections of the jacket, work flat in dc as presented for a snug fit, continue in (fpdc, dc) ribbing for a more flexible fit omitting the increases at the middle of the rows in the chest/stomach section to maintain pattern.
Pattern
Neck (worked in the rnd)
Using MC, ch 50 join with sl st, pm to denote end of rnd. (50 sts)
Rnd 1: Ch 2, dc into each st, join with sl st
Rnd 2: Ch 2, *fpdc around next st, dc in next st; rep from * to last st from end of rnd, fpdc around last st of rnd, join with sl st.
Rep Rnd 2, 5 times or to desired length to provide suitable coverage of the neck before shaping for the shoulders.
Shoulders (worked in the rnd)
Pm to denote 8th st of rnd by placing a locking stich marker around the post. Rep for 44th st. If foundation ch was longer, the last m is placed on the 6th st from the end of the rnd.
Rnd 1: Ch 2, dc to 2 sts before marker, 2 dc in next st, *fpdc in next st, dc in next st; rep from * to m, fpdc, 2 dc in next st, dc to end of rnd. (2 sts inc'd)
Rep Rnd 1, 3 times or until desired length for shoulders where the front paws meet the dog's chest. For smaller dogs, this will be a shorter length. For wider chested dogs like Plott hounds, this may be a longer section.
Break yarn leaving 6″ tail which will be used during finishing.
Chest/Stomach (worked flat)
Pull up lp after 2nd marker of final Shoulder rnd.
Row 1: Ch 2, dc to st before first marker of final Shoulder rnd, turn work.
Row 2: Ch 2, dc to end of row
Rows 3-4: Ch 2, sk first dc, dc in next st, dc to st before end of row, dc2tog. (2 sts dec'd)
Rows 5-7: Rep Row 2
Row 8: Ch 2, 2 dc in first st, dc to m, 2 dc in next st, dc to end of row, 2 dc in last st (3 sts inc'd)
Rep Row 8 until desired width of widest part of the dog's chest/ribcage.
Cont without increasing until desired length. This section will be curving around the dog's chest and ribcage so it is recommended that the dog try the jacket on to ensure it is long enough. For broad chested breeds like a Bull Dog, 3 dc in the middle of each row may be more comfortable.
Break yarn leaving 12″ tail which will be used during finishing.
Back (worked flat)
Row 1: Ch 2, fpdc around next st, dc in next st; rep from * to last st, fpdc, turn work.
Cont in patt, repeating Row 1 until work measures 17″ or desired length.
Do not cut yarn.
Border
Crab stitch along last row of Back.
Fasten off, cut yarn, weave end into crab stitched border.
Finishing
Using 6″ tail and tapestry needle, whip stitch around last st of this round and first st of this round to create a small button hole through which the dog's leash may be secured to its harness. If no harness is used, simply weave in tail.
Using tapestry needle and coordinated sewing thread, secure button to RS of selvedge edge of Chest/Stomach on selvedge edge opposite the 12″ tail.
Using the 12″ tail, ch a sufficient number of sts to create a button hole/loop through which the button can pass to secure the jacket on the dog's back along the dog's back but not directly on its spine as that can be uncomfortable particularly for dogs with a pronounced spinal column or older dogs with bone pain.
Try jacket on the dog, adding or omitting chain sts on the button loop to maintain comfortable fit.
Secure chain to selvedge edge of chest/stomach section to complete button loop.
Weave in tail on WS of fabric.
Wash per ball band instructions.
Steam block work if desired.