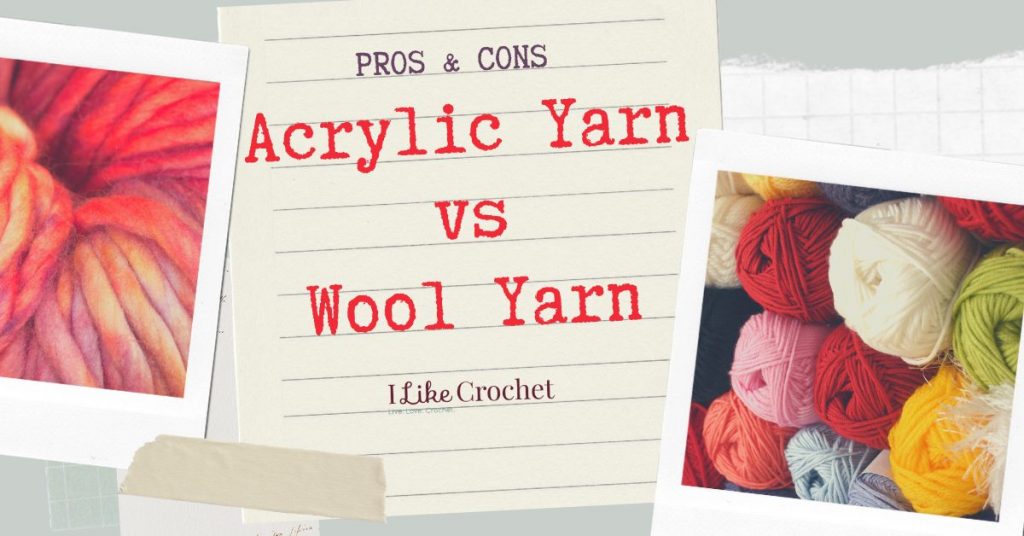 Acrylic Yarn: The Pros
Conventional wisdom dictates that acrylic yarn is stiff, scratchy, and generally inferior to wool, yet a look at Ravelry's Advanced Yarn Search page shows the two most popular yarns are 100% acrylic. Why does it appear to beat out wool? One reason is that today's higher quality acrylic fibers are much softer than in years past. Let's explore three additional factors behind acrylic's continued popularity:
Durability and Ease of Care
As the mother of four children and a dog, I know kids and pets are hard on handmade items. There is no telling what they are liable to smear all over a hand-made sweater, and I have little time for hand washing. Acrylic's colorfastness, durability, and machine wash-ability make it the perfect choice for busy families like mine.
Avoiding Allergies
Crochet for people with wool allergies? You probably have acrylic yarn in your stash. If you aren't sure whether the recipient of your project has a wool allergy, it is best to err on the side of caution and avoid wool altogether. In these cases acrylic is an excellent option, particularly for charity crocheting where durability and ease of care are equally important.
It Costs Less
Crocheting can be an expensive hobby, and there are times when we need to keep costs down. This is especially true when you're learning a new skill or teaching others. There is no sense in wasting expensive yarn on the learning curve. Cost is also a consideration when crocheting for kids and pets since these items are at greater risk of being lost or damaged.
To every fiber there is a season. Sometimes acrylic yarn is the ideal choice for a project. After all, not everyone lives a hand-washing sort of life.
Acrylic Yarn: The Cons
I've heard all the arguments in favor of using acrylic yarns: allergies against wool, easy maintenance of garments and low cost, but a good argument against acrylic yarn in the acrylic vs wool debate is that it is basically plastic! Take a long string of acrylic yarn and do a "burn test;" when the acrylic yarn is held over a flame it melts and you can smell the burning plastic. To address the three pros above, I give you three acrylic cons to sway you towards wool:
Ways Around the Allergies
I would not knit or crochet anything out of 100 percent acrylic for my dog, let alone for me, my family or a friend's baby. If somebody is allergic to a natural fiber, there are many alternative fibers to use instead; for example, I am allergic to alpaca yarns, so I use wool. Many natural yarns are also machine-washable and thus easy to maintain.
Cost vs. Quality
Cost is a consideration for many crafters, but I can find 100 percent wool or cotton yarns that are priced competitively low compared to acrylic. Also, if I invest my precious time to crochet an item, I want it to be made of the best quality yarn possible. Thanks to Ravelry, I can look up yarns available on the market including their retail costs.
Durability and Ease of Care
My personal favorite yarns are 100 percent superwash merino for cold weather items and 100 percent cotton yarns for warm weather garments, and either one is suitable for children's garments, accessories or pet items. Mercerized cotton is one of my favorite yarns because it holds up so well. In fact, a cotton t-shirt I knitted over five years ago still looks like new even though I wash it in the machine. Other long-wearing summer fiber options are hemp and linen. These yarns tend to be pricey, but there are cheaper buying options online if you look around. In fact, hemp yarn used to be called "poor man's linen" because of its lower price. When I want to treat myself to some luxury, though, I use 50 percent merino/50 percent silk yarn. I don't mind washing such a garment by hand; after all, I have invested a lot of time into it.
So call me a "yarn snob." I will gladly wear that title along with my non-plastic garments and accessories.
UK and US Terminology | Inline vs Tapered Crochet Hook | Unfinished Objects