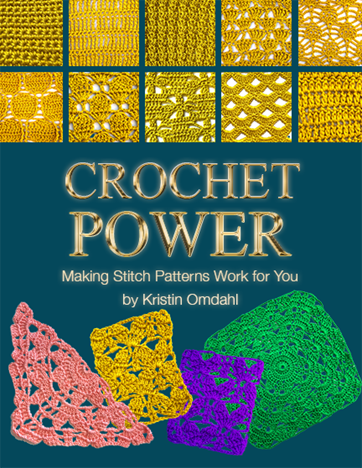 This new book from crocheter Kristin Omdahl is designed for both beginner crocheters looking to start their first project, and experienced crocheters looking to get creative with their stitches. There are unlimited possibilities with even the most basic stitches… possibilities that will inspire you to create a vast array of projects and styles. Each stitch is presented in four ways: Even in Rows, Even in Rounds, Increase in Rows, and Increase in Rounds. And each stitch pattern includes both written instructions and charts, so you can follow along no matter your preferred learning style.
This book covers the essentials that every crocheter needs to know: how to read patterns and charts, understanding gauge, blocking your project, and more. But this book is so much more than a crochet primer. Kristin offers a variety of handy tips that will empower you to make a project your own, such as how to modify a pattern, or how to determine an appropriate yarn substitution (after all, how many of us have fallen in love with a pattern, only to discover the yarn used in the project photograph is out of stock, discontinued, or exceeds our personal budget?). Plus, in addition to the classic stitches in every crocheter's repertoire (such as single crochet, half-double crochet, and double crochet), Kristin also shares columnar stitch patterns and offset stitch patterns. In all, you'll discover 19 stitch patterns! (Psssst! You MUST check out the Nikki stitch on page 102 – you are going to want to try it out ASAP!)
One of the features newbie crocheters will find especially helpful are the photographs of basic stitches as they are worked in rows, rounds, and increases. When I first picked up a hook, an aspect of crochet that I struggled with the most was not how to form the stitch, but what the stitch SHOULD look like once worked up in a swatch. The close-up photographs can help alleviate the fear that sets in when stitching a project: is that what it is supposed to look like?
Readers will also appreciate the Crochet Glossary, which includes not only the name and abbreviation of popular crochet terms, but also instructions for the stitch. After all, it can be intimidating or confusing for even seasoned crocheters to see terms like "dtr3tog" (double treble crochet 3 together) scattered throughout a pattern, but with this helpful glossary by your side, you can stitch without fear!
Get your own copy of Crochet Power: Making Stitch Patterns Work for You by Kristin Omdahl.
Use coupon code ILCENKJ10 for 10% off of either Crochet Power or the Crochet Power eBook through December 31, 2022.
You can also find Crochet Power on Amazon: https://www.amazon.com/Crochet-Power-Making-Patterns-Kristin/dp/B0B1C3K72L
Check out this excerpt from Crochet Power, where Kristin teaches you how to make the Sc-Dtr crochet stitch pattern!