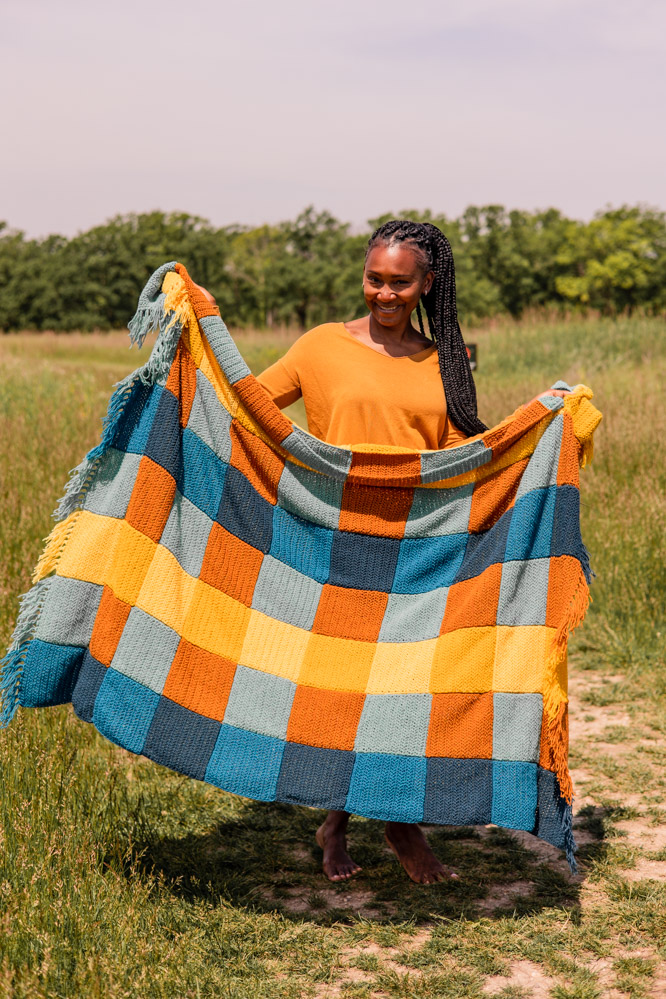 This plaid blanket is made of individual squares which are seamed together using the mattress stitch. The squares are made of herringbone half double crochet – a fun and modern twist on the standard HDC stitch. The design uses worsted weight yarn and is finished with fringe along the short sides.
Time: Week-long project
Skill Level: Intermediate
Size: 50" wide x 60" long
Gauge: 4" = 15 sts x 12 row in hhdc after wet blocking
Materials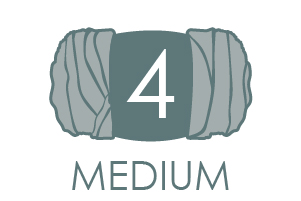 Yarn: Hobbii, Winter Glow Solid (51% wool, 49% acrylic, 382 yards [350 meters] / 100 grams)
22 Pineapple (CC1, 2 balls) 23 Curry (CC2, 2 balls) 24 Curry (CC3, 3 balls) 16 Dark Mint (CC4, 3 balls) 12 Teal (CC5, 2 balls) 14 Dark Teal (CC6, 2 balls)
Hook: US size 7 (4.5 mm)
Pattern Notes
Ch 1 does not count as a stitch.
Abbreviations
Hhdc – herringbone half double crochet
Special Stitches
Herringbone Half Double Crochet – Yarn over, insert hook into next stitch, yarn over and pull yarn through the stitch AND the first loop on your hook. Yarn over and pull through both loops on your hook.
Pattern
Make 80 squares in the following colors/amounts:
CC1 – 10 squares
CC2 – 10 squares
CC3 – 20 squares
CC4 – 20 squares
CC5 – 10 squares
CC6 – 10 squares
Ch 21
Row 1: Hhdc in 2nd ch and every remaining ch, ch 1, turn. (20)
Row 2-17: Hhdc in every st, ch 1, turn. (20)
Do not fasten off.
Border
Rnd 1: Sc in each st until 1 st remains, 3 sc in final st, do not turn, continue working down the side of your square. Sc into the end of each row, 3 sc into the first ch, sc into each ch, 3 sc in final ch, sc into the end of each row, 2 sc into the first hhdc you worked into, sl st with first sc to join.
Fasten off your working yarn and weave in all ends. Block each square before seaming.
Seaming
The layout of the squares is shown in the picture below. You should begin by using the mattress stitch to sew together the vertical columns. E.g., Column 1 – CC3, CC4, CC3, etc. until you have 10 squares. Once you have all 8 columns complete, sew them together using the mattress stitch.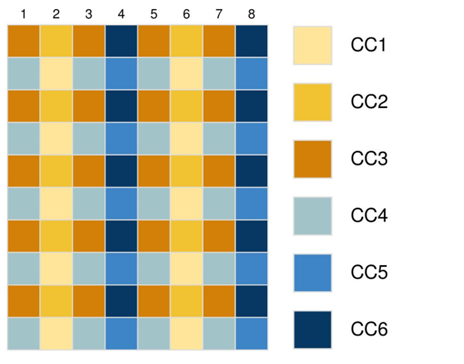 Finishing
The blanket is finished by adding fringe to the shorter edges of the blanket. Starting in the corner, fringe should be added to every other stitch. The color of the fringe should match the adjacent square.
Cut 3 strands of yarn roughly 6 inches in length.
Insert your hook into the stitch and fold all three strands in half over your hook.
Pull up a large loop.
Pull all of the loose strands through the loop and pull tight.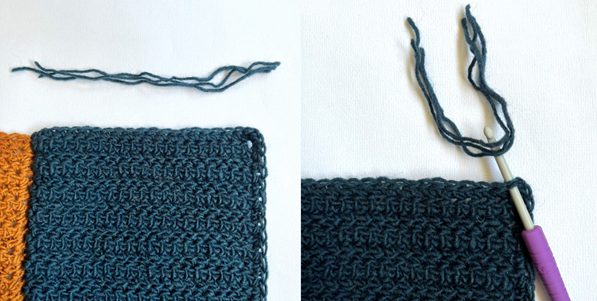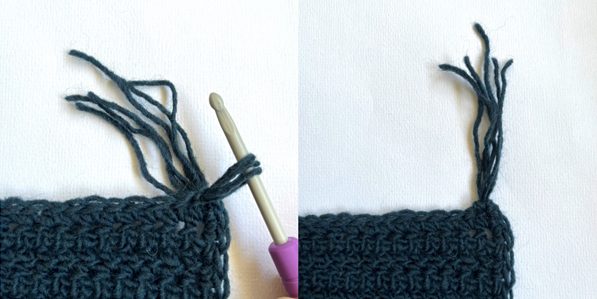 ---
Gold Members, Download Here
Not a gold member yet? Join Now