As a coach for hedge fund managers, a teacher, publisher, outdoorsman, yarn bomber, and recreational unicycler, Stephen Duneier can now add "world record holder" to his long list of achievements. He has just completed the World's Largest Crocheted Square: a massive, rainbow granny square that took two years, seven months, and seventeen days to finish.
The
As a coach for hedge fund managers, a teacher, publisher, outdoorsman, yarn bomber, and recreational unicycler, Stephen Duneier can now add "world record holder" to his long list of achievements. He has just completed the World's Largest Crocheted Square: a massive, rainbow granny square that took two years, seven months, and seventeen days to finish.
The threads of Duneier's crochet story can actually be traced back to its sister craft: knitting. By suggestion of his wife, a pro knitter herself, Duneier added learning to knit to a list of 12 skills he was assembling as part of his 2012 New Year's resolutions. Despite a lopsided scarf and the discovery he didn't care for knitting as much as he thought he would, his passion for the outdoors brought him back to the skill he thought he had checked off for good. Hiking the Cold Spring Trail in Santa Barbara, Duneier was inspired to find a unique way to celebrate a eucalyptus tree. Doing a little research, he discovered an eye-catching trend, yarn bombing, which can be traced back through innovator Carol Hummel to the wrapping of the Biscayne Bay islands by artists Christo and Jeanne-Claude. This quirky movement decks everyday objects out in suits of crocheted or knitted pieces, so Duneier decided to bestow this special tree with a whole new outfit and a lot of attention from hikers.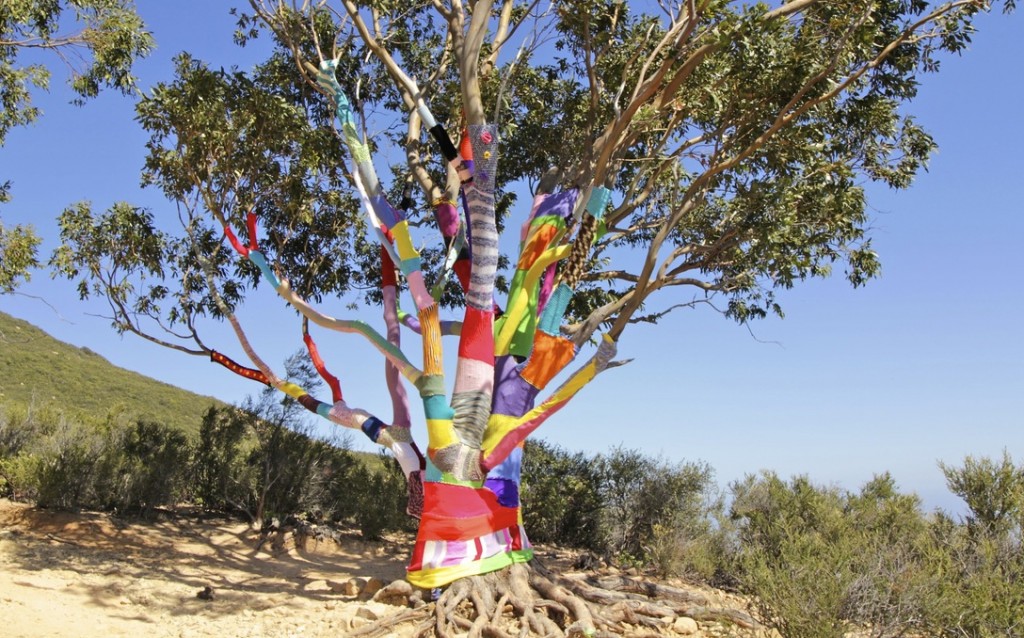 Because yarn bombing is often a collaborative process, this first project actually set in motion the dominoes that led to the world record. Returning the favor to a fellow yarn bomber who helped with his tree installation, Duneier taught himself to crochet from online videos so he could contribute 27 squares, finally finding the "Zen moment" he had been missing with knitting. Always interested in the aspects of efficient decision making, Duneier began to wonder what would happen if he eliminated the time-consuming part of starting each individual square and simply kept going on the same one—and that's exactly what he did.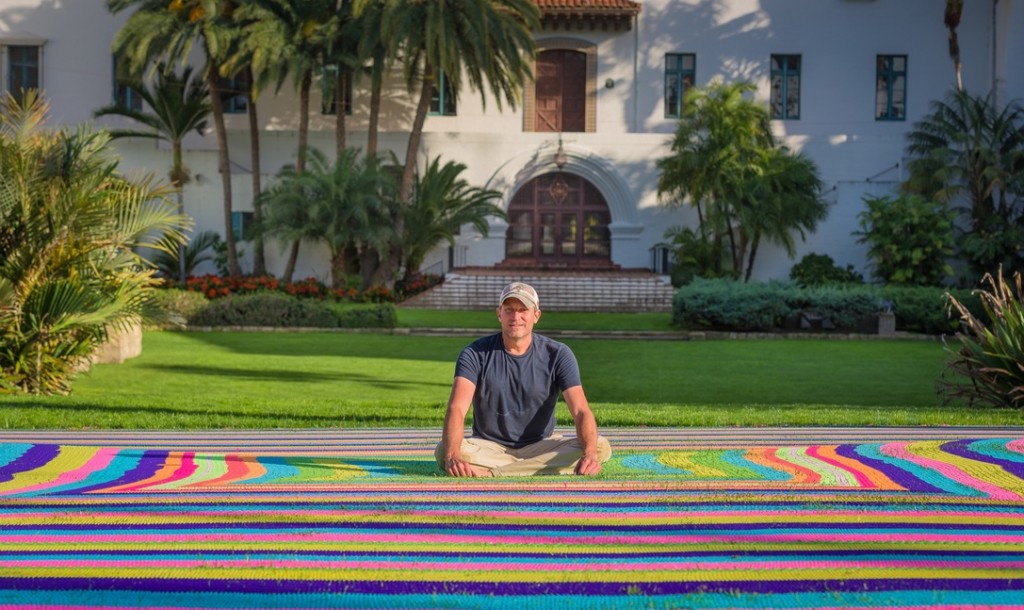 Ultimately, the hardest part about the granny square wasn't working up the 30 miles of yarn and half a million double crochet stitches. Duneier first had to convince Guinness World Records to let "Largest Crocheted Square" become a category. Although a similar category existed—many people piecing together the "Largest Crochet Blanket"—Duneier explained the difference and asked for a separate category. He was rejected—not once, but three times. Many new categories are suggested each year, and most never make it on the books, but for Duneier, giving up is "not really my style." Finally, the organization agreed to create the category if he made a square that was ten meters by ten meters.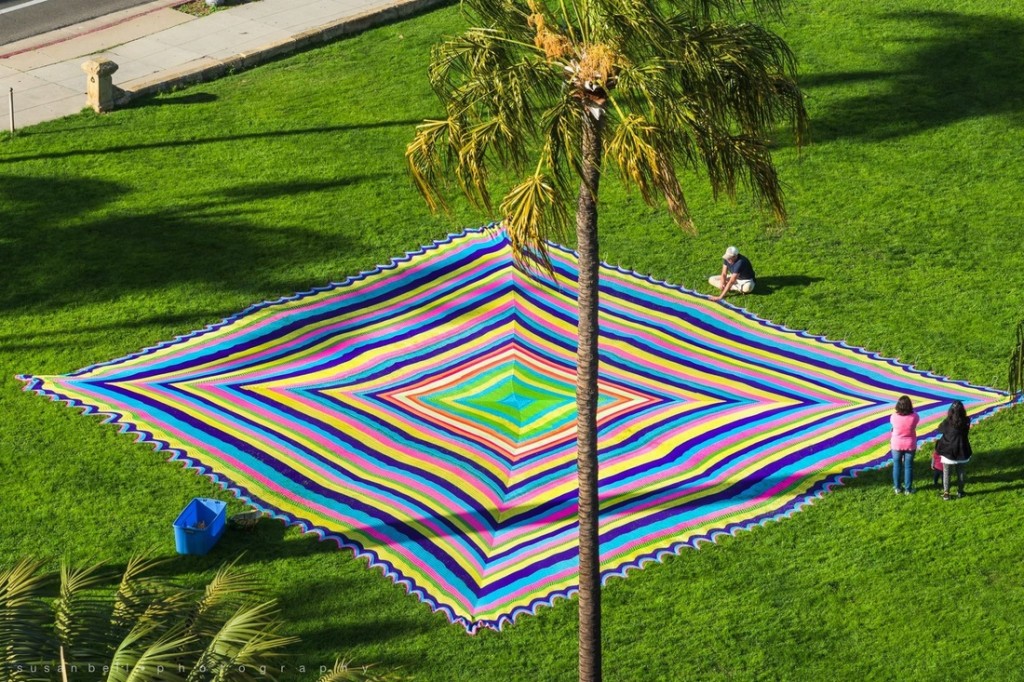 "When they said ten meters by ten meters, it was like, I think they were just trying to get rid of me, but for me it was 'Okay, now you have a goal, just go do it,'" Duneier said in a phone interview.
Duneier reflects fondly on how the square simply became part of his everyday routine, especially once he began working on it each night when its 60-pound bulk became too heavy to easily move from his bedside. Though relieved to have accomplished his goal, Duneier says he could always return to making it even bigger. For now, though, the world-record-holding square has done its duty and is waiting in what Duneier calls his "arsenal," which is over 5,000 feet of yarn slowly collecting to be used in one of Duneier's many installations.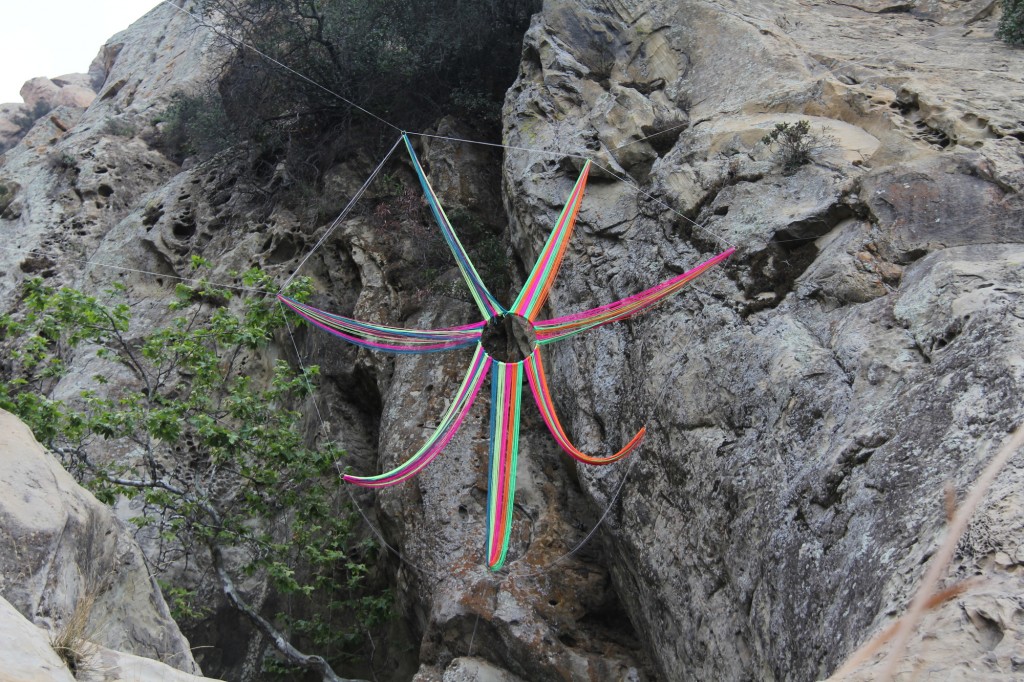 With his trademark tenacity, Duneier doesn't just stop at world records. He continues to seek out new subjects for his yarn bombs, never content to repeat his work twice. He has wrapped boulders, stretched a yarn web over a cave mouth, and hung a yarn starfish above a waterfall. Duneier's creative process for all these projects starts in the same place it ends up: nature. He often finds inspiration in the mountains, where he hikes four or five times a week—sometimes barefoot, on jumping stilts, or by unicycling.
"When I'm out there, I'll see rocks as a canvas, or I'll see a tree as a canvas, and I'll go 'oh,' and just some idea, some vision, will pop into my mind. And from that moment, it's like an itch that you can't scratch until you actually MAKE that thing that was in your head—real," Duneier said.
Not everything about yarn bombing is warm and fuzzy, though. Duneier shares that he has had a few negative reactions to his installations, which just comes with the territory of creating public art. Fearing the impact these creations might have on the outdoor spaces, online commentators have threatened to burn his work, while some have actually torn down his pieces within a day of installation.
However, Duneier consciously calculates how to install works that will not interfere with people, animals, or environment, comparing them to "engineering problems" he must solve. Taking up minimal physical space and being displayed no longer than nine days, the works call attention to the outdoors without damaging the beauty that they are promoting.
More importantly, though, the positive responses have "overwhelmed" the negative. Duneier loves seeing people of all ages—some of whom are moved to tears—getting outside to enjoy his work. In particular, he shares a heart-touching story of a boy from a Santa Barbara elementary school who participated in Duneier's Saddlerock boulder bomb. When the parents came out to see their children's work incorporated into the yarn bomb, Duneier got to see first-hand the impact these pieces had:
"One of the moms said to me just how powerful it was that her son could see me, a man doing this, and feel like it was okay to do it. And that—that really meant a lot to me."
Breaking the mold is nothing new to Duneier, as a modern jack-of-all-trades, but what really stands out are these moments when he can help others overcome stereotypical barriers as well.
"You look at when Christo started and this very slow evolution to becoming just an art form in and of itself that the average person is doing. And the more of us that are out there, doing this stuff—and you know, me as a middle-aged man from the hedge fund industry, and a young art student from Russia, or a grandmother in Australia—if we're all doing this, and what's drawing people to it isn't us; it's the stuff we're making," Duneier said. "It just changes the perception of crocheting, and it could be just that simple, the norm changes that quickly."
For Duneier's collaborative installations, he organizes diverse groups of people and projects that can draw from a community of 41 different countries and every US state to create one cohesive, fully original piece of work that still maintains the personalities of every artist.
"I've really got two projects: one is the big one, the vision that I've got, and it's made up of potentially thousands of tiny little crocheted and knitted art projects that were made by the contributors individually," Duneier said.
He compares it to "a giant game of Tetris" where he finds ways to incorporate every single piece mailed to his door, from the odds and ends of a scrap drawer to a blue crocheted whale measuring ten feet long.
Much of Duneier's success comes from simply having fun and refusing to fear failure. As he says, "The whole thing to me is about experimenting with stuff, making tons of mistakes, and instead of frogging them and walking away from them, they become a part of the art itself."
True to form, Duneier continues to tackle new projects. He shares a few tantalizing previews of his future work, all of which promise to be as unique and innovative as his previous projects. Aside from finally buying a knitting machine and learning yet another new skill, he is planning "Dreamer," his first installation foray outside the wilderness, with fiber glass, metals, and precious stones adding to his yarn creations. Coming to Tucson, Arizona, in January, this John Lennon-inspired installation will be in conjunction with his first TED talk.
In addition to "Dreamer," hearkening back to yarn bombing's Biscayne Bay roots, Duneier has set his sights on gaining permission to yarn bomb a Florida house that is currently stranded in the ocean because of the erosion of the land around it.
As if this weren't enough to fill his plate, Duneier is currently finishing his first book: "It has a lot to do with how you make better decisions in the field of institutional investment management, but it's the same principles that I applied to crocheting and yarn bombing and everything else that I do. It's all the same kind of idea of how you solve problems and make decisions to achieve things that you desire."
Duneier advises crocheters to "Just try. And any mistakes you make that you don't want to show anybody, send them to me, and I'll make them part of the project, and they'll become a work of art."
It's not an empty offer. Duneier will be working contributions into "Dreamer" until the end of November, and he and his global "bomb squad" will surely continue to hook the world with their yarn masterpieces for years to come.