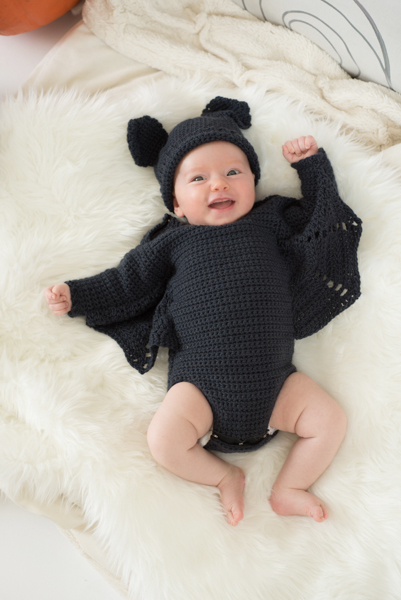 With a winged onesie and cute little ears, the Frightfully Adorable Baby Bat Set pattern will make sure your baby takes first prize at the costume party.

Everyone will ooh and ah, wondering where such a darling bat costume came from. And the pictures! Baby—and your crochet skills—will be the star of your social media.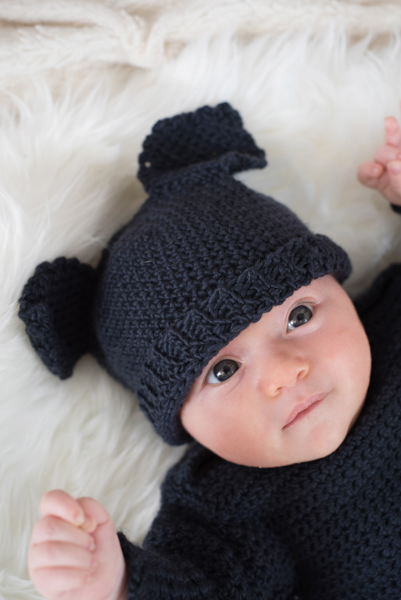 Halloween costumes for babies are always cute, and many are clever. But they can be cumbersome to put on your wriggly little one and not to mention, expensive to buy. Babies often resist wearing them, and no wonder. Not so with the Frightfully Adorable Baby Bat Set. The soft merino wool yarn and onesie-style construction allow babies to stretch and spread their new bat wings freely. Plus, the snap-tape closure makes it easy to get on and off, no matter how much your baby  wiggles. And the hat! Ribbing keeps it comfortably in place, while the big floppy ears give it the final batty touch.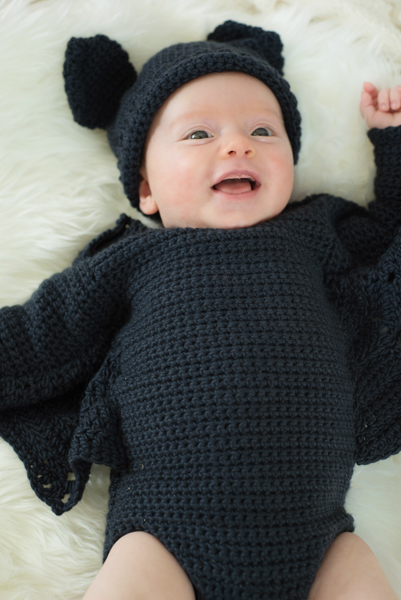 The Frightfully Adorable Baby Bat Set onesie pattern is mainly worked in single crochet, beginning with the back. Next you shape the armholes and crochet the front, neckline, and sleeves. The wings, with a picot edge, are worked separately and sewn to the body. The hat starts with a magic ring and is worked in single rounds from there, to the ribbing. The ears are worked separately and stitched to the cap.
Amanda Saladin designed this cute costume for I Like Crochet. With three young children and a background in costume design, she really knows what kids like to wear. She's designed many kids' crochet patterns, each one cuter than the last. And the Frightfully Adorable Baby Bat Set is a favorite.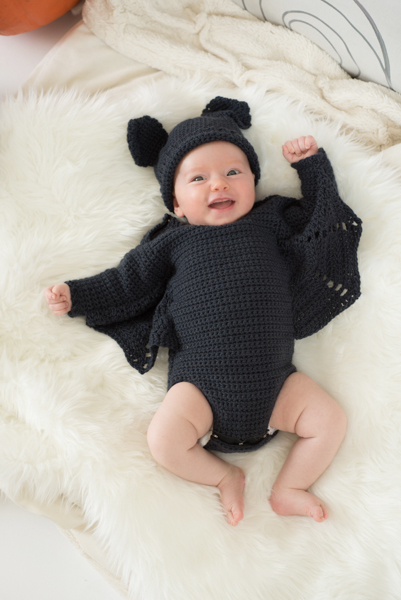 The pattern includes:
Complete stitch instructions for 2 sizes (6 and 12 months)
List of materials, notions, and hook size
Pattern and special stitch notes
Finishing instructions
Imagine the compliments your baby—and you—will get for the Frightfully Adorable Baby Bat Set. This handmade costume will be handed down to siblings and friends, so everyone can have a turn being the cutest baby bat in the room. Start this pattern today and be ready in time for Halloween fun.