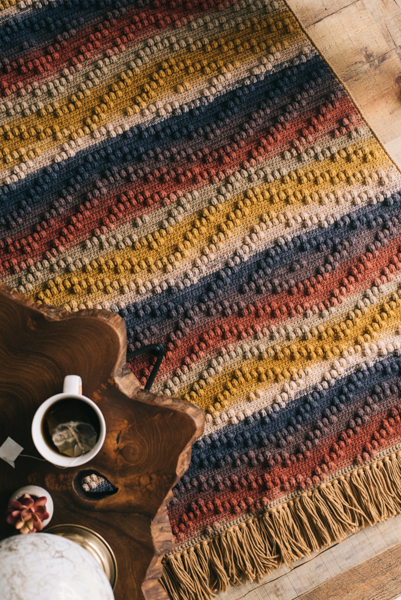 SPREAD OF RUG PATTERNS
Dear Crocheter,
OK, if you like crochet, you've probably made your share of scarves and blankets, maybe some sweaters, or even a skirt from some of our adventurous patterns. But what about a rug? Never really thought of it? Well, I'm here to tell you that if you can crochet a scarf, you can crochet a rug. And our Rugs Crochet Collection has an amazing array of patterns for you to try!
Our Southwest Rug features rich, warm colors in a mesmerizing, undulating pattern. Inspired by the stunning San Juan mountains in southwest Colorado, this rug gets its great texture from bobble stitches that will feel oh-so-comfy underfoot! Finish the rug off with a knotted fringe, and be prepared for friends to sneak a peek to find the label. Won't they be impressed when you tell them you made it yourself! If you're looking for another pattern with a southwest feel, maybe you'd like to make our Wind River Rug — it's earthy, colorful, and reversible!
Looking for something with a slightly more formal feel? Get your hooks into our Kaja C2C (Corner-to-Corner) Rug. This lovely rug has a classic repeating tile pattern much like something you might see at a concert hall. Bring classic black and white style to your front hall, or dress up the bathroom with this toe-tempting two-color rug. This block stitch rug works up quickly, and your feet will thank you!
Rug styles are a very personal choice, and our Rug Crochet Collection has a lot of choices for you. Consider the Isla Rug, a modern pattern with a classic feel — and lots of color! This pattern is rated easy, and it uses a 3-weight yarn that you triple to make the rug extra cushy. You'll love the look and feel of this rug!
That one spot on the floor — you know the one — not big enough to demand an area rug but still needing something. Stop stressing over what to do about that space and make yourself something lovely to brighten up the space. Our Mellow Yellow Rug can do just that. Our pattern is designed with yellow and blue, but you pick the combination that works best for you. You'll start off working in rows, then finish the rug off with a border worked in the round. Ta-da! Almost instant comfort and color!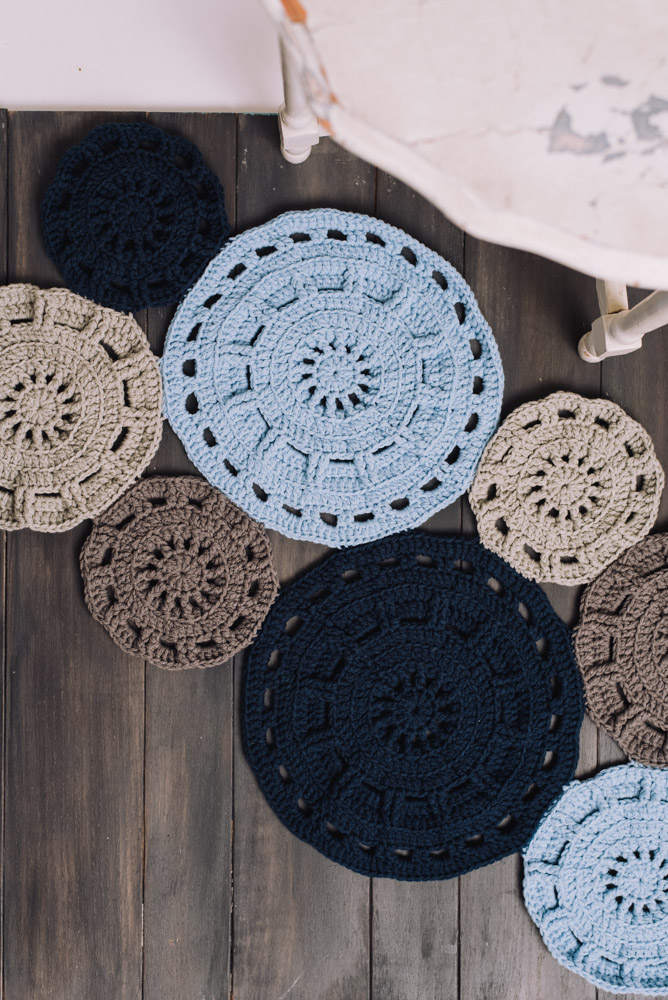 If you're feeling adventurous, and you believe rugs can go beyond a basic rectangle or circle, work up our Celestial Circles Rug — not one circle, but a whole constellation of them! Pick your color combination and work these dynamic circles up in three sizes, then piece your constellation together the way you like. This is the perfect accent rug!
Other rug projects you might want to put on your to-make list include the Moroccan Wedding Rug, inspired by the rich designs and exquisite details in a classic handira; the Sunrise Kids' Rug, perfect for brightening any child's room (and quick and easy to work up); or our Clear Skies Bath Rug — an easy pattern that will feel great under your feet first thing in the morning!
Each one of these patterns in I Like Crochet includes:
Complete stitch instructions
List of materials, notions, and hook size
Pattern and special stitch notes
Finishing instruction
Full-color, detailed photographs of each pattern
These patterns in the Rugs Crochet Collection offer plenty of interesting projects that will let you make stunning rugs whatever your skill level. You may run out of floor space before you run out of rug projects — but custom-made rugs make great gifts!
Whether you're a beginning crocheter or you have vintage crochet hooks from the last century, you'll find hundreds of patterns in the I Like Crochet library, from gorgeous blankets to cute winter hats to delicate summer accessories. And that's just a small part of the 700+ patterns you can browse through right now with your I Like Crochet Gold Club Charter Membership. You'll get patterns and articles, step-by-step instructions, and full-color photographs of each project, plus video tutorials — all in our library.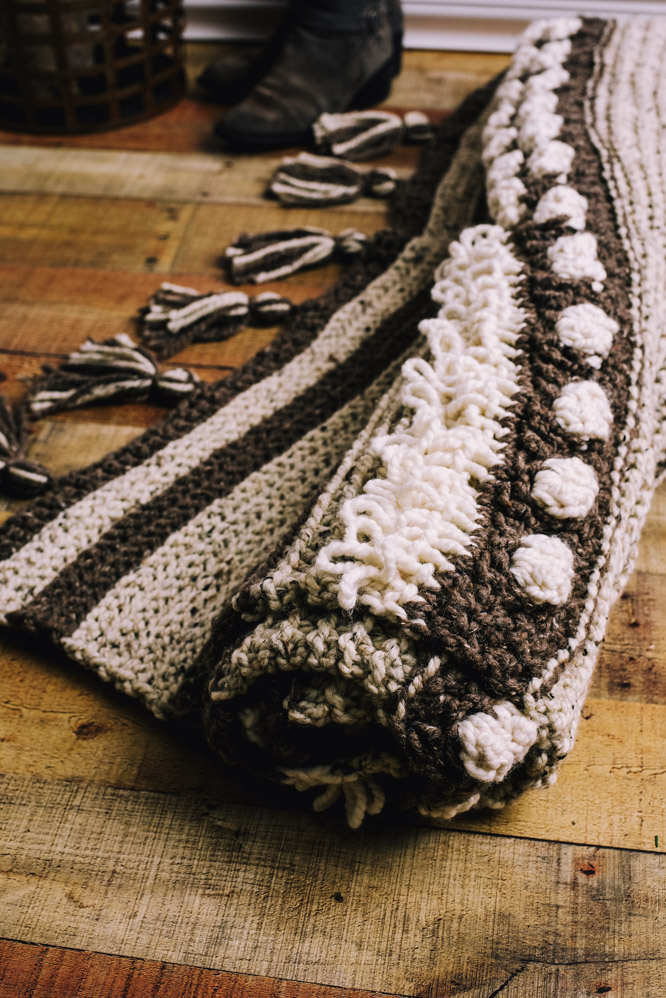 Your I Like Crochet Gold Club Charter Membership gives you access to all of our crochet patterns and content, 24-hours-a-day on whatever device you prefer — desktop, laptop, tablet or phone! And the content is fully searchable, so you can find exactly what you want — when you want it — at your fingertips in an instant.
Here are just a few of the amazing patterns, special collections, tutorials, and special issues waiting for you in our library right now — some of the hundreds available — which is part of your I Like Crochet Gold Club Charter Membership.
Crochet Through the Seasons
The Modern Crochet Home Decor Collection: 15 Trendy Designs
Cute Crochet Amigurumi Collection
Crochet Secrets Revealed: 12 Video Tutorials
The Dog Collection: 5 Insanely-Cute Dog Patterns
The Best Baby Crochet Patterns Collection
And the library of photos and video tutorials is gorgeous, inspiring, and practical—showing you exactly how your finished patterns should look and exactly how to execute even the difficult ones!