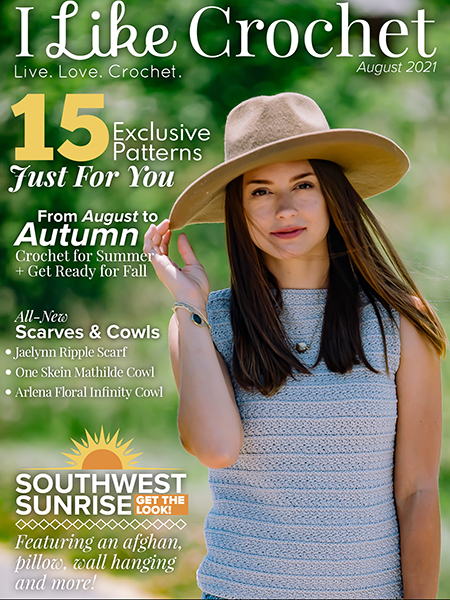 Don't miss the latest issue of I Like Crochet for 15 brand new designs just for the season.
Dear Crochet Crafter,
It's time for the August 2021 edition of I Like Crochet! It's fully summer now, and the barbecues, beach days, and bountiful gardens are all here. I don't know about you, but I adore all the wonderful scents and colors of the flowers in bloom everywhere. And it's such a joy to watch the bees buzzing about, gathering pollen from the lavender and hydrangeas.
It's the perfect time to open up the windows and work on a new crochet project! One of our favorites in this issue is a super-quick pattern that's ideal for a small gift, using up your yarn scraps, and showing off those pretty buttons you've been saving. There are some fun projects inspired by southwestern sunrises, lazy days by the water, and, of course, a few timeless pieces that work in any wardrobe.
It's also the perfect time to start those longer-term projects in anticipation of cooler fall weather. You'll find those patterns here, too, with mesh sweaters and a collection of cowls and a one-skein scarf.
In all, you'll find fifteen exclusive patterns hand-selected to highlight the season and the changing season. The August 2021 issue of I Like Crochet has everything you need to enjoy the warm days of summer and the cool evenings that are on the way. You can get all the patterns, along with hundreds more in our pattern library, with your I Like Crochet Gold Club Charter Membership. That means the more than 5 years of issues and 700+ patterns in the I Like Crochet library are yours, along with all our tutorials, videos, and special collections, like The Vintage Crochet Collection and The Modern Crochet Home Decor Collection.
When you're ready to take your pick from more than 700 crochet patterns, your I Like Crochet Gold Club Charter Membership has what you need.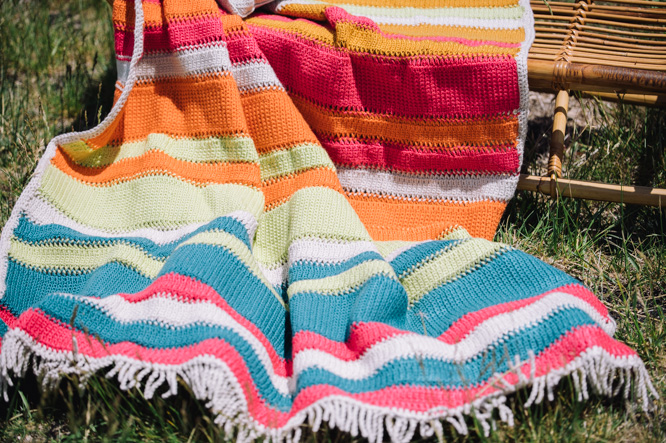 Don't head out for a picnic or a day at the beach without this Harmony Hairpin Lace Afghan. Designer Jo Bodley's background in fine art shines through in this creation. Inspired by colorful abstract paintings, this eye-catching afghan is sure to be the envy of all your friends.
Another statement piece we can't wait to share with you comes from Quayln Stark. The Ivanna Chevron Sweater has one solid V motif, giving the piece an almost abstract chevron quality. And it's easy to customize if you want to make the stripes larger or smaller.
For something a little more subtle, yet equally gorgeous, the Vero V-Neck Tank Top in salmon is a 100% cotton classic. There's enough texture to keep the piece interesting, while at the same time giving you a lovely top that works well on its own or underneath a light jacket for those cooler nights.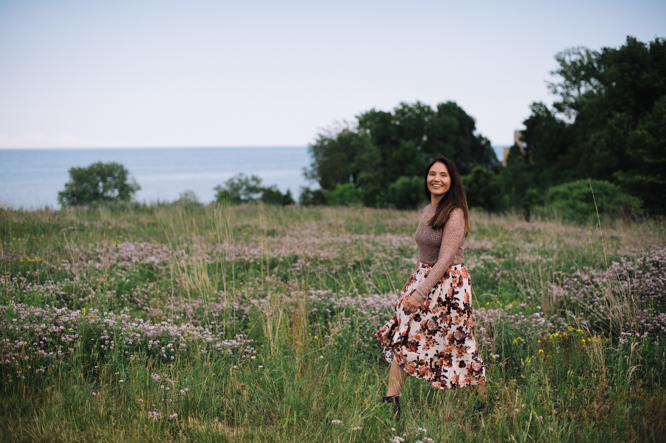 We love, love, LOVE the Makayla Mesh Sweater from designer Adinda Hening. The pattern is inspired by a traditional Korean door design, and the yarn shimmers in the light. This is an easy weekend project, but you'd never know that from how wonderful it looks. Plus, it goes great with your favorite pair of jeans or dressed up a little for a night out.
Another standout is the Jessy Tank Top. We love it so much that it's on the cover of this issue! The Jessy is the perfect tank on its own or paired with a light jacket for a sophisticated and fun look. The classic silhouette features a mock turtleneck, making this a timeless staple.
We can't forget about accessories, either. The Jaelynn Ripple Scarf goes beautifully with these tops. It's wide enough to wear as a shawl, if that's more your style. If you have a special yarn you've been saving, this is the project for it. The Jaelynn pattern lets the beauty of the yarn shine!
That's just a small sample of the wonderful crochet patterns we're excited to share with you in the August 2021 issue of I Like Crochet. Whether you're looking for an easy starter project or something more advanced to challenge your skills, it's all here.
And don't forget, with your I Like Crochet Gold Club Charter Membership you have immediate access to every pattern in this issue, plus years of issues with 700+ patterns and tutorials!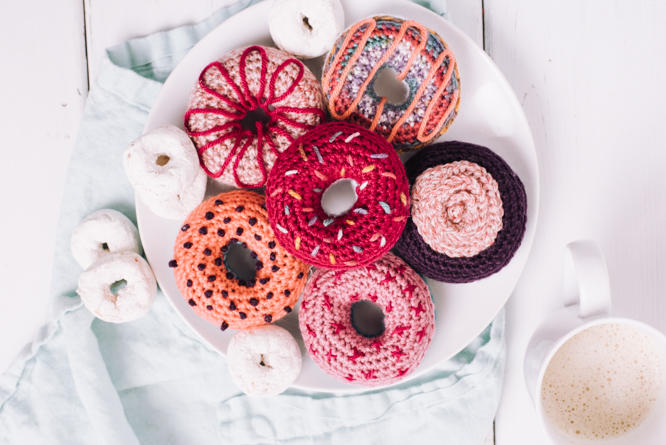 With your I Like Crochet Gold Club Charter Membership you can start on your new favorite project right away. The continually growing digital library of magazine issues, special collections, hundreds of crochet patterns and articles, step-by-step instructions, video tutorials, and full-color photographs are all yours, any time you want. Open up the August 2021 edition and get ready to shine.
Have some fun with these Sweet Crochet Donuts. They look good enough to eat!
Bring some southwestern inspiration into your home with the Lone Mesa Pillow. The impressive colorwork is much easier than it looks.
The Winslow Tote is another impressive piece that's ideal for all your summer adventures.
For a unique approach to striped yarn, check out the Varley Striped Cowl. This textured piece is quick to make and easy to wear.
The August 2021 issue includes all of this, and more. Don't miss the unicorn!
All the patterns and tutorials you want are right here for you, 24 hours a day on your desktop, laptop, or tablet, and the fully searchable content is at your fingertips anytime you're feeling creative.
Don't miss out on the spectacular new patterns in the latest edition of I Like Crochet.