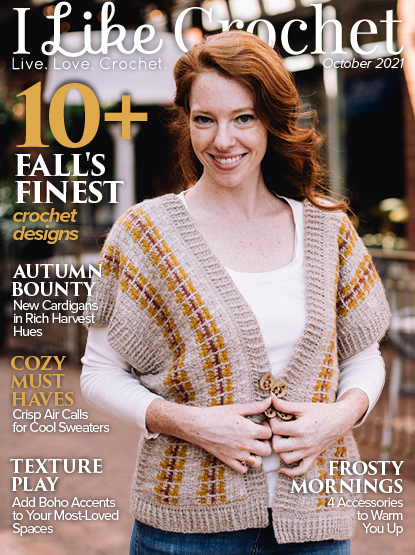 Looking for something cozy to crochet for the cooler months? We've got you covered from head to toe—like this graceful, cozy Dawn Mosaic Vest! Get this and the other latest patterns, plus hundreds more, when you join the I Like Crochet Gold Club today!
Dear Crochet Creator,
Fresh, brisk mornings and cool, crisp evenings are not that far off. As autumn approaches, my crochet hooks start to itch for something seasonal. I like to welcome fall with a fresh burst of color and coziness.
While we were putting together the September/October 2021 issue, we considered comfort and color, tradition and texture. We looked for projects that would provide that simple satisfaction of creating something yourself, from easygoing hats to heartwarming home décor.
The September/October 2021 issue of I Like Crochet has all that and more. And it's just the beginning. Our digital library includes hundreds of patterns, along with video tutorials and so much more right at your fingertips. Whether you want to make yourself a new shawl for a chilly autumn evening or you'd like to spruce up your living room with a handmade rug, your I Like Crochet Gold Club Charter Membership is the place to go.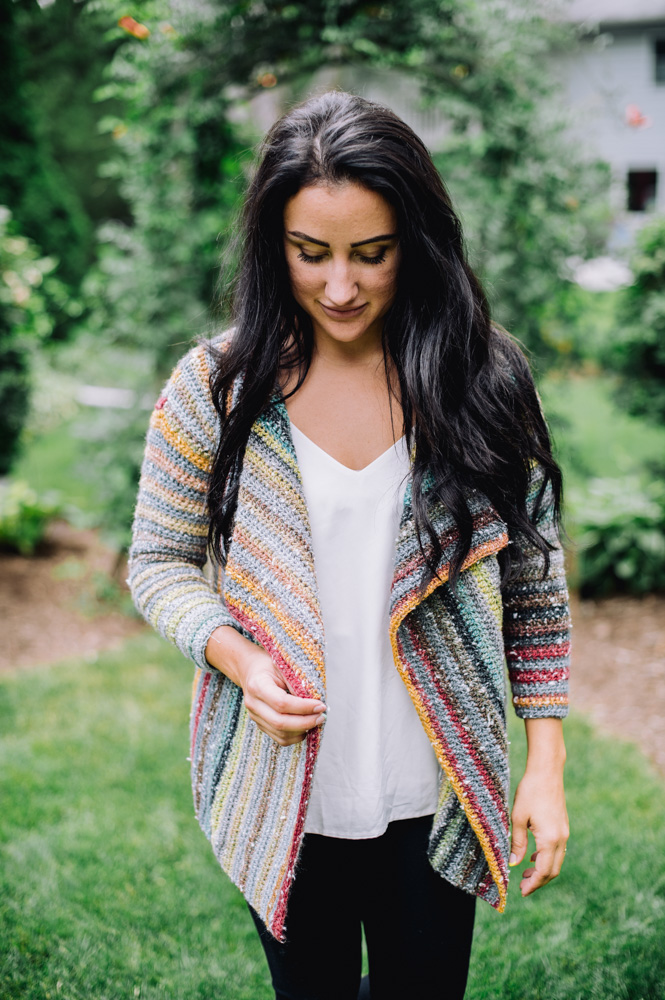 Celebrate all the colors of fall in this Spencer Waterfall Cardigan by Amanda Critchley. This soft and tweedy sweater will be ready to wrap you in color and coziness. Crocheted sideways to create the vertical striping, this sweater is a breeze to make.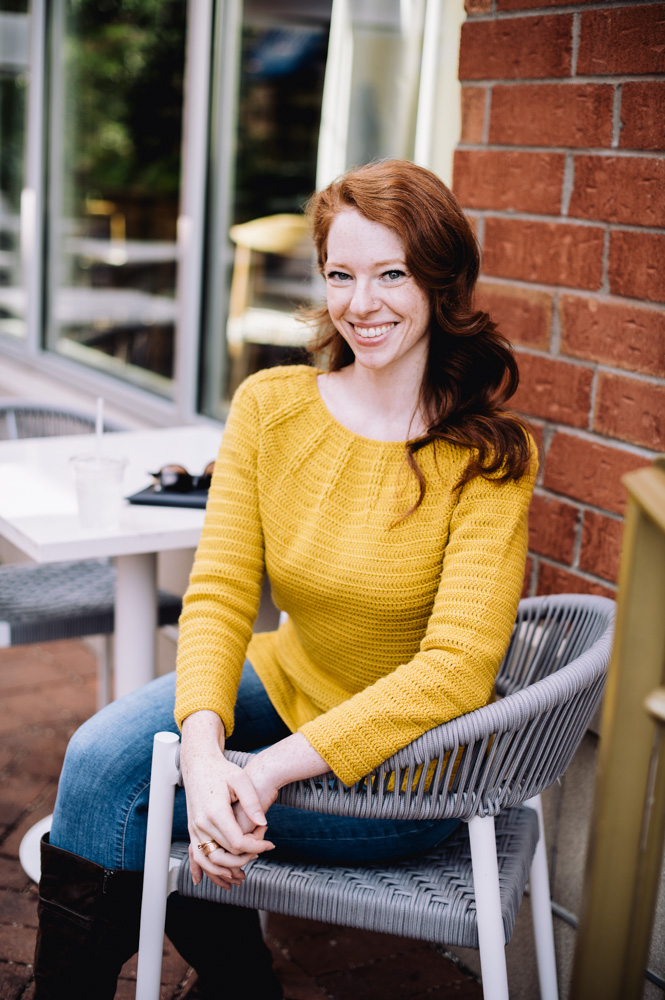 Make yourself a sweater with a little something extra to make your fall wardrobe pop! The Harvest Sun Embossed Yoke Sweater by Adinda Hening is worked from the top down, with flattering embossed lines around the yoke and slight shaping at the waist. You can whip up this elegant project in a weekend, just in time for pumpkin picking!
The September/October issue of I Like Crochet includes detailed instructions and full-color pictures of these patterns and more, along with a hand-picked selection of some of our favorite fall patterns.
Remember, with your I Like Crochet Gold Club Charter Membership you have immediate access to every pattern in this issue, plus more than 5 years of issues with 700+ patterns and tutorials!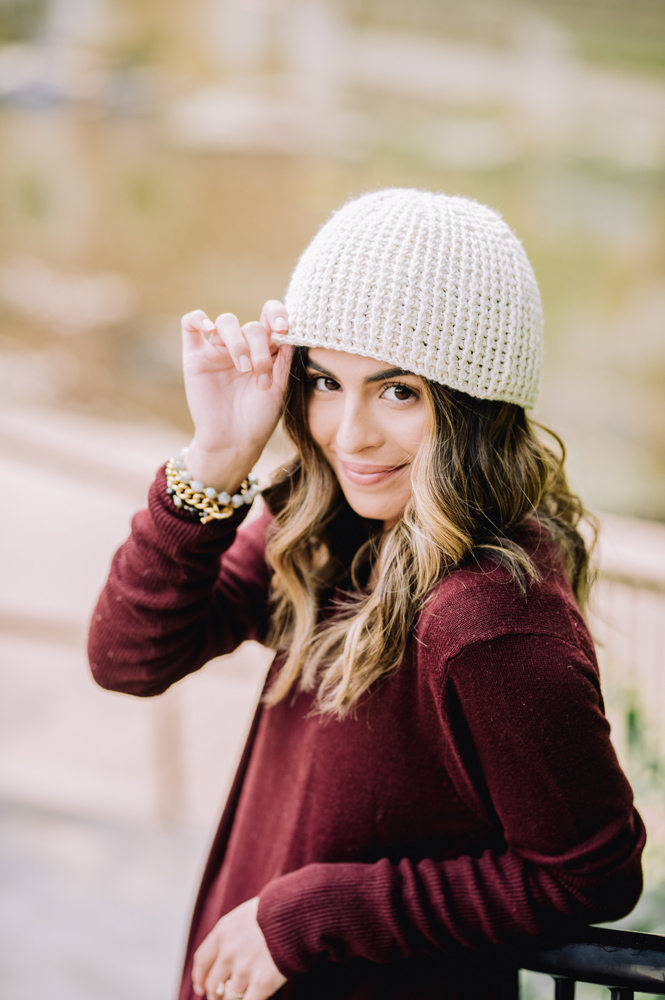 Keep it simple and comfy with this Margo Easy Hat by Linda Dean. Lightweight yarn creates a cascade of silky strands in this deceptively simple-to-make hat. You'll love the texture, stretch, and comfort built into this hat design.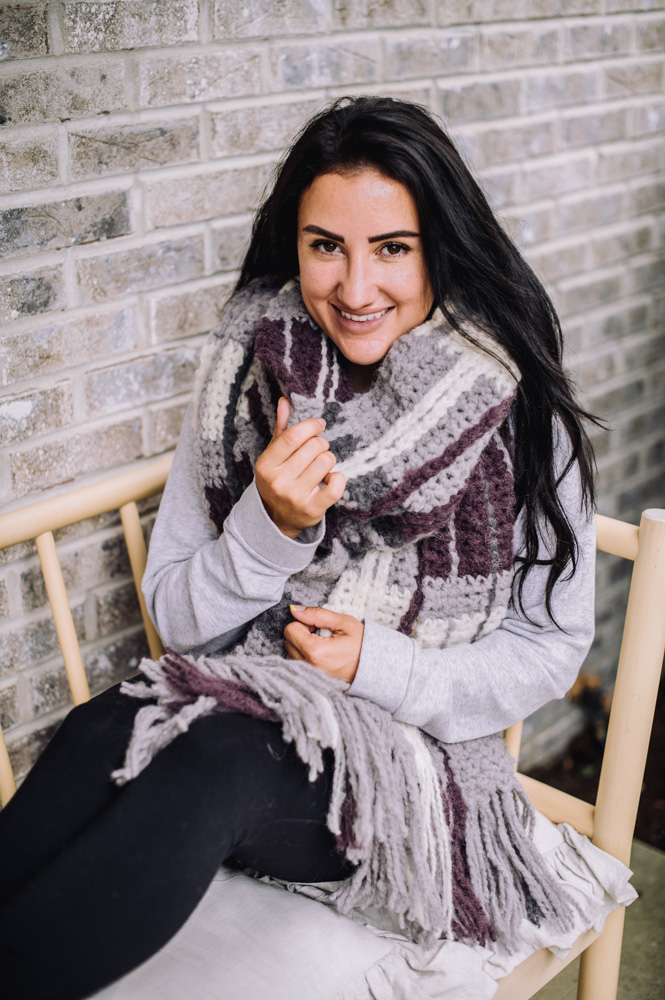 The possibilities are virtually endless with this Quinn Flannel Scarf by Qualyn Stark. Use color blocking and a simple surface slipped stitch design to create your own unique scarf in three or four colors—and plenty of fringe! Comfy, cozy, and uniquely you! 
With your I Like Crochet Gold Club Charter Membership you have immediate access to our continually growing digital library of magazine issues, special collections, hundreds of crochet patterns and articles, step-by-step instructions, video tutorials, and full-color photographs any time you want. Read the latest edition, then start on some of these fun patterns:
The Pastel Leopard Sweater is the perfect project to wear when temps start dropping. The hardest part of this pattern is picking the colors!
The Millie Turtleneck Sweater has a get-ready-to-go-anywhere vibe. The perfect fall pullover, it's worked from the top down and features ribbed shoulders and side panels. No seaming required!
The Dolly Diamond Weave Pillow features a bold diamond design created with an easy repeating pattern of double crochet post stiches. Pick your favorite bulky weight chenille yarn and add some soft sparkle to your sofa or favorite chair.
Take your cardigan game up a level with the Coletta Cardigan, featuring a row of beautiful motifs worked front and back. Double crochet shapes the body, finishing off the three-quarter sleeves with a row of motifs at the cuffs.
If cropped sweaters are your style, you'll love the Monika Cropped Cardigan with a deep V-neck. Finish it off with two bold buttons and let the layering begin!
In addition to these, you have immediate access to so many more comfortable, stylish patterns!
All the patterns and tutorials you want are right here for you, 24 hours a day on your desktop, laptop, or tablet, and the fully searchable content is at your fingertips anytime you're feeling creative.
Get ready for fall by starting on your next crochet project today!
Bring the colors of fall and the feel of the southwest into your home with this lovely Wind River Rug. Worked in five earthy colors, this unique rug is reversible! Worked in tapestry crochet or graphghan style, work each section of color from a small ball of yarn to craft a beautiful rug you'll want to show off!