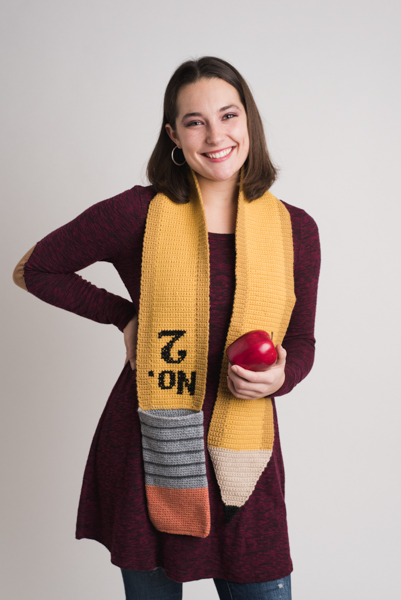 The no. 2 yellow pencil has been a staple for generations of school children. Quirky and fun, this scarf could be a great welcome-back-to-school gift for elementary school teachers!
Skill level: Intermediate
Size: 65" x 6"
Gauge: 5 sts = 1" [2.5 cm] in sc
Materials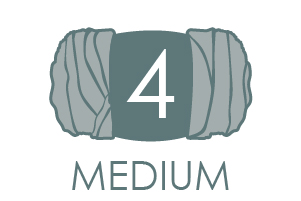 Yarn: Berroco Vintage (52% Acrylic, 40% Wool, 8% Nylon; 217 yards [199 meters]/100 grams): 5145 Cast Iron (A, 1 skein), 5104 Mushroom (B, 1 skein), 5121 Sunny (C, 2 skeins),
5127 Butternut (D, 1 skein), 5106 Smoke (E, 1 skein), 5107 Cracked Pepper (F, 1 skein), 51180 Grapefruit (G, 1 skein),
Hook: US size 7
Notions: Tapestry needle
Pattern Notes
When crocheting the yellow portion of the pencil you will be doing intarsia. Divide the skein of D into two smaller skeins. When on the right side of the scarf and changing colors, yarn over with the new color when two loops of the old color are on your hook. Make sure that the unused yarn is to the back.
On the wrong side, after changing colors in the yellow section, make sure the unused tails are brought back to the wrong side.
Pattern
With A, make a slip knot, ch 2, 2 sc in beg slip knot, ch 1, turn.
Row 1: Sc in each of next 2 sc, ch 1, turn. (2 sc)
Row 2: Sc in first sc, 2 sc in next sc, ch 1, turn. (3 sc)
Row 3: Sc across the row, ch 1, turn.
Row 4: Work 2 sc in next sc, sc in next sc, 2 sc in next sc, ch 1, turn. (5 sc)
Row 5: Work 2 sc in next sc, sc across the row, change to color B. (6 sc)
Row 6 (RS): Increase in first and last sc of RS row, ch 1, turn. (2 sts inc'd)
Row 7 (WS): Sc across the row, ch 1, turn.
Rep Rows 6-7 until there are 28 sc, ending with Row 7.
Join D and sc in next 5 sts, join C and sc in next 18 sts, join second skein of D and sc in next 5 sts, ch 1, turn. Follow the pattern notes for the intarsia portion of the scarf. Work until the scarf measures 48" or desired length.
With RS facing, join E, ch 30, turn scarf over to the WS, sl st across the row into the yellow sts. One round completed. Work sc in each sts around for a total of 30 rows.
Before completing the eraser portion, surface crochet the F bands. There will be one band between Rnds 5 and 6, one between Rnds 10 and 11, one between Rnds 15 and 16, one between Rnds 20 and 21, and one between Rnds 25 and 26. Insert hook from the outside to the inside of the pocket, picking up a slip knot of F with the hook and bringing it to the front. Insert hook into the next space moving from right to left, yo, bring yarn to the outside through the lp on the hook.
Continue in this manner all the way around the E part of the pocket.
Cut yarn and pull through lp to front. Thread loose yarn on tapestry needle and bring to the back and work in ends. Continue in same manner until there are a total of five bands of F. Join G to where you left off with E in working in the rnd.
Crochet for 20 rnds.
Flatten out the pocket and make sure that you end even with the right side of the pocket. There is a total of 58 sc all around.
Sc in the first front and back sc tog. Repeat across to close the eraser edge of the pocket.
Finishing
Following chart, cross stitch "No. 2".
Work in ends. Steam block.
---
Gold Members, Download Here
Not a gold member yet? Join Now