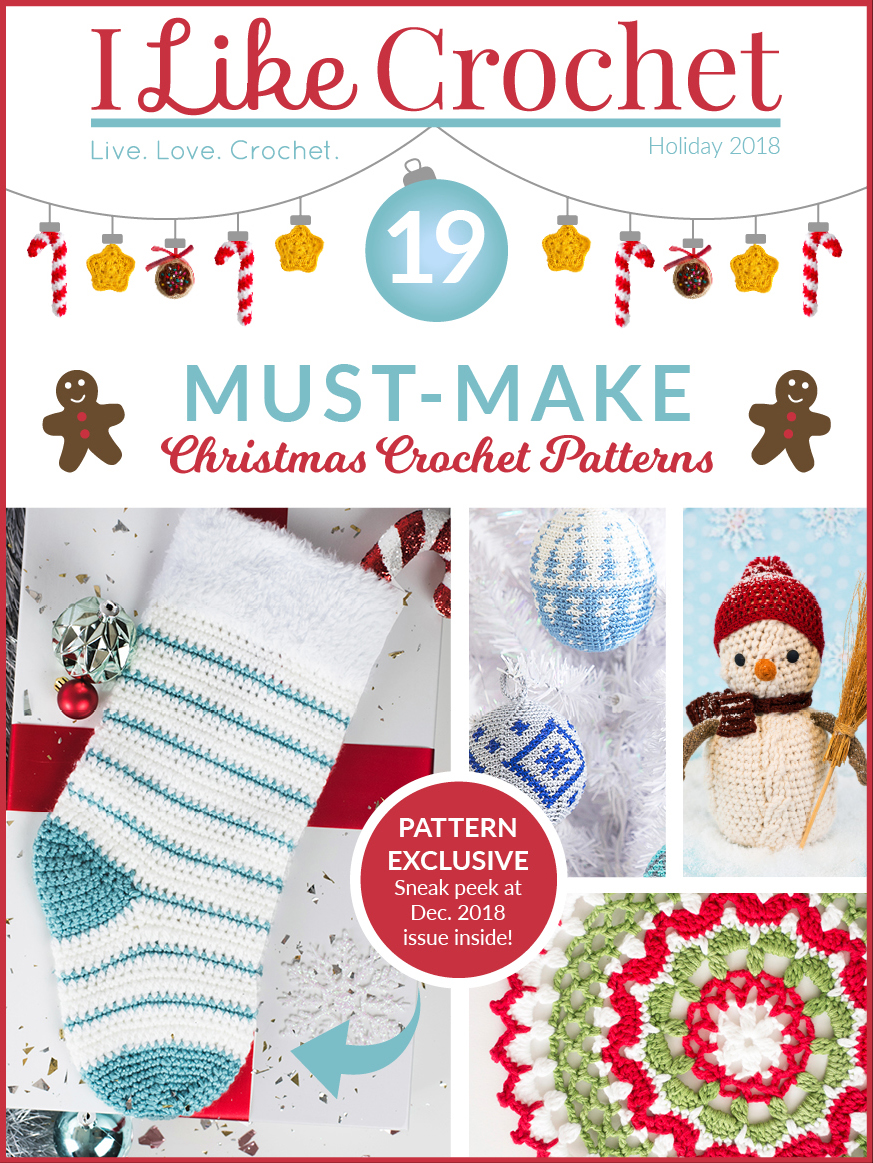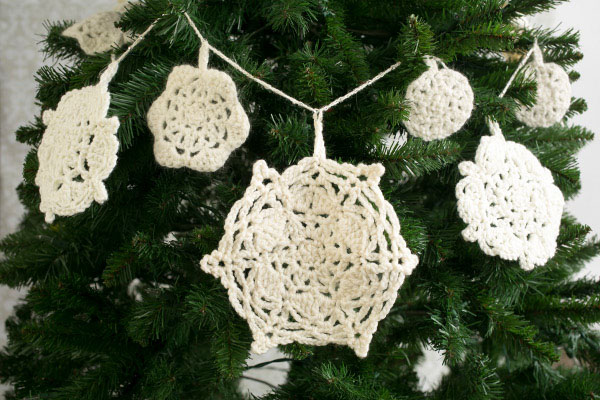 The holidays are quickly approaching, but don't get your tinsel in a tangle—we've got you covered!
As a special holiday bonus for our subscribers, I Like Crochet brings you 19 Must-Make Christmas Crochet Patterns. This special bonus holiday issue is packed with ideas for brightening your holidays with crochet goodness, from ornaments to gifts to décor. You'll find exciting patterns to make for everyone on your list, plus jolly ideas for your home, like the Dainty Snowflake Garland.
This glistening, beaded decoration brings all the beauty of sparkling snowflakes into your home, enhancing your winter and holiday décor. This pretty accent will look beautiful strung along your mantel, across a wall, or around the Christmas tree.
You'll marvel at the delicate flakes—and wait until you see how the silver seed beads in the string catch the light. They add just the right touch of holiday sparkle. Bring snow into the house—so long as it's in the form of the Dainty Snowflake Garland!
Deck the halls with more projects like these: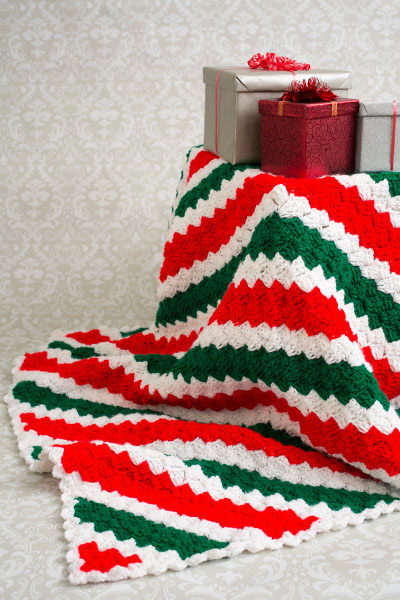 Wonderland Mittens—Someone on your gift list will enjoy the soft warmth of these vibrant mittens. The eye-catching wave stitch adds gorgeous texture!
12 Days of Gift Card Cozies—Personalize your holiday gift cards with 12 different cozies. These quick and simple gift card cozies make wonderful wrappings for last-minute gifts.
Holiday Corner to Corner Throw—Bring Christmas to every inch of your home with this bright and festive throw. Crocheted from corner to corner, the clusters make a pretty zigzag pattern.
But First, Coffee—Pass on the cardboard holders and instead brighten up your hot drink with this winter-themed cozy. It wouldn't be winter without your favorite warm beverage!
Olwen the Snowman—Crochet this amigurumi cutie as a gift for a little one or as part of your holiday décor. You can make different sizes simply by using a variety of yarn weights.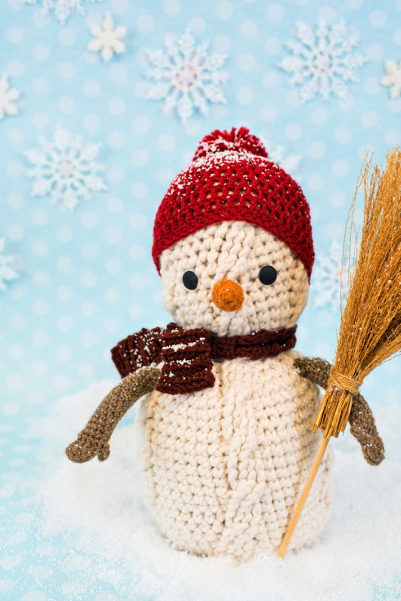 In 19 Must-Make Christmas Crochet Patterns you'll find the perfect gift for everyone on your list. Here's a peek at the holiday patterns we found for you:
Plus, get a sneak-peak from the December 2018 issue of I Like Crochet—the Fur-Topped Stocking—before it's released to the public! You'll want to make one for everyone in the family.
To ensure a successful crocheting experience, all of I Like Crochet's patterns include the following:
Complete stitch instructions
List of necessary materials
Special stitch instructions
Pattern notes when necessary
Finishing instructions
Detailed photography
Our BONUS holiday issue, 19 Must-Make Christmas Crochet Patterns, includes special Christmas projects—from super-easy to heirloom-quality—that'll bring the holiday spirit to your hook and to your home. So curl up in your favorite crochet spot, turn on a holiday movie, and crochet a handmade holiday!
But this is just a fraction of what you'll get with an I Like Crochet Gold Club Charter Membership—your membership includes subscriptions to the I Like Crochet Magazine Club and to the I Like Crochet Collections Club; full and immediate access to the digital library of 5+ years of magazine issues with 700+ crochet patterns and articles; step-by-step instructions for patterns; and video tutorials and full-color photographs for details about projects and stitches. All included with your Charter Membership!
Your I Like Crochet Gold Club Charter Membership gives you access to our crochet patterns and content, 24-hours-a-day on whatever device you prefer—desktop, or laptop! And the content is fully searchable, so you can find exactly what you want—when you want it—at your fingertips in an instant.
Here are just a few of the tantalizing patterns sitting in our library right now — you'll get instant access when you join the I Like Crochet Gold Club as a Charter Member:
Cuddly Crochet Baby Blankets
Super-Cute Amigurumi
Blue Sage Hooded Shawl
Easygoing Crochet Tank
Circular Chenille Afghan
Marigold Blanket
Baby Owl Bib
Moonlit Shells Shawl
Monster Baby Booties
Adult Pocket Scarf
Cropped Victoria Top
Vine and Twigs Scarf
Verde Velvet Pillow
Kaja C2C Rug
Flying Geese Jacket
Two Sisters Lake Sweater
And the library of photos and video tutorials is gorgeous, inspiring, and practical—showing you exactly how your finished patterns should look and exactly how to execute, even the difficult ones!
When you join our #1 community for crochet-lovers, you'll receive all of the handy benefits that crocheters everywhere have been buzzing about:
You'll learn new stitch techniques with a variety of patterns that range from beginner to advanced.
You'll find expert tips and tricks that will help you achieve professional results.
You'll start getting requests for your stunning crocheted items from your family and friends.
You'll have access to renowned designer patterns and tutorials from all over the world.
You'll never worry about mistakes in patterns or ripping out your progress because our tech-edited patterns are curated from trusted designers in the crochet community.
You'll be connected to an online community of crocheters who are just as passionate as you!
Don't miss out on this exclusive charter membership offer to get all of the above and more!
When you activate your I Like Crochet Gold Club Charter Membership today, you'll get access to everything we have about crocheting—all access and all the time:
A full year of upcoming issues of I Like Crochet magazine—Including nearly 100 exclusive designer crochet patterns and articles with step-by-step instructions, video tutorials and full-color photography for details of projects and stitches
Instant access to EVERY issue we've ever published—a vast library of more than 5 years of issues with 700+ patterns and articles
A full-year's subscription to the I Like Crochet Collections Club that includes gorgeous designer patterns
Regular e-newsletters, full of the latest crochet tips & tricks
Free patterns, expert tips, and Crochet Along community events
FREE Bonus! FREE access to two on-demand streaming crochet videos Crochet Secrets Revealed: 12 Tutorials by Michael Sellick and Back to Basics: 11 Essential Techniques and Stitches for Every Crocheter. FREE, instant, full, and unlimited access for you right now!
And here is what you don't get when you become a Charter Member of the I Like Crochet Gold Club—advertisements! That's right, we're advertising-free, so that we can devote more time, space, and effort to helping you be an awesome crocheter!
All of this is available to you—right now—when you claim your Charter Membership to I Like Crochet Gold Club. This special introductory offer includes FREE unlimited access to two on-demand streaming crochet videos Crochet Secrets Revealed: 12 Tutorials by Michael Sellick and Back to Basics: 11 Essential Techniques and Stitches for Every Crocheter…our gift to you for signing up now!
No other online magazine has this much information about crochet all in one place for your easy access!
Crocheters everywhere have been enjoying I Like Crochet magazine for years, and now it's better than ever with more benefits, patterns, and content than you could ever dream of—with an I Like Crochet Gold Club Charter Membership.
When we first put this new club together for crocheters like you, your needs and desires were top-of mind. We're the ultimate resource and network for crocheters everywhere, offering original designer patterns and content from authoritative and respected voices in the crochet world.
I think you'll agree that this really is an unusual offer, plus FREE access to our premium on-demand streaming crochet videos when you become an I Like Crochet Gold Club Charter Member today! It's an incredible deal that you don't want to ignore!
Why not be among the select group of crocheters to join us today and benefit from all the valuable information about crocheting that you can't get anywhere else?
Become an I Like Crochet Gold Club Charter Member today—while this special offer lasts!
Happy crocheting!

Caitlin Eaton
Editor, I Like Crochet Magazine