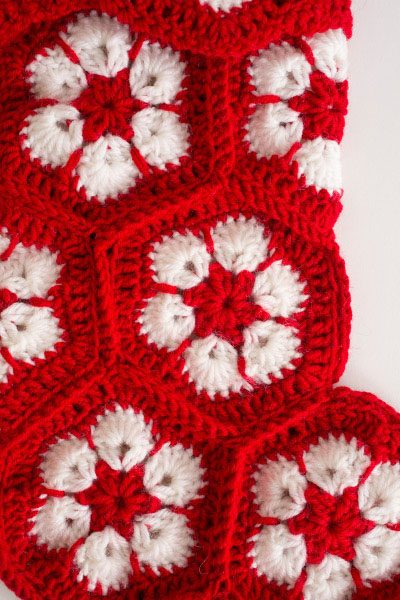 Celebrate the holidays with a hand-hooked hexagon stocking in Scandi colors! Arrange it by the fireplace and wait for the gifts.
Skill Level: Easy
Size: 14" x 10" (36 x 26 cm)
Gauge: 1 hexagon measures 4″ x 4″ (10 x 10cm)
Materials
Yarn: DROPS Karisma (100% superwash wool; 109 yards [100 meters]/50 grams): #18 Red (A, 1 ball), #19 White (B, 1 ball)
Hook: US size E/4 (4.0 mm) hook
Notions: Markers, tapestry needle
Pattern
Hexagon Motif (Make 16)
Using Yarn A, ch 5 and sl st to first ch to join into a ring.
Rnd 1: Ch 3 (counts as first dc), dc in same st, ch 1, *2 dc, ch 1, * repeat from * to* until you have six spaces and six 2dc. Ss to the 3rd chain of the beg rnd. Change to Yarn B. (12 dc in total, 6 ch in total)
Rnd 2: Start in a ch 1 space from previous Round. Ch 3 (counts as dc) dc, ch 1, 2 dc in same space, *2 dc, ch1, 2 dc in next space* – repeat from *to* 5 times, and sl st into the 3rd ch of the beg round.
Rnd 3: Ch 3 (counts as dc), 6 dc in ch 2 space from previous round, 7 dc in next ch 2 space, repeat around. Change to Yarn A.
Rnd 4: Ch 1 (does not count as stitch) 6 sc, 1 dc in ch space of third round to form a long stitch, repeat around.
Rnd 5: Ch 3 (counts as dc) dc in next 2 stitches, 3 dc in next stitch, skip long stitch of previous round, dc in next 3 sts repeat around.
Fasten off.
Joining Motifs
Refer to diagram for arranging the motifs.
Note: The diagram refers to front and back side of stocking.
Join the motifs with red and a sc seam. Holding 2 motifs WS together, sc through both layers working through the front loop of the motif held at the back and through the back loop only of the motif in the front.
Rejoin Yarn A to the top opening edge, ch 3 (counts as dc) and dc in each st around. Fasten off.