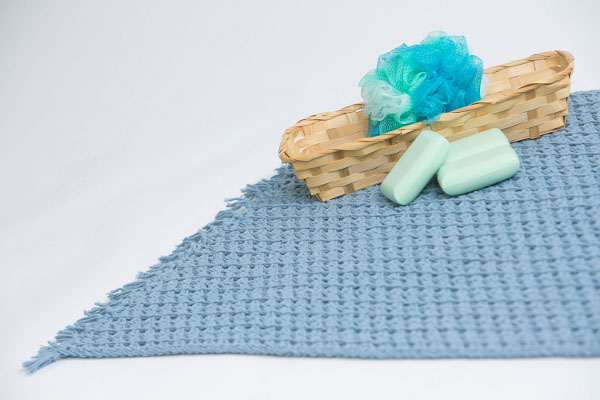 This easy-to-make rug is the perfect thing to feel underneath your feet first thing in the morning. To complete the look, add some short and sassy fringe.
Skill Level: Easy
Size: 24" x 30" excluding fringe
Gauge: Gauge is not important to this project.
Materials
Yarn: Lion Brand Yarns Cotton-Ease (50% cotton, 50% acrylic; 207 yards [188 meters]/100 grams): #110 lake (6 skeins)
Hooks: US size F/5 (3.75 mm) hook or US size K/10.5 (6.5 mm) hook
Notions: Tapestry needle
Abbreviations
Dcflo: Double crochet in front loop only of designated st
Rsc: Reverse single crochet
Scflo: Single crochet in front loop of designated st
Special Stitches
Reverse Single Crochet (Rsc): Insert hook in designated stitch or space to the right of stitch just worked, yarn over, pull up a loop, yarn over and pull through all loops on hook.
Pattern Notes
Yarn is held double throughout, excluding fringe.
Ch 3 at the beginning of any row counts as first dc.
Pattern
With larger hk, ch 84. Dc in third ch from hk (counts as first sc, first dc), *sc in next ch, dc in next ch. Rep from * across row, ending with sc in last ch. Turn. (42 sc, 41 dc)
Row 1 (WS): Ch 3, *scflo in next dc, dcflo in next sc. Rep from * across row, ending with dc in top of initial ch 2. Turn.
Row 2 (RS): Ch 1, scflo in first dc, *dcflo in next sc, scflo in next dc. Rep from * across row, ending with scflo in final dc. Turn.
Row 3: Ch 3, *scflo in next dc, dcflo in next sc. Rep from * across row, ending with dc in last sc. Turn.
Repeat rows 2 and 3 until piece measures 24" from beginning. Fasten off.
Finishing Instructions – Side Edging
With rs facing and yarn held double, attach with sl st at bottom left side corner. Working from left to right across left short side of rug, rsc 56 sts evenly spaced (approximately 2 rscs every 1 ½ rows). Fasten off.
Repeat side edging along opposite short side of rug.
Weave in ends; block blanket to dimensions.
Adding Fringe
Cut 186 7" length pieces of yarn. Separate into bundles of three. Take bundle and fold in half; with rs of rug facing, place smaller hook from back to front in beginning stitch along either short edge. Pull yarn bundle at fold loop from front to back. Pull edges of yarn lengths through loop from front to back and pull tight. Repeat 30 more times evenly spaced along same edge; repeat again along other short edge of rug (31 fringe along each side). Trim fringe even to 1 ¼" in length.