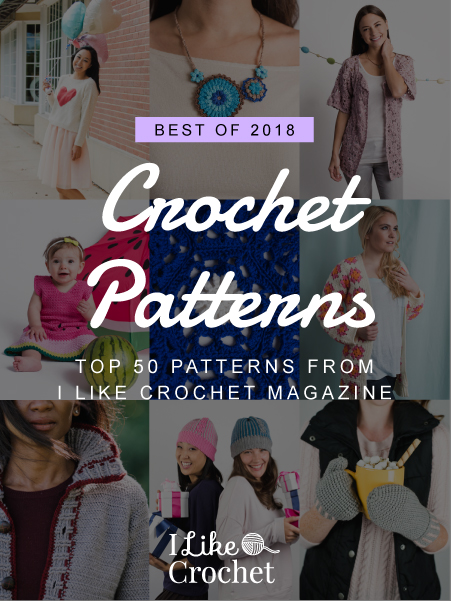 It's that time of year again: welcome to the official top 50 patterns from I Like Crochet for 2018. Featuring classic patterns for the home, cozy cardigans with colorful accents, gorgeous tees, airy shawls and wraps (and even some bags), this list covers it all. And we couldn't have done it without each and every one of the talented designers who create exclusive projects for our issues. Truly, we are so proud of everything we've accomplished together.
Make sure you take a close look; these trends are likely to stick around in 2019.
In The Hood
This trend is here to stay because let's face it: hoods are cozy. We like cozy. Add a hood to a scarf, shawl, or poncho and call it a day. Also trending: apples!




Ambrosia Hooded Scarf | Blue Sage Hooded Shawl | Cortland Hooded Poncho | Crispin Poncho
For Him
He deserves the best and even though crocheting for your guy can be hard, these two designs have proven to be favorites year round.

27
Aster Hat | Felix Faux Fur-Lined Cowl
BFF's
She's your gal pal and she loves your crocheted gifts! Accessories are the way to go with matching hats, scarves and every shade of pink.






Belle Brioche Beanie | Cady Cowl | Clarice Scarf | Lucy Scarf | Mitzi Mittens | One Skein Joy Slippers
Can't Bear The Cuteness!
Seriously, these patterns are so cute! We've got heart eyes for these beary sweet designs.



Bear-y In Love Panda Amigurumi | Blizzard Bear Hat | Skip A Beat Sweater
Clever & Cozy
Put basic afghan patterns on the shelf for a while because these afghans are anything but ordinary. From freeform rainbows to a blanket that folds up into a pillow, these were the real winners of 2018.
Big Dipper Afghan | Dare to Dream Afghan | Heart Warming Blanket | Saffron Pillowghan
Show & Pastel
Pastel hues with pops of bright colors were a hit this year, especially for the little ones. Spring and summer seem to be the favorite seasons for crocheters to make something for the kids.
Blooming Baskets Set | Lavender Beanie Bag Bunnies | Navy Bloom Mary Janes | One in a Melon Baby Dress
Take It To Go
Large bags took the back burner this year in favor of cute and trendy little bags. Both are unique in their pattern and design and we love to see crochet being used to make a fashion statement.


Bohemian Bag | Love Me Knot Wristlet
The Sea Is Calling…
…and color us inspired! Turquoise takes center stage along with starfish and turtle motifs! Lightly layer these pieces for a day at the beach and be on the lookout for more ocean-inspired designs in 2019.



10



Island Necklace | Open Ocean Scarf | Sea to it Shawl | Sea Turtle Baby Tank | Song of the Sea Pillow | Tidepool Tunisian Shawlette | Summer Moonlight Scarf
Fancy a Flower?
Creative florals were the name of the game in 2018 with trendy designs featuring many floral motifs.




Botanical Tank Top | Freesia Vest | Dusk Daisy Cardigan | Hydrangea Scarf
Set on Stripes
Stripes have made a comeback and it's a great way to practice those color changes in crochet. The good news is that stripes seem to be in season all year these days so these are good bets to put on your to-crochet list in 2019.
29


French Riviera Shift Dress | Sugar Plum Set | Set your Sights on Stripes Top
Falling for Shawls
We love shawls all year long but these fall-inspired shawls were the most popular in 2018. Mustard and maroon colors truly made these shawls perfect for the season and for fall 2019 as well.




Farmers Market Wrap | Harvest Shawl | Macoun Leaf Shawl | Red Delicious Ruana
Calling All Cardis
If you haven't crocheted a cardigan recently, we highly recommend these three designs. All cozy, all wonderful, all incredibly popular in 2018.



McIntosh Sweater | Classic Checks Cardigan | Throwback Thursday Jacket
Home Sweet Home
Boring couch pillows no more, these innovative pillows are coming to the rescue. Paired with only the most gorgeous crocheted rug we've laid our eyes on, these pieces will make home feel more like home.




Merry Chrismoose Lighted Pillow | The Pineapple Tunisian Pillow | Tribal Texture Pillow | Southwest Rug
Thank you to all of our designers for coming up with some truly astounding designs. And to you, our readers, for coming along for the ride. We hope you've enjoyed this look at the past year and all of the patterns we've published in 2018. Here's to 2019!
So which pattern is your favorite? Leave a comment and let us know which design has stolen your heart this year.