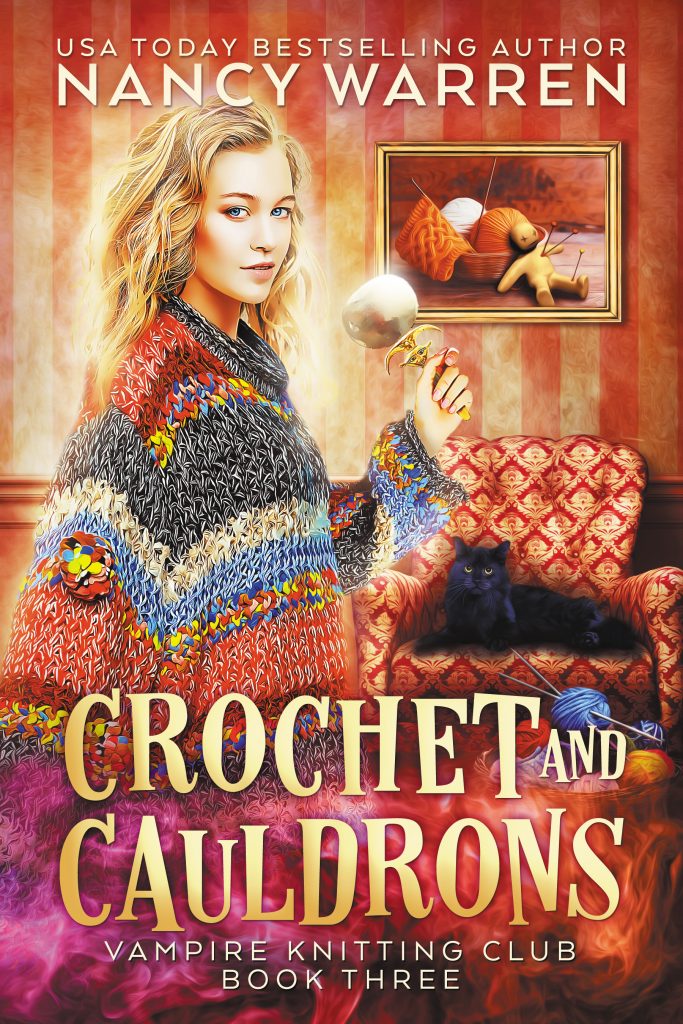 by Nancy Warren
Every family has annoying relatives; mine just happen to be undead.
My Grandmother, Agnes Bartlett, used to own Cardinal Woolsey's knitting shop in Oxford then died and left her shop to me, without informing me that she wasn't actually dead. She's a vampire and part of the world's strangest craft circle – the Vampire Knitting Club.
As you might imagine, this means she's free to interfere in how I run the business that used to be hers. She's trying to teach me to knit and it's not going well. She's also trying to teach me how to be a witch, since it turns out I'm from a long line of witches. Another tiny detail about my family that no one ever told me, along with the long-lost witch cousins I recently discovered.
But I'm learning. I've got my family spell book, my black cat familiar, some powers that sometimes scare me, and an interesting new group of friends.
My archaeologist parents are coming to visit and bringing me a gift I could do without.
So, to recap, I run a knitting shop and I can't knit. I'm a beginning witch who can't always control her cat, never mind her magic, and my love life is as tangled as the last sock I tried to knit. Oh, and for some reason, I keep getting involved in murder investigations. Good thing I have my vampire knitters to help sniff out clues.
* * *
Chapter One
Crochet and Cauldrons Copyright © 2018 by Nancy Warren
"Good afternoon, Mrs. Winters," I said, walking into the corner grocer at the top of Harrington Street, in Oxford. It was convenient, only up the block from where Cardinal Woolsey's Knitting Shop was located.
Our little corner of Oxford was my favorite part of that ancient city. There was one college on the street, but it wasn't famous. There were no world-class restaurants or fancy hotels. No celebrity had been born or died here. It wasn't even in the oldest part of the city. What Harrington Street had, was rows of tiny shops and houses that had stood there for about two hundred and fifty years. And one of them was mine.
I'd only been running Cardinal Woolsey's for a few months and I was still discovering new quirks and oddities in the neighborhood—and that was just the people! Of course, since I was both young and American, I often had to explain how I came to own a quaint, old knitting shop. The easiest explanation, and the truth, was that I'd inherited the shop when my beloved grandmother died.
The slightly more complicated explanation, also true, was that before she was all- the-way-dead, one of Gran's vampire friends turned her. So, I ran the shop with a great deal of interference from a group of bored know-it-all vampires who were crazy good knitters.
"How's business, Lucy?" asked Mrs. Winters. She was inclined to be nosy.
"Fine. I'm thinking of branching into selling designer knitted garments, possibly on the Internet." The vampire knitting club turned out the most incredible work at warp speed and I hoped that if I could keep them busy enough, they might have less time and energy to interfere in my life. It was a faint hope, but I was clinging to it.
"That's a lovely sweater you're wearing," she said, peering at me closer. "Did you knit it yourself?"
I swallowed the urge to snort. My attempts to knit were about as good as my track record at keeping an assistant. Pitiful. The sweater I wore was gorgeous. A deep purple background with an indescribable, but beautiful, geometric pattern of diamonds and squares in complimentary shades. The sweater had been made by Doctor Christopher Weaver, a local GP and vampire. The vampires took turns knitting me sweaters, shawls, and dresses to wear in the store. Every day I turned up in something amazing, which I usually only wore once, as there was always another new creation waiting for me to slip into. That's why I was thinking of branching out into ready-made items.
"I need a new assistant, though," I said, holding up the advertisement I'd made. "Do you mind if I pin the job posting on your community board?"
I'd also put the ad online and I'd posted a help wanted sign in my front window, but everybody in the neighborhood checked the community board at Full Stop, the grocer's. It was the best place to find a violin teacher, a roommate, or a job.
However, pinning a notice up always had a price. Especially as I kept putting up the same one: "Shop Assistant wanted at Cardinal Woolsey's Knitting Shop. Must be an experienced knitter with retail experience." I went through assistants the way an allergy sufferer with a bad cold went through tissues.
I waited. Sure enough, she raised her brows in fake shock. "Good heavens. Another assistant?" She leaned across the counter, past the display of lottery tickets and a plastic basket of mini packs of Chocolate Buttons and Jelly Babies, all ready for Halloween. But her voice was so piercing I'm sure they could hear her at the top of the Radcliffe Camera. "It's very important to keep consistency. Rapid staff turnover isn't good for your business's reputation." She smiled at me in a very patronizing way. "I'm sure you don't mind me giving you a hint, my dear. Only, I've been in business a great deal longer than you have."
I could have told her that my first assistant had been a psychopath, my second assistant had freaked out after seeing my supposedly dead grandmother wandering around the shop, and my third had gone back to Australia to be with her boyfriend, the murderer, but I held my tongue and tried to look grateful for the unwanted advice.
Then, as though belatedly remembering how I had come to lose my third assistant, she said, "Of course, it's all been so dreadful with that fuss at the tea shop."
It takes a very special person to call two murders a fuss.

---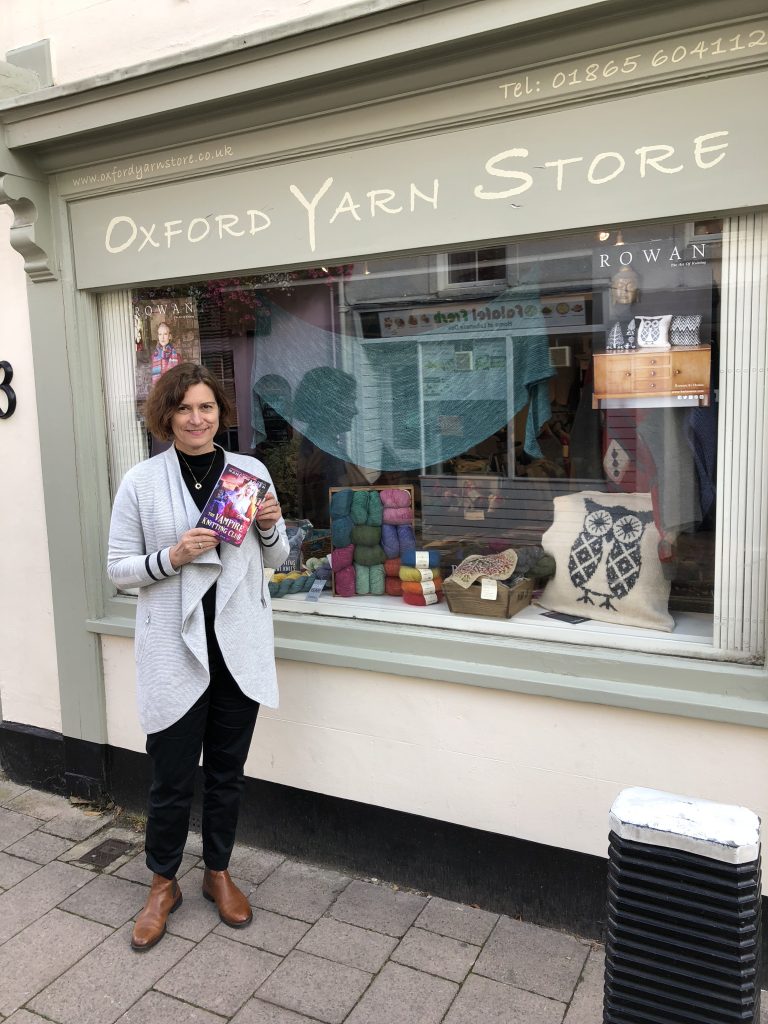 The USA Today bestselling author of more than sixty novels, Nancy is known for her funny, sexy and suspenseful tales.
She's an avid hiker, often tramping the hills with her Border Collie, Max. Nancy recently completed her MA in Creative Writing at Bath Spa University, UK.
Nancy is a three-time Rita Awards finalist, a winner of the Romantic Times magazine Reviewer's Choice Award, and was featured on the front cover of the New York Times for her Harlequin Nascar series.
Love Nancy's books? The best way to keep up with Nancy and her work is to join the Nancy Warren Readers' List