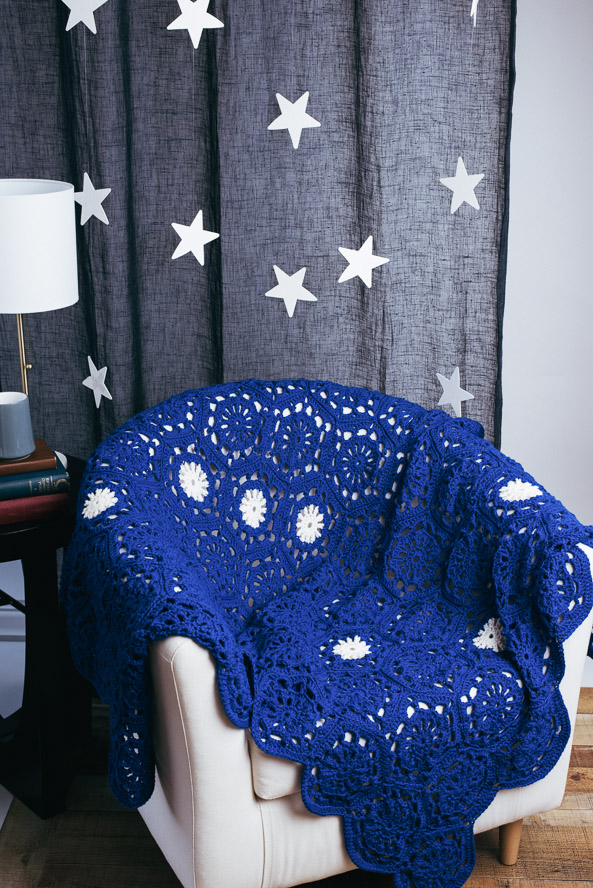 An easy hexagon lends itself to a sky and Big Dipper design when the centers of seven of the motifs are done in white. With extra planning, you can plan out other constellations as well which makes this type of afghan extra versatile.
Skill Level: Intermediate
Size: 39" x 69" after blocking
Gauge: Motifs are 6.5" corner to corner or 6" side to side
Materials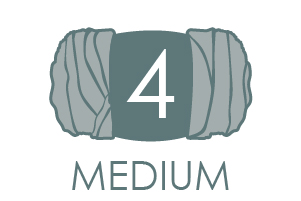 Yarn: Berroco Vintage (52% Acrylic, 40% Wool, 8% Nylon; 218 yards [200 meters]/100 grams]: 5160 Blue (MC, 9 skeins), 5101 White (CC, 1 skein)
Hook: US size H/8 (5.0 mm)
Notions: Tapestry needle, locking stitch markers (optional)
Special Stitches
Picot: Ch 3, sl st into top of sc.
Pattern Notes
Ch 3 at beginning of Rnd counts as a dc.
Pattern
Sky Motifs (make 67)
With MC, make a Magic Ring 0.5" across (or ch 5, sl st to form ring).
Rnd 1: Ch 3, 11 dc into circle, join with sl st in top of ch-3.
Rnd 2: (Ch 6, sc in next dc) 12 times, sl st in 2nd and 3rd ch of beginning ch-6. (12 ch-6 sps.)
Rnd 3: Ch 3, **3 dc in first ch-6 sp, 4 dc in each remaining ch-6 sp around, sl st to beginning ch-3.
Rnd 4: Sl st in next dc, (sc in space between 2nd and 3rd dc of 4-dc group, picot, ch 6) 12 times, sl st in first sc.
Rnd 5: Ch 6, [(5 dc in next ch-6 sp) 2 times, ch 3] 5x, 5 dc in next ch-6 sp, 4 dc in last ch-6 sp, sl st to 3rd ch of beginning ch-6. Fasten off.
Star Motif (make 7)
With CC, work as for Sky Motif through Rnd 2, sl st in 2nd ch, fasten off.
Rnd 3: Attach MC in any ch-6 sp, ch 3 (or attach MC with a standing dc), continue from ** in Rnd 3 of Sky Motif.
Rnds 4-5: Work as for Rnds 4-5 of Sky Motif.
Assembly
With right sides together, sl st through top loop sps of motifs, following photo as a guide for placement,
working from right and bottom.
Note: It's helpful to use stitch markers or safety pins to connect motifs so you don't lose your place.
First Row: 11 Sky Motifs.
Second Row: 10 Sky Motifs.
Third Row: 3 Sky, 1 Star, 7 Sky Motifs.
Fourth Row: 1 Sky, 1 Star, 6 Sky, 1 Star, 1 Sky Motifs.
Fifth Row: 5 Sky, 3 Star, 3 Sky Motifs.
Sixth Row: 1 Sky, 1 Star, 8 Sky Motifs.
Seventh Row: 11 Sky Motifs.
Border
Join MC with ch 3 (or standing dc) in any dc, dc in each dc around with 4 dc in outer ch-3 sps and skipping ch-3 sp's on inner corners. Fasten off.
Finishing
Weave in ends. Block.
---
Gold Members, Download Here
Not a gold member yet? Join Now