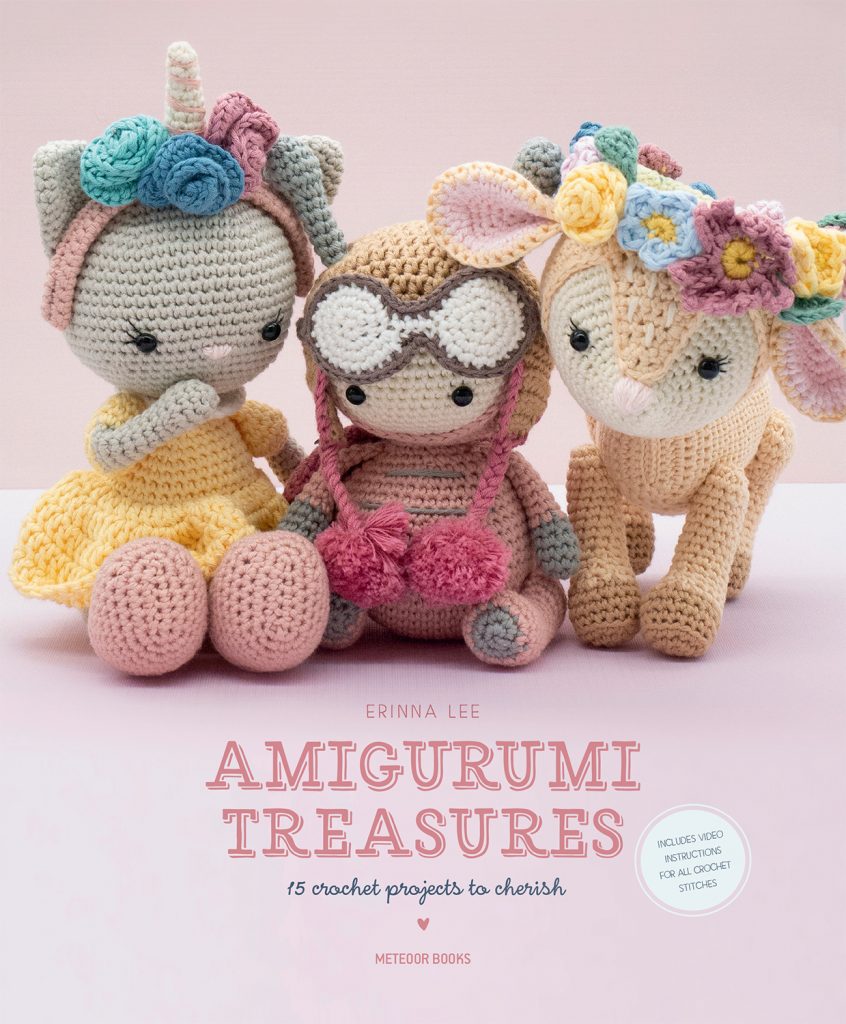 by Erinna Lee
For every year of my school life (and I am sure it was the same for most of you), the end of the school year meant a report card that you had to bring home to mum and dad. My reports were typically un­memorable – average grades, mundane comments about needing to live
by Erinna Lee
For every year of my school life (and I am sure it was the same for most of you), the end of the school year meant a report card that you had to bring home to mum and dad. My reports were typically un­memorable – average grades, mundane comments about needing to live up to my full potential, and as a timid young girl I never really got into a lot of trouble. However, one report has remained with me throughout my life and has challenged and impacted me the most. Reading it ignited in me a life-long determination to cultivate and improve upon it in every aspect of my life. This is what it said:
"Erinna lacks creativity."
Fast forward many (many, many) years later …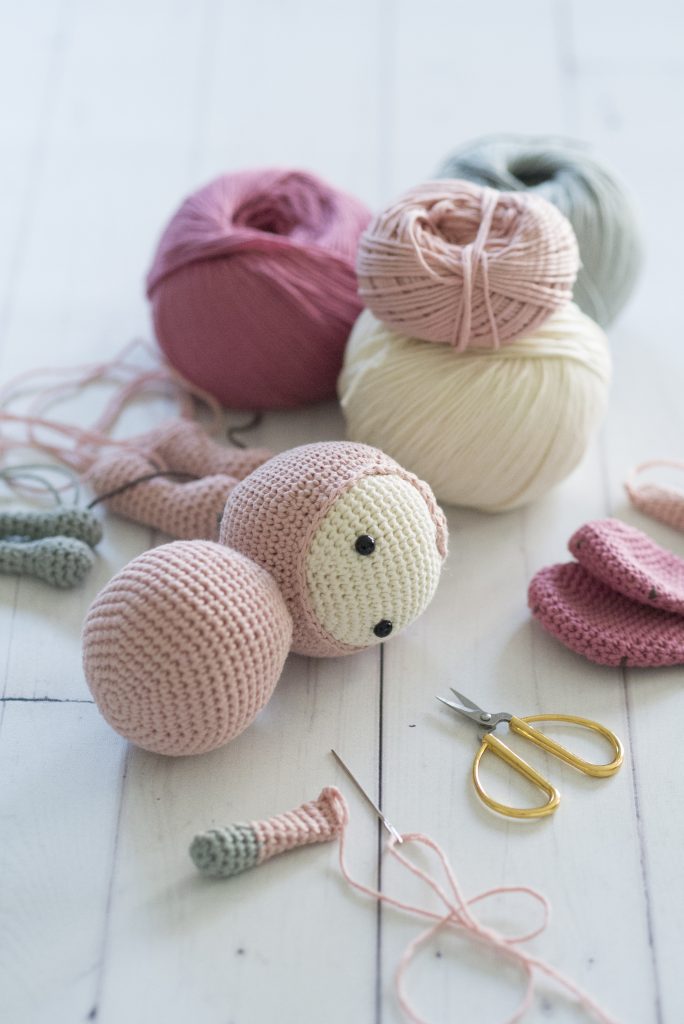 I am sitting here, writing this introduction as one of the final items on my (very) long list of things to-do, surrounded by an explosion of yarn and threads, piles of notebooks scribbled with illegible pattern drafts, photography props and doll prototypes, in preparation for my very first book of amigurumi patterns. Who would have thought?
From a very young age, my mum has always fostered a love for crafting in us, be it clay work, painting, cross-stitch or decoupage amongst many others. In 2014, I itched to learn a new craft, as an outlet to relax after work and to challenge myself to learn a new skill. I picked up a hook and yarn and after a few false starts, made my first chain stitch. Whilst I do not cross-stitch or make clay figurines anymore, five years later I am still crocheting. So what is it about crochet that has me hooked (pardon the pun)?
A love for illustrations and creating cute characters. A pen frustrates me as it disallows me to put the characters I create
in my head onto paper. Amigurumi has allowed me to fulfil my love for character creation. Seeing a character I imagine come to life with just yarn and stuffing feels great, but what is even better is receiving a note from another person telling you how happy they are with their recreation of your character with your pattern!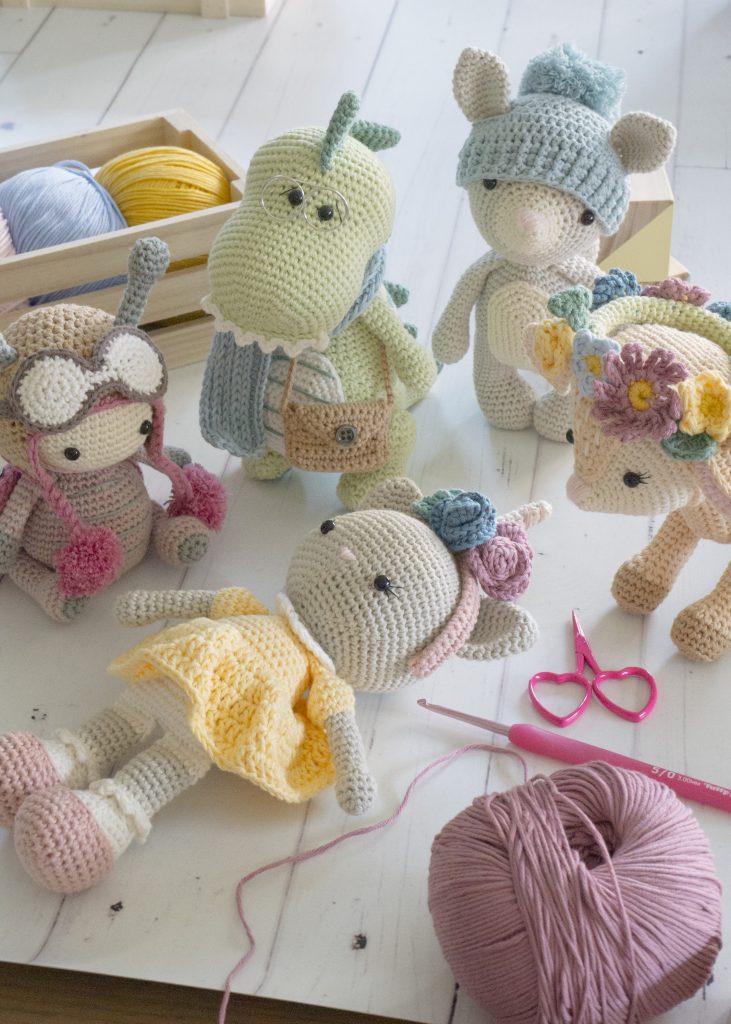 Amigurumi design is maths with an artistic flair. As a scientist by day, fact and methodology dictate my thinking. Amigurumi is surprisingly mathematical! A nose or a foot can be created using simple algebra. I always knew the pain of maths classes would come in useful one day. However, I still have not grasped the importance of all those differential equations. Maybe one day …
A supportive global crafting community. Where would we all be without social media? That we get to share our finished work with a large community of crochet lovers has no doubt kept me motivated and encouraged. I have met so many wonderful people from all around the world and have been inspired by the creativity of many.
It is not just about crochet. I never thought crochet would let me acquire new skills in graphic design, photography, digital illustration, accounting, branding and business management. Now if only there was more time in a day.
Last but not least. I get to travel my crochet journey with my mum. We both started crochet at about the same time, and it is wonderful that, whilst we have each developed our individual styles, we are able to share ideas, go yarn shopping together and provide honest open feedback to each other.
These are just some of the reasons I believe crochet has become such a passion of mine, perhaps they resonate with you too?
'Amigurumi Treasures' by Erinna Lee, retail price: €16,50 / $18.95 / £13.95. Paperback edition available on Amazon or in your local craft/book store, PDF edition available on Amigurumipatterns.net.

---
About the Author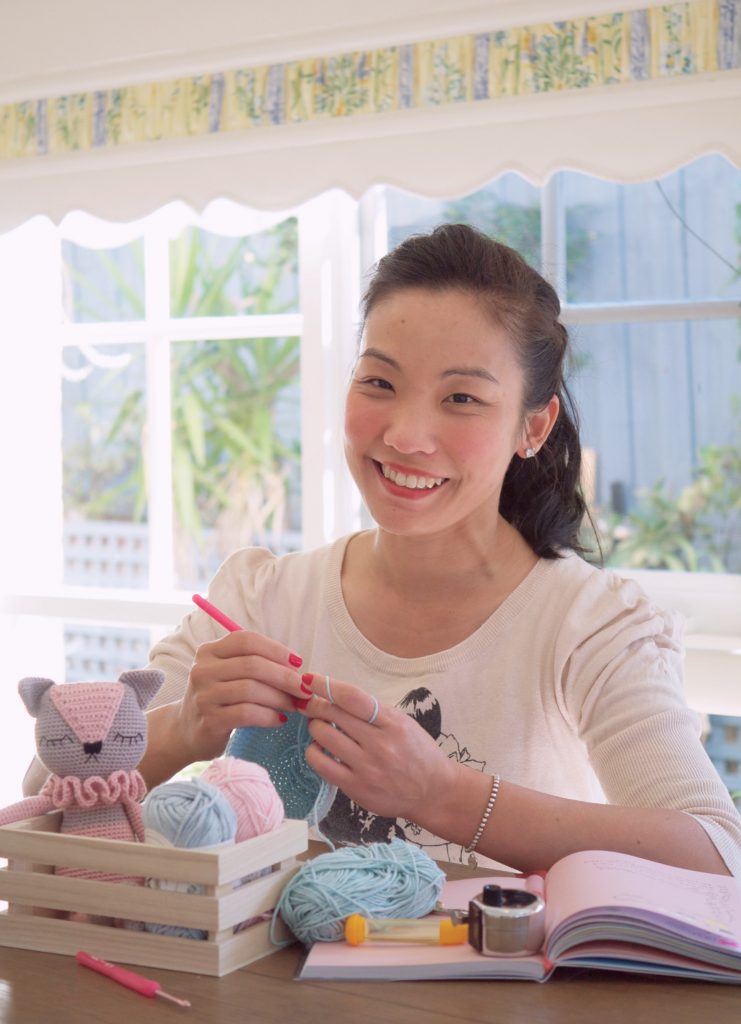 Erinna was born and grew up in Singapore.
From a young age, she was kept a busy child with after-school activities including ballet, piano, violin and art classes. However, ballet was her passion. Alongside regular academic demands, she spent a large portion of her time in ballet classes.
Upon completion of high school in Singapore, she successfully auditioned for the Central School of Ballet in London where she embarked on her dream of becoming a professional ballet dancer.  She then made the decision to turn her interests to dance teaching and this inspired her move to Melbourne, Australia, where she has resided since 1999. Here, she received her qualification in classical ballet teaching from The Australian Ballet School.
Her father advised her to finish her studies and attend university. Despite obtaining her qualifications to teach dance, he thought that having a university degree would provide her a fall back position for her future. No one would have guessed that this would be a defining point for her career. Erinna fully intended to major in anatomy and psychology, thinking it would complement her dance teaching. However, exposure to the world of biochemistry in her second year changed her route. Intrigued by biology and its implications in disease, she finished her Bachelor of Science (Honours) at the University of Melbourne and subsequently completed her PhD. She is now a cancer researcher driven to combat this devastating disease.
Crochet entered her life as an outlet for relaxation outside of the lab. She enjoyed recreating published patterns from many talented designers whom she now has gotten to know through social media. As the pile of dolls grew, and as her yarn expenses expanded, it was time to embark on a new adventure. Together with her mum, they opened their first Etsy shop Bubbles and Bongo where finished dolls are sold. Three years later, their second shop The Little Hook Crochet was established, through which patterns, crochet kits and supplies are sold.
Erinna got her kick-start in pattern design when she entered the ever-popular amigurumi design contest run by AmigurumiPatterns.net. Her very first contest entry of a mouse and her little baby placed third. This led to the first of many patterns to be included in various AmigurumiPatterns.net publications. Erinna also makes regular pattern contributions to Simply Crochet magazine and has been interviewed by both Simply Crochet and Inside Crochet.
You will find Erinna's work primarily on Instagram where she is @littleaquagirl. Her account reflects her fondness of all things pink, fluffy and kawaii. Amigurumi Treasures is her very first book comprised entirely of her amigurumi designs. It has been a true labour of love and she hopes that fellow crochet lovers will like the characters she has designed and treasure each and every one of them.