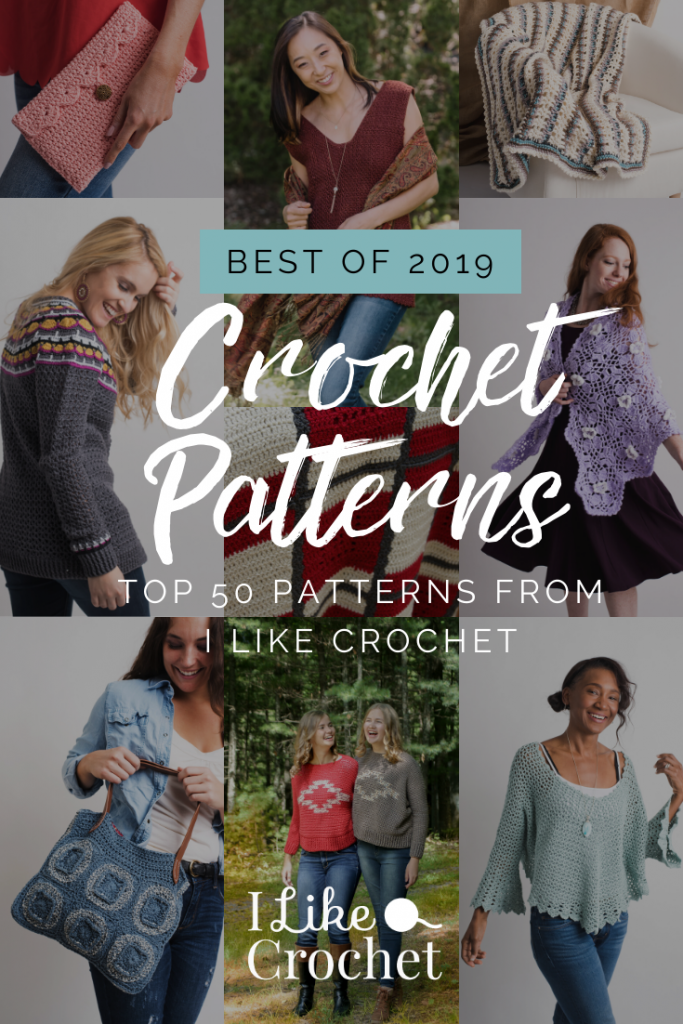 It's that time of year again: we've looked through all our data and compiled the most popular crochet patterns from 2019, and this year's list will not disappoint. Full of projects for the bold hearted, this roundup boasts daring designs packed with fearless color choices and adventurous accents. From classic pillows and cozy cardigans, to beautiful hats, scarves and tees, this list covers it all.
STATEMENT SLEEVES
Sleeves were a big deal in 2019 and we can see why: each project featured is an instant classic and comes with an array of sleeve options, from bell shaped to open sleeves. 




Sierra Swoncho | Emmy Tied Sleeve Tee | Vivi Ruffle Sleeve Top | That's a Wrap Shirt 
Trend Forecast: In 2020 … look for puffy sleeves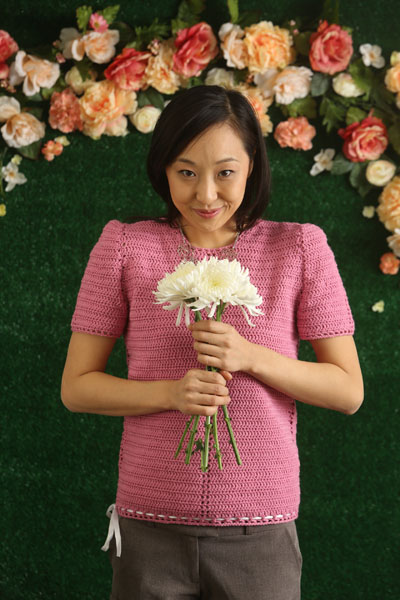 Don't expect statement sleeves to go anywhere! We're predicting puffy sleeves to make a strong comeback next year. From the fashion runways, you'll notice over-the-top fashion as always, but apply bits and pieces of those trends into your crochet designs and you'll be surprised. Add some flare to otherwise simple pieces with the addition of a puffed sleeve.

PLAID TO SEE YOU
You can't have fall without plaid and fall 2019 was no exception. Last year, Buffalo plaid took the spotlight, but don't rule out unconventional ideas for future seasons. 



Buffalo Plaid Felted Pillow  | Lodge Plaid Blanket | Perfectly Plaid Basket

Trend Forecast: In 2020 … look for linear lines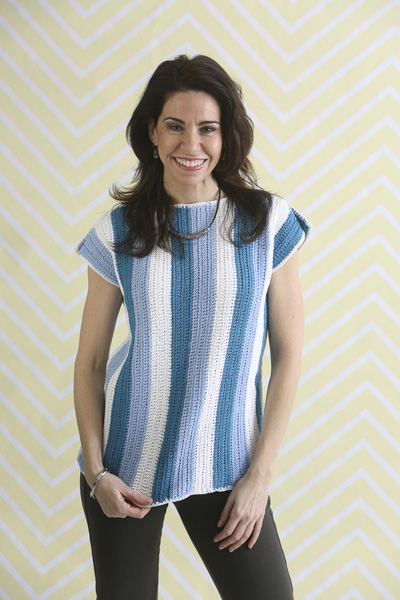 Stripes in all forms will likely be everywhere. Vertical lines tend to be more flattering, but horizontal lines will certainly hold their ground too.
SCALLOP INTO FASHION
Our April 2019 issue featured a collection of scalloped designs that became instant favorites. Popular in fashion and décor at big box stores, scallops lend themselves easily to crochet edging. It was a no brainer to test our designers and see how they'd apply popular scallops to beautiful crochet designs. The results were polished, classic looks that speak volumes to the versatility of crochet.
Florence Scalloped Clutch
Claire Scallop Top
Espresso Your Love Doily
Poppy Scalloped Cardigan
Brooke Scalloped Cardigan
Magnolia Scalloped Cardigan
Florence Scalloped Clutch  | Claire Scallop Top  |  Espresso Your Love Doily |
 Poppy Scalloped Top | Brooke Scalloped Cardigan | Magnolia Scalloped Cardigan

Trend Forecast: In 2020 … high-low hemlines and peplums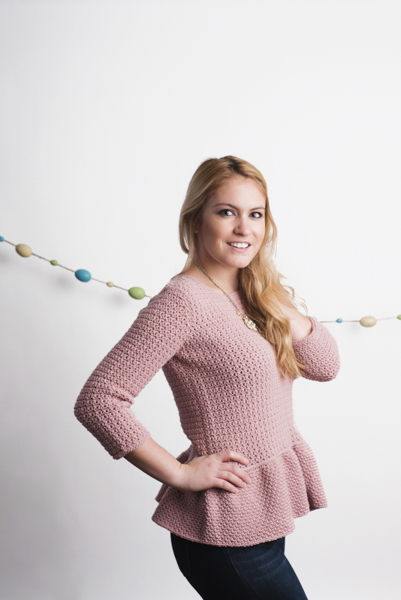 Edgings will continue to be bold this year. Taking cues from the '80s, expect accentuated shoulders, off-set hems and flattering peplum tops. Some of these trends have been in and out of fashion in the past few years, but we are glad they are sticking around.
UPDATED CARDIGANS
The classic wardrobe staple got an update last year, in seemingly every direction. We loved the flowy waterfall style of the Woodhill Cardigan and fully embraced the bold, textured style of the Harper Cardigan. Virtually exploding with creativity, we are excited to see what the future holds for the classic cardi. 
Harper Mixed Stitch Cardigan
Breezy Peasy Cardigan
Timberlane Cardigan
Woodhill Cardigan
Carmella Cardigan
Harper Mixed Stitch Cardigan | Breezy  Peasy Crochet Cardigan | Timberlane Cardigan  |
Woodhill Cardigan | Carmella Cardigan 
Trend Forecast: In 2020…look for feminine silhouettes and slouchy styles
Be on the lookout for slouchy, laid-back styles inspired by '90s grunge wear to pop up in stores. Pair these trends with more feminine, A-Line silhouettes of years past, and you'll have our prediction for next year. Prepare for everyone to feel comfortable and confident in 2020.

Café Sunshine Cardigan
Cloud Peak Cardigan
BOLD FLORALS
Floral crochet designs were incredibly popular this past year, specifically in shawl patterns. These shawls, whether bold in color choice or size, are lovely additions to any floral collection.



Azalea Poncho | Alexandra Floral Shawl | Zinnia Wrap
Trend Forecast: In 2020… look for bigger, bolder florals.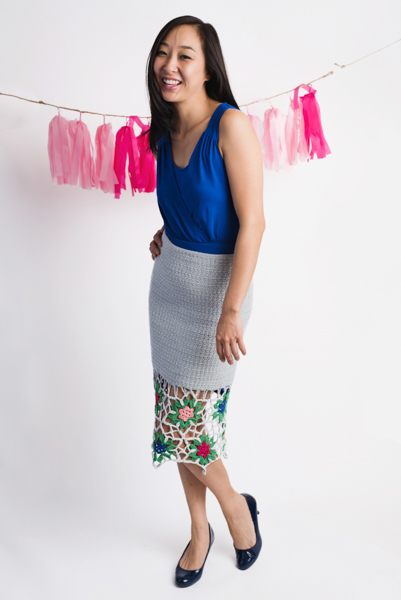 Can it be possible? We think so! Get ready big and bold flowers — think full floral tops, sweaters and dresses. Hint: look to '60s style flowers for a taste of what's to come. 
KEEP IT IN NEUTRAL
Neutral colors had a moment in 2019 and we expect to see these hues continue well into 2020. Neutral is safe, but it's also classic. These four patterns truly shine with their effortlessly chic neutral tones and versatility.




Vanilla Bean Scarf | Marlow Baby Blanket| Up North Slippers | Campfire Cowl

Trend Forecast: In 2020 … look for neutrals with neons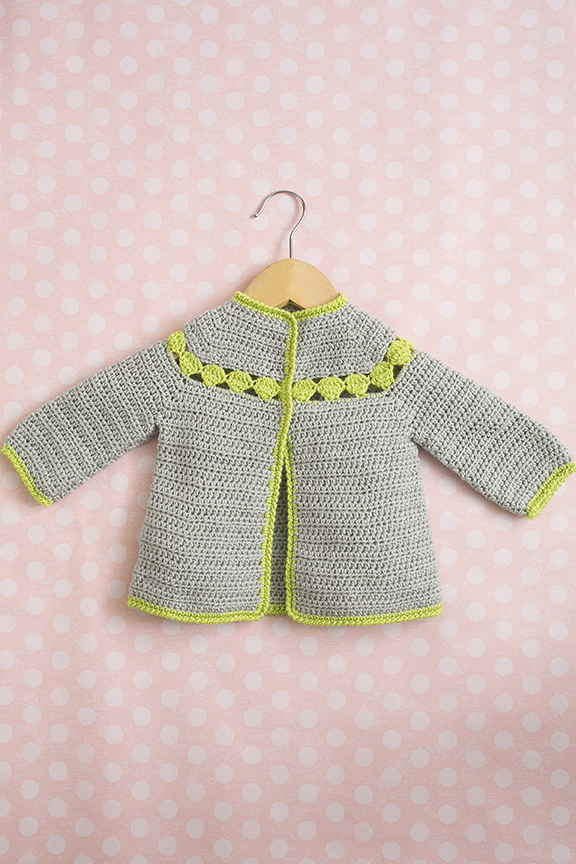 While we can't say that a bright neon sweater is on our list of things to crochet this year, pops of neon are definitely something we can get on board with. Tip: pairing with neutrals softens the "blow" of neon yarn. Blacks and other darker colors offer too much contrast and tend to look dated.
DELIGHTFUL DENIM
Denim yarn and jean-inspired hues were a welcome addition to the yarn world last year. Explore these three patterns that demonstrate how a little creativity can truly make denim yarn shine.



River Wash Wrap | Stonewash Bag | Bonfire Blanket
Trend Forecast: In 2020… look for crochet paired with denim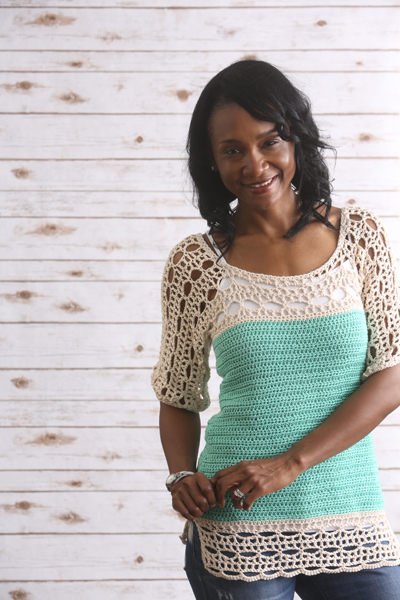 The love affair between crochet and denim will likely continue in 2020. Take a cue from what the fashion world is saying and go all in with this boho-chic style, pairing your favorite crochet pieces with denim jackets and denim jeans.
BETTER BUTTERFLIES
Often a symbol of renewal and the changing of seasons, butterflies took shape in a very 3D way in 2019. Explore where you can feature these adorable little butterflies. Don't stop with just these patterns — add them to mittens, hats, headbands, socks — you name it! 



Buttercup Butterfly Booties | Butterfly Garden Skirt  | Social Butterfly Sweater 
Trend Forecast: In 2020 … look for magical moments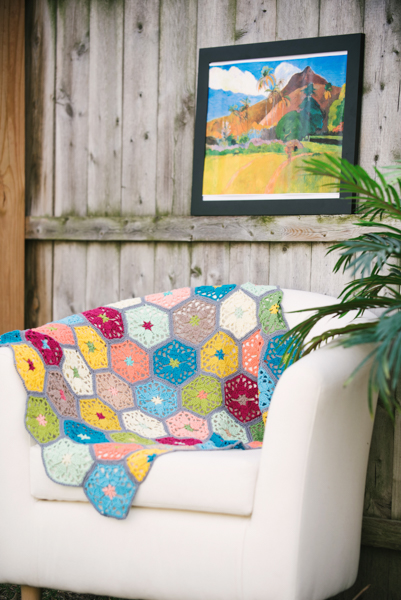 Crochet can be a magical place to be, so make the most of 2020 with hand-painted yarns or unusual motifs: think swirls and florals and brushstrokes of watercolors.
OPEN SESAME
Crochet stitches can create a dense fabric, or they can create an open, lace-type fabric. The latter, results in pieces that are a mix of warmth and breeziness — just like these four classic projects that captured your hearts in 2019.





Michigan Mesh Sweater  | Balos Bay Top  | Wrapped Up Ruana | Rose Bay Scarf
Trend Forecast: In 2020 … netting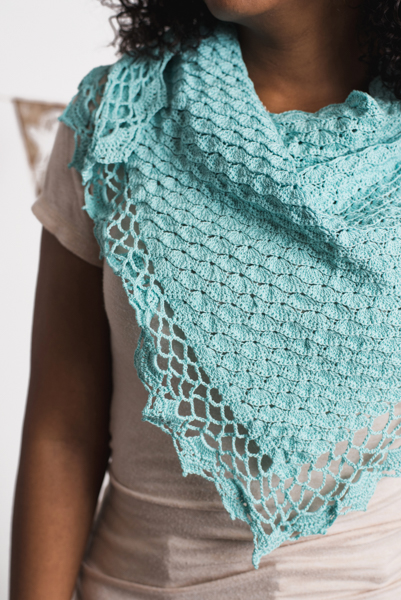 The world's fascination with open-work crochet will continue into 2020, transforming into net-like designs. Not quite fishnet, but perhaps a bit of mermaid style, netting will make its crochet debut in tops, scarves and accessories. Expect to see an uptick in lacy stitch patterns and broomstick lace this year. 
A+ ANIMALS
Each year, new animals take the center stage in the fashion industry. Some animals are here for a brief moment, while others stick around for years. These were some of the favorites from 2019.





Petunia the Pillow Buddy Bunny | Birch the Deer | Duck, Duck, Goose Baby Blanket | Daffodil the Duck Pull Toy

Trend Forecast: In 2020… look for creative creatures (especially unicorns).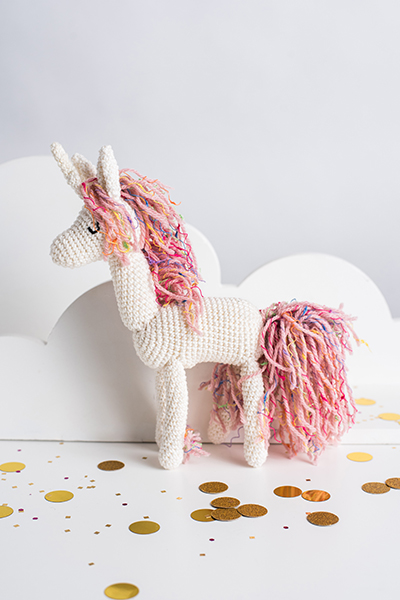 Some other character predictions include: narwals, owls, french bulldogs, corgis, llamas, foxes, elephants, sloths, cats, deer, monkeys, horses and sea life. 
BOLD COLORS
As styles got more bold, so did color choices when it came to new designs. Whether there was color blocking or just unusual color pairings, these pieces were bold as ever.




Waverly Throw | Spring Playdate Dress | Reese Wrap | Tunisian Tee Party  

Trend Forecast: In 2020… look for bold colors paired with metallics

Take bold to the next level by pairing strong hues with metallics. Any color that looks good in the light will have an extra glint whether with sequins, rhinestones, or metallic thread. The best news is metallics can be casual or dressy which will make these pieces extra versatile.
PRINTS GALORE
Animal prints and mixed prints made quite the impression in the crochet world with diverse variations and different styles. Explore your wild side by remembering these old favorites featuring animal-inspired prints.



Lengthy Leopard Scarf | Two Sisters Lake Sweater

Trend Forecast: In 2020… look for polka-dot prints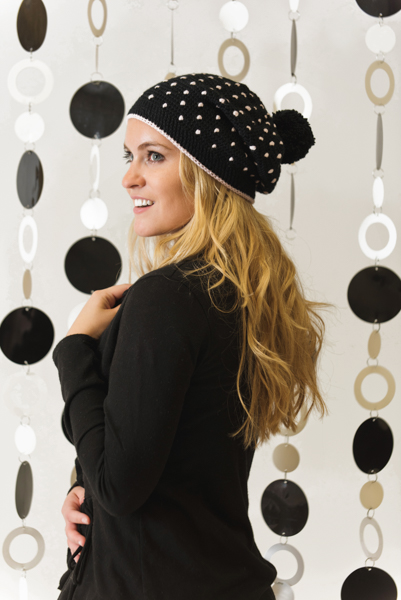 Polka dot prints will have their time to shine once again in 2020 — and don't be surprised to see polka dots paired with other prints to create a bold combination everyone will love. Have fun with this playful print and explore new ways to create polka dots in crochet.
1970s
Some prints, patterns and colors from the '70s made a comeback this year — especially in fall fashion trends. Colors like mustard and burnt orange were instant favorites and will likely pop up in other seasons too.
Marigold Bucket Bag
Paola Poncho
Easygoing Crochet Tank
Serene Wrap Skirt
Round Trip Raffia Bag
Marigold Bucket Bag | Paola Poncho | Easygoing Crochet Tank |
Serene Wrap Skirt | Round Trip Raffia Bag 
Trend Forecast: In 2020… look for marigold mania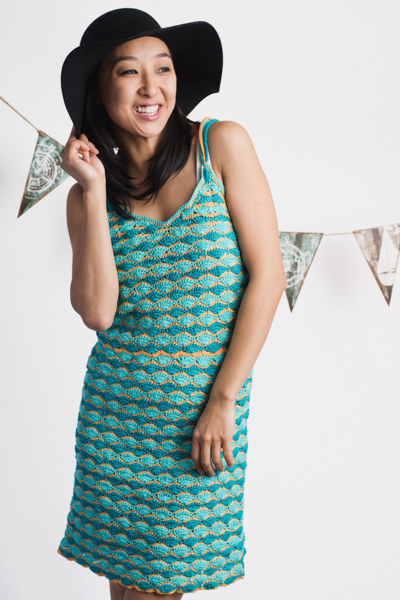 We already saw a nod to the marigold in our October 2019 issue, but we are looking forward to seeing more of this unique shade in 2020. It's not the traditional mustard color and it's not quite gold either, but you're sure to see it shine!
So, which pattern is your favorite? Which trend are you looking forward to this year? Leave a comment and let us know!