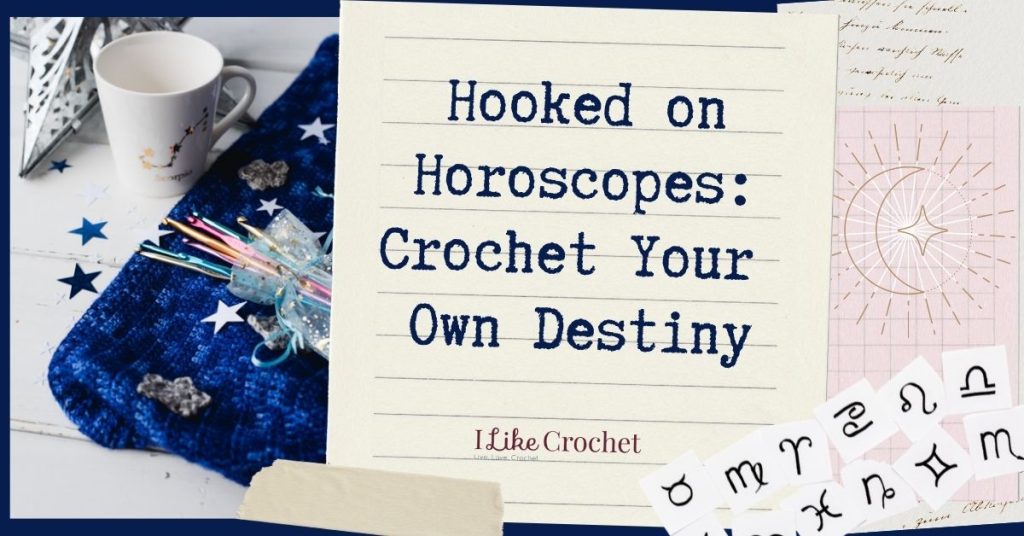 As yarn lovers, it's hard to imagine there was ever a time when we didn't have least one (or six) projects going at any given time. Crocheting, after all, is a passion. But what if it's more than that – what if it's something written in the stars?
If you're a fan of horoscopes (or if you're just a little curious), keep reading to discover your crochet destiny as predicted by the editor of I Like Crochet.
Are you always drawn to reds but never know why? Can you never get enough of light and lacy patterns? The answers to these questions might be closer than you think.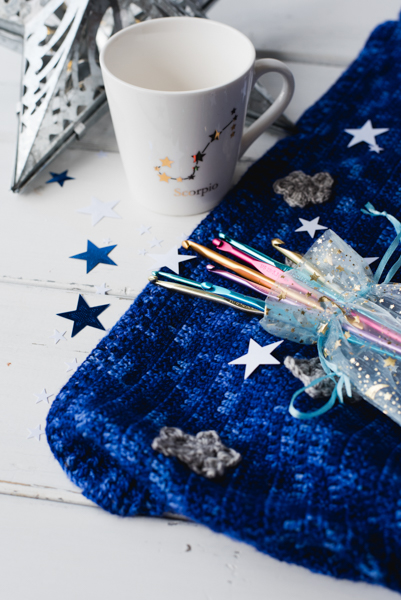 Keep reading to discover your own crochet destiny!
Aries: The Ram
(Mar 21-Apr 19)
This type of crocheter is a trailblazer and always willing to try out new techniques. Some would say she's fearless and not afraid to make mistakes. The Aries crocheter will boldly sit on a train and crochet to her heart's content and will ignore onlookers (unless they are particularly interested!). Just like her bold personality, her element is Fire so yarn in the colors red, orange and yellow speak to her. On a good day, the Aries crocheter is unstoppable and will tackle several WIPs at a time. However, she can get ahead of herself and impulsively buy more yarn without a plan. If you are learning how to crochet, you can count on an Aries crocheter to be encouraging and caring to help you along the way. The Aries secret wish is to be the best crocheter which is what drives her to learn and try new techniques. If that new technique is difficult, she will find herself digging her heels and butting her horns against the problem. She'll tackle supersized projects with energy and a zest for crocheting.
Pattern Recommendations




Wheel of Fire Shawl | Era of Vinyl Dress | Rad in Red Tank | Here Comes the Sun Vest
Book and Product Recommendations




Supersize Crochet | Crochet in Black & White | Super Chunky Baby Blanket Kit | Box Stitch Crochet
Taurus: The Bull
(Apr 20-May 20)
A Taurus crocheter is a crocheter on a mission to get things done. Her element is Earth which means she is not only down to earth but also enjoys earthly pleasures such as expensive yarn and quality crocheting hook. Patient, yet determined, this crocheter is dedicated to her craft. She loves the mountains and the great outdoors. Similar to an Aries crocheter, she can be stubborn and strive to be the best regardless of situation. She is careful about the projects she chooses to take on but she's not a quitter. Persistence is the name of the game whether it's slow and steady or a ready-to-charge bull. There's no crocheting pattern she can't tackle and enjoy at the same time. This crocheter typically has a standard routine so you can expect her to have a crocheting chair, a dedicated crocheting time, and a specific type of coffee she drinks while she crochets. Sometimes these routines can turn into stagnation so it's a good idea to change things up every now and then.
Pattern Recommendations

Cloud Peak Cardigan

21
Earthen Blocks Shawl | Cloud Peak Cardigan | Southwest Rug | Kenai Mittens
Book and Product Recommendations




Crochet Outdoors | Perfect Crochet Routine | Natural Buttons Mix | Ladybug Ceramic Yarn Bowl
Gemini: The Twins
(May 21-Jun 20)
The Gemini crocheter is vibrant and versatile. Craving social interaction, a Gemini crocheter is likely to be involved in a crocheting group because she enjoys brainstorming and the company of others. Always searching for her crocheting soul mate, she is fascinated by others' crocheting projects and their personal lives. She's also resourceful and will use her yarn stash to the fullest. Gemini crocheters will hop onto the latest crocheting trend and pick up fun crocheting gadgets to change things up. The element for Gemini is Air so breezy and lightweight crochets are some of her favorite pieces. She's charming and adventurous and tends to have a twinkle in her eye when it comes to crocheting and always appreciates some good crocheting humor.
Pattern Recommendations




Sonic Swirl Shawl | Ocean Air Top | Into Thin Air Cowl | Airy Woven Beanie
Book and Product Recommendations




Hot Air Balloon Yarn Holder | Koigu DK Merino Air Gradient Set | Trendy Tunisian Crochet | Cocoknits Yarn Snips
Cancer: The Crab
(June 21-July 22)
A Cancer crocheter is a connector of people as well as yarn. She is quick to have her crocheting buddies over for a get-together especially because she can be a homebody. Careful though, she can love to gossip! Her element is water so she's drawn to shades of blue when picking her yarn. She loves to take care of friends and family so if you know a Cancer crocheter, she's likely to crochet you something special. Symbolized by the crab, her outer shell is tough but she has a vulnerable underside as well. She is sensitive (so you better be appreciative of her crocheting gifts!) and clings to the things that make her comfortable. Not fond of change, she sticks to tried and true crocheting techniques and knows what works best for her. Also tied to her sensitivity, she is sentimental and nostalgic so she might have a particularly strong inclination to crochet vintage designs. She crochets with her heart and everyone around her knows it.
Pattern Recommendations




Raindrop Lace Shawl | Driftwood Wind Chime | Retro Bookstore Tee | Vintage Granny Clutches
Book and Product Recommendations




Solid Glo Blue Yarn Bowl | Made With Love Labels | Jupiter Lace Weight Yarn | Heritage Crochet
Leo: The Lion
(July 23-Aug 22)
The Leo crocheter is passionate and courageous. She secretly wishes to be the queen of crocheting as she reaches for the best yarn and patterns. Wearing her heart on her sleeve, she's honest and loyal to her friends. Her element is fire so she is a force to be reckoned with as she is fierce and strong. Being around a Leo crocheter will leave you revitalized and excited to crochet something new. She uses crocheting to express herself so you might find her picking patterns that speak to her personal tastes and interests. She'll encourage you to do the same as she truly believes putting your heart into your crocheting.
Pattern Recommendations




Firefly Lace Scarf | Leo the Lion | Lemon Meringue Pullover | Spiced Cider Set
Book and Product Recommendations




Personalized Leather Labels | Custom Pawley Studio Mug | Sizzling Summer Patterns | Lion Brand Wool Ease
Virgo: The Virgin
(Aug 23-Sep 22)
The Virgo crocheter is the helper and prioritizes the wellbeing of others. She'll rally her crocheting friends to crochet for charity as often as possible. She knows that helping others is the most important thing in life. She's also eco-conscious so she will try to use natural and sustainable fibers for her crocheting projects. This makes sense then that her element is Earth. Resourceful, she will pull together yarn and friends to come up with a plan to help the community by crocheting prayer shawls or blankets for the homeless. She's practical so you won't find her with fancy or frilly yarns. Crocheting is her way to relax as well, and paired with aromatherapy or lavender candles she will breathe a sigh of relief after a hard day. She wishes to be a hero but she knows she has to take care of herself too. Organized, she loves a sturdy yarn organizer and sorting her yarn by color or type. She can be a bit of a perfectionist which can get in the way of getting things done
Pattern Recommendations




Eucalyptus Eye Mask | Olympus Scarf | Daisy Bloom Pillow | Foliage in the Woods Wrap
Product Recommendations




Pretty Little Plant Hangers | Confetti Progress Keepers | Hello Freeform Crochet | Natural Linen Yarn
Libra: The Scales
(Sep 23-Oct 22)
Style and grace is the Libra crocheter to a T. She appreciates balanced and symmetrical crocheting that brings her a sense of harmony. When a Libra crocheter compliments your crocheting, she will be sincere. She'll share her favorite crocheting tips with you at her favorite coffee shop. She's a social butterfly with an air of beauty surrounding her and everything she does. However, she can be indecisive and she'll weigh the scales of what she should or shouldn't buy in terms of yarn. She will of course tip the scales to her favor every now and then and indulge in the nice yarn or the extra shot of espresso.
Pattern Recommendations




Ethereal Lattice Shawl | Morning Walk Earwarmer | Blue Agate Geode Necklace | In Bloom Triangle Scarf
Book and Product Recommendations




Furls Odyssey Hook | Crochet Geometry | Crocheting a Community | Feng Crochet
Scorpio: The Scorpion
(Oct 23-Nov 21)
Scorpio crocheters are the intense crocheters of the bunch. They are passionate about crocheting and focused on results. They love one-of-a-kind objects so they are likely to pick up unique yarn and handcrafted crocheting accessories. These crocheters are a bit more reserved and enjoy crocheting alone for the most part. This can make them a bit mysterious but once you befriend a Scorpio crocheter she will open up and show you a new side of crocheting. She is constantly reinventing herself and refocusing on her crocheting to get better and better. She's a trendsetter and she'll pull you into her crocheting web so get ready.
Pattern Recommendations
24
19


Deep Waters Tee | Bohemian Bag | Denali Cold Shoulder Sweater | Say Cheese Camera Bag
Book and Product Recommendations




Crochetterie | Super Scarf Styling | Stephen Duneier Yarn Bomber | It Girl Crochet
Sagittarius: The Archer
(Nov 22-Dec 21)
If the Sagittarius crocheter could travel the world on a whim she would, with crocheting hook in hand. You can bet she's checking flights all the time and making sure that her crochet hooks are allowed on board. She dreams big and aims straight just like The Archer which is her symbol. Fire is her element so she'll be drawn like a flame to flirty and fiery designs. She doesn't like rules so she's willing to experiment with her crocheting and probably doesn't make a gauge swatch. Outspoken, she knows what she likes and dislikes so she might not shy away from saying she doesn't like a certain yarn. She can also bite off more than she can chew with a project so she may need a bit of help from close friends to see the project through. Wise and witty, she'll be an entertaining addition to your crocheting crew.
Pattern Recommendations

16


Dazzling Stardust Shawl | The New Arrow Throw | Golden Citrus Wrap | Tuscan Flowers Scarf
Book and Product Recommendations




Summertime Crochet | Skill Building Workshop | Crochet in the City | Traveling with Crochet
Capricorn: The Goat
(Dec 22-Jan 19)
A Capricorn crocheter is the one who will start a temperature blanket on January 1st and see it all the way through. Long term projects are what she's admired for and her hardworking devotion to crocheting is just the tip of the mountain for her. Planning means gauge swatches, math, measurements, and calculated purchases. Her careful planning may cause her to scoff at you running out of yarn, but that is a sign of her honesty coming through, albeit a bit snobbish. She's not a quitter though, so she'll help you find a way to finish that project in no time at all. She'll plan the simplest and straightest route to get the job done.
Pattern Recommendations

29


Rincon Stripes Afghan | French Riviera Shift Dress | Classic Checks Cardigan | Pretty Peplum Top
Book and Product Recommendations




Printable Crochet Planner | Busy Bee Hook | Crochet Coloring Book | Conceptual Crochet
Aquarius: The Water Bearer
(Jan 20-Feb 18)
Innovation is the Aquarius crocheter's specialty and her energy can be felt all around her. Though her symbol is The Water Bearer, her element is Air so picture ocean breezes and total freedom. She's a born teacher so you can count on her to share her crocheting wisdom with others. Her experimental side may draw her to plan an unusual event like yarn bombing the local park or centering around a community charity in need by bringing people together. When stressed, she can come off as desperate but only because she wants others to be as passionate about crocheting as her. She may have trouble being emotionally connected to most people and thinks of the bigger picture most of the time.
Pattern Recommendations




Lighter Than Air Top | Airy Openwork Tunic | Fresh Air Scarf | Island Necklace
Book and Product Recommendations




Spreading Crochet Love | Stephen Duneier Yarn Bomber | Easy Crochet Doilies | Soak Wash Sets
Pisces: The Fish
(Feb 19-Mar 20)
Just call a Pisces crocheter the dreamer of the crocheting world. There is seemingly nothing this crocheter can't dream up and accomplish. The world is her oyster and sometimes her imagination can cause her to be out of touch with reality. Not to worry, she will find her way even if she is swimming upstream. She'll want to escape to her favorite places to crochet and avoid large crowds. She'll draw you in much like a siren and you'll be mesmerized by her calm and quick crocheting. She's an energetic old soul who will take a vintage pattern and revitalize it with romantic flair. Don't give her a deadline though, she crochets on her own terms and it's very much about the process of crocheting and not just the outcome. Inspiring crocheters everywhere, she is the magical crocheter you'll want to befriend.
Pattern Recommendations



15
Dare to Dream Afghan | MesMERizing Blanket | Sandy Starfish Dishcloth | Song of the Sea Pillow
Book and Product Recommendations




Magical Mysteries Box | Romance of Crochet | Broomstick Lace | Vintage Vibe