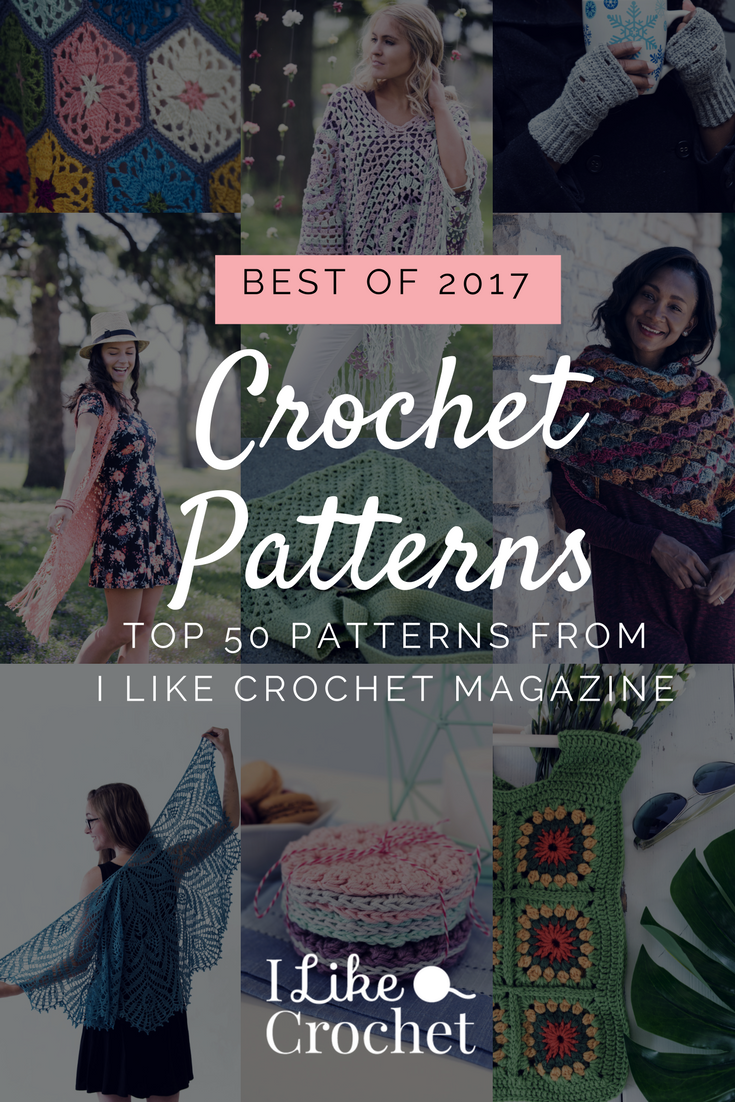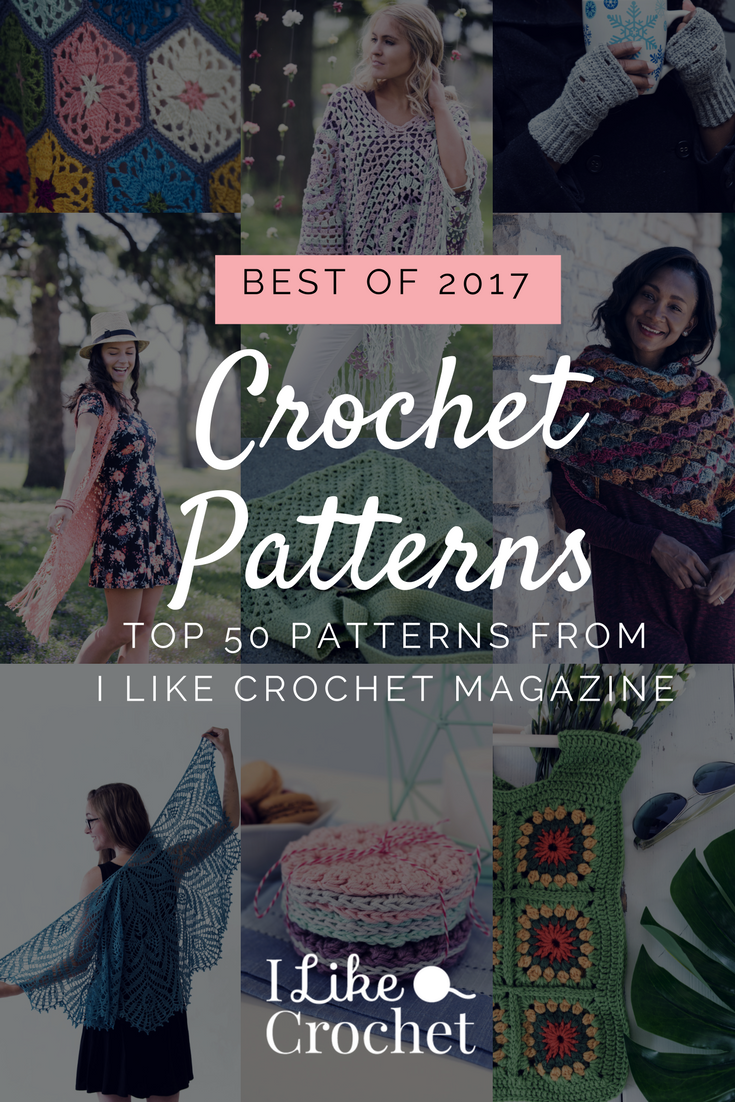 Crochet should be inspiring. Crochet should be innovative. And yes, crochet should be addictive. But more than ever this year, we decided crochet should be fun. Thanks to the talented designers for I Like Crochet, 2017 was hands down the best time we've ever had creating each issue. Over the course of 6 new issues this year, we explored trends and styles in never-before-seen ways and drew inspiration from top fashion and vintage designs. It seemed nearly impossible to narrow down to just 50 designs to highlight since each design is hand-picked and well-liked by all. So here's to the new designers, the innovative designers, and the seasoned designers—and all the outstanding designs they created this year. Welcome to I Like Crochet's best patterns of 2017!
Awesome Accessories
Crochet accessories like these are perfect for quick gifts. Each design will keep you nice and cozy in these colder months!
October Blossoms Scarf
Caramel Corn Slipper Socks
Silver Mist Crochet Fingerless Mitts

Snow Puff Ear Warmer by Devani Adams
Silver Mist Crochet Fingerless Mitts by Tian Connaughton
October Blossoms Scarf by Sharon Ballsmith
Caramel Corn Slipper Socks by Kristi Simpson
---
Amazing Afghans
Afghans galore! Crocheting one of these stylish blankets should be on the top of your list for 2018.
Tahiti Blanket
Book Club Afghan
Fall for Floral Afghan
Buttercream Afghan
Tahiti Blanket by Carmen Heffernan
Yorkshire Throw by Cheryl Chow
Book Club Afghan by Linda Dean
Fall for Floral Afghan by Maria O'Keefe
Rose Trellis Afghan by Nanette Seale
Buttercream Afghan by Sonja M. Otto
Marigold Blanket by Tanya Eberhardt
Suncrisp Appleghan by Tamara Kelly
---
Best Baby
Crochet patterns for babies and toddlers are usually so stinking cute — these top patterns are no exception!

Blueberry Pumpkin Moccasins
Mr. Hedgehug
Sunny Bunny Bag
Frightfully Adorable Baby Bat Set by Amanda Saladin
Sunny Bunny Bag by Amanda Saladin
Mr. Hedgehug by Jennifer E. Ryan
Blueberry Pumpkin Moccasins by Tamara Kelly
Sugar & Spice Sundress Baby Dress by Olivia Kent
---
Boss Bags
These crochet bags are BOSS! Rock these top totes in style.
Doting on Dots Handbag
Palm & Collected Bag
Weekend Escape Tote
Perfectly Plaid Purses
Perfectly Plaid Purses by Amy Gunderson
Doting on Dots Handbag by Ellen Gormley
Weekend Escape Tote by Sharon Ballsmith
Adventure-Ready Tote by Tanya Eberhardt
Palm & Collected Bag by Tian Connaughton
---
Champion Cardigans
Crochet cardigan patterns are stylish and the perfect way to keep out the chill in the spring and the cold in the winter. These are the top four patterns from this year!
Blissful Bookworm Cardigan
Peach Bliss Cardi
Café Sunshine Cardigan
Tunisian Knit Cardi
Tunisian Knit Cardi by Dora Ohrenstein
Blissful Bookworm Cardigan by Kristen TenDyke
Peach Bliss Cardi Cardigan by Olivia Kent
Café Sunshine Cardigan by Tian Connaughton
---
Happy Home
A happy home is one that's filled with crochet decor! Try one of these pillow patterns to spruce up a chair or crochet a basket to hold your yarn.
Macron Scrubbies
Mandala Burst Pillow
Queenly Doily
Sweet Pea Bunting
Chunky Cable Basket Jennifer E. Ryan
Macaron Scrubbies by Amy Ramnarine
Sweet Pea Bunting by Olivia Kent
Queenly Doily Home Doily by Charles Voth
Pretty in Pink Eyeglass Case by Darleen Hopkins
Mandala Burst Pillow by Kristi Simpson
Winter Gerbera Daisy Pillow by Maria O'Keefe
---
Superior Shawls
These shawls have risen above the rest! Take a look at this year's most popular designs.
Sedona Shawl
Cobbled Path Wrap
Aloe Bloom Shawl
Denver Sunset Shawl
Aloe Bloom Shawl Shawl by Amy Gunderson
Cobbled Path Wrap by Andee Graves
Tucson Wrap by Cheryl Chow
Sedona Shawl by Jean Clement
UnbeLEAFable Lilac Shawl by Maz Kwok
In a Faraway Land Shawl by Nanette Seale
Secret Waterfall Shawl by Olivia Kent
Morning Glory Shawl by Silke Terhorst
Denver Sunset Shawl by Tamara Kelly
---
Top Tops
If you haven't crocheted a top or sweater for yourself, you're missing out! These are the top four designs from 2017.
Seaglass Tank Top
Autumn Garden Sweater

Captiva Tunic
Autumn Garden Sweater by Olivia Kent
Seaglass Tank Top by Amy Gunderson
Ocean Air Top by Lana Jois
Captiva Tunic by Maz Kwok
---
Verified Vests (+ a Popular Poncho!)
Crochet vests made a welcome comeback this year and we have to say, we're obsessed with these!
Venice Vest
Pacific Breeze Poncho
Flyaway Feathered Vest

Pacific Breeze Poncho by Olivia Kent
Flyaway Feathered Vest by Amy Gunderson
Boardwalk Vest by Nazanin Fard
Venice Vest by Olivia Kent
---
Phew! That was fun! If you like what you see be sure to consider subscribing to our magazine if you haven't already. You'll get access to ALL of the top 50 patterns above AND our entire archive of patterns (over 500+ patterns!).
We've got a special deal for you too! Make 2018 the year you devote to crochet and treat yourself to our magazine at a discounted price. You seriously don't want to miss out on this deal.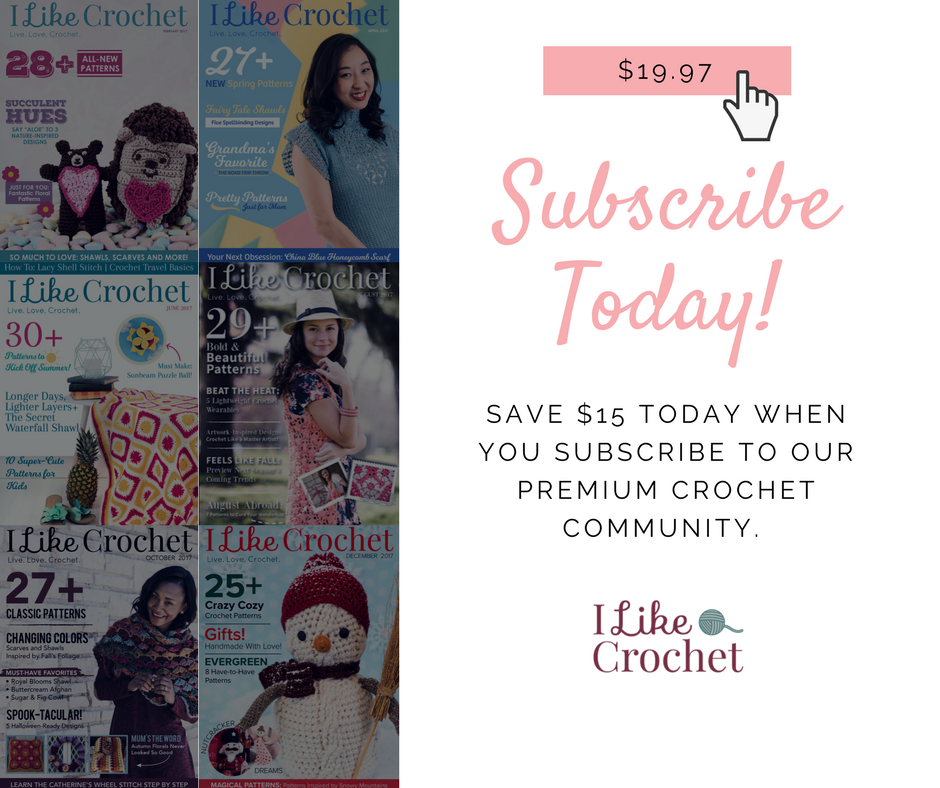 Happy New Year everyone! Cheers to a successful 2017 and to an exciting 2018!