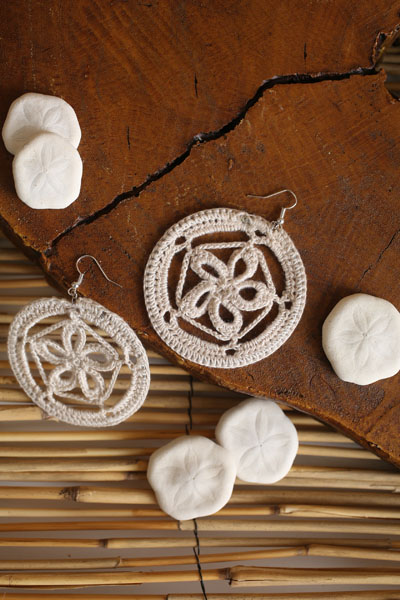 With the delicate design of a real Sand Dollar, these earrings will compliment any light summer outfit for your next beach party.
Skill Level: Easy
Size: 2 ½" across
Gauge: Flower = 1 ½" across; Gauge is not necessary for this project
Materials
Yarn: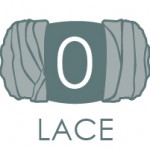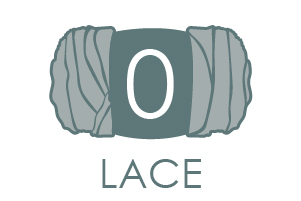 Aunt Lydia Cotton Crochet Thread (100% Cotton; 400 yards [366 meters]): #154-226 Natural, 1 ball
Hook: US size 7 (1.65 mm)
Notions: 2 Large earring hoops (2 ½" diameter); 2 silver ear wires; 2 jump rings (4 mm); jewelry pliers; white glue; embroidery needle
Pattern
Earring (make 2)
Round 1: Work 5 sc in adjustable ring, draw ring to a close, join with sl st to 1st sc.
Round 2: (Ch 11, sl st in 11th ch from hook, sl st in same st, sl st in next st) around – 5 petals.
Round 3: (Sl st, 5 sc, 2 hdc, dc, 2 hdc, 5 sc, sl st) in each ch-11 sp around. Fasten off.
Round 4: Join with sl st to top of dc of any petal, (ch 10, sl st in top of next dc in next petal) around, join with sl st to 1st sl st.
Round 5: Ch 13, (hdc in next sl st, ch 11) around, ending with sl st in 2nd ch of starting ch-13.
Round 6: Sl st into next ch-10 sp, sl st into 2nd ch of same sp, ch 2, (10 hdc in same sp, hdc in 9th ch, ch 1, hdc in 2nd ch of next ch-10 sp) around, ending with sl st in 1st sl st.
Round 7: Working in both loops of Round 6 and around metal frame of earring hoop, sc in each hdc and work 2 sc in each ch-1 sp around, join with sl st to 1st sc, making sure earring hoop protrudes from this last round.
Finishing
Lightly steam block each earring and lay flat to dry.
Use yarn tails to add extra stability to last few stitches of last round. Weave in ends.
With Right Side facing down on plastic wrap, add a small amount of white glue to first and last ½" or so of Round 7. Let dry completely
Using pliers bend top earring loop so at a right angle with large hoop.
Attach ear wire with jump ring making sure that Right Side of earring hangs outward.