"Help! How do you go about deciphering a yarn label?"
–Jamie K.
Hi Jamie,
Those pesky labels around your new skein of yarn can get in the way, but don't be so quick to toss them; there is a wealth of information to be found on those little labels! Here's a quick overview of the most important information included.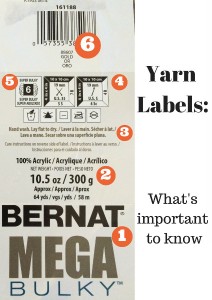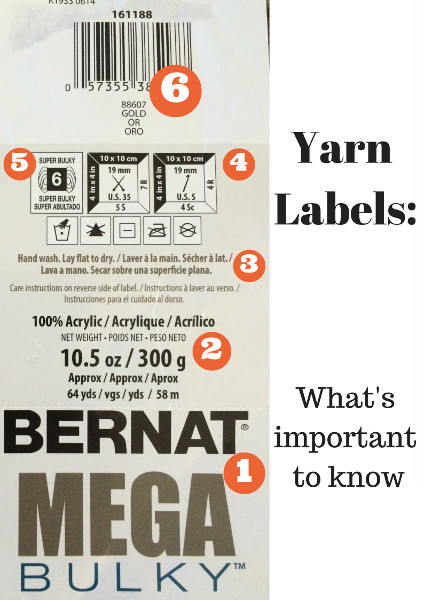 1. Brand and yarn name
2. Fiber content, weight and yardage. This is important to note if you have allergies to certain fibers. You should also pay attention to the amount of yarn in each skein and compare to how much your pattern requires.
3. Care information. Here you will find all the information you need to care for your finished product.
4. Gauge information. These graphics will show you the suggested hook and knitting needle sizes used to get the number of stitched indicated in an industry standard 4" x 4" gauge swatch.
5. Yarn weight. On major yarn company labels, this is an image with a number ranging from 0 to the newly designated 7. 0 is the thinnest yarn, while 7 is the new JUMBO classification. This information gives you a general idea of the yarn thickness.
6. Yarn Colorway and Dye Lot. This area includes the name and number of the yarn color. Along side this information, you will also see something known as the 'dye lot.' Dye lot indi-cates all the yarn that was dyed at the same time, so you'll be guaranteed matching hues/tones between skeins. Sometimes the same yarn color will vary between dye lots due to the manufacturing process, so it's crucial that you get enough yarn to finish your project in the same lot.
Please keep in mind that not all labels look alike: some might have more (or less) information, information in different places, or slightly different graphics.
One final tip I share with all of my students, keep the yarn label. In fact, if you have any left over yarn from your project, store it with the label. If you ever need to refer back to the label, you'll know where to find it, and you'll have yarn for any necessary repairs. Finally, if you are giving the finished product as a gift, you might consider giving a copy of the label so the recipient knows how to care for the handmade gift.
Happy crocheting!
Chris
Christina Hammond is a crochet professional with more than 30 years of experience designing and tech editing patterns. Do you have a crochet question for Chris? Write us (submissions@ilikecrochet.com) and include "Chris' Corner" in the subject line.